Featured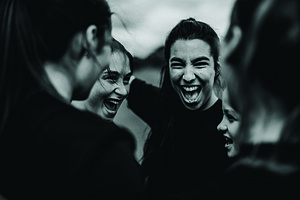 Play for the Teammate Standing Next to You
Trophy Park is a $212 million sports complex being built in New Jersey during the Covid-19 pandemic – during the most challenging social and economic times in recent memory.
November 01, 2020
---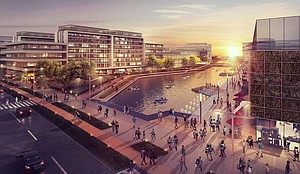 The Future of Cities and Farming
The health and prosperity of civilization depends on creating a closer connection between cities and farming, according to Michael Grove of Sasaki.
Architectural Firms
October 25, 2020 - by Chris Thiede
---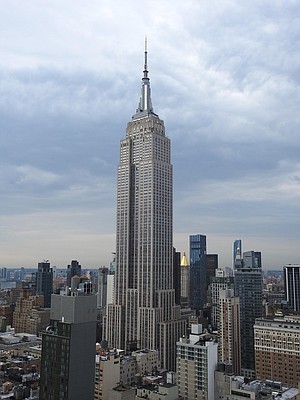 Restoring the Empire State Building's Art Deco Luster
The iconic Empire State Building has a new sparkle due to a project that has restored its Art Deco luster from the 1930s.
Case Study
October 02, 2020
---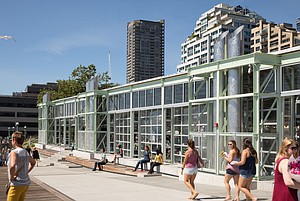 Choosing the Right Commercial Door
Garage doors may not be the focal point of some commercial facilities, but they can still play an essential role and can make an impact on operations.
Featured
September 13, 2020 - by Sarah Schram
---
Alles Group Corporate Office Construction Complete
Construction is complete on the new corporate office of The Alles Group, in San Pedro Garza García, Nuevo León, México, designed by Ware Malcomb.
Case Study
September 07, 2020 - by commARCH
---
Six Technology Ideas to Consider When Designing the Post COVID-19 Workplace
With new challenges in workplace safety, it is high time to use technology to make our workplaces smarter, safer, and more efficient.
Featured
September 07, 2020 , by Allison Tardif, Industry Advocacy Manager, AVIXA
---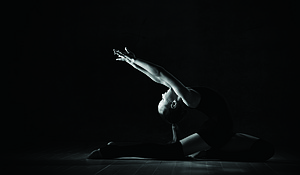 Poised for Victory
If you were to invest north of $200 million during the Coronavirus Pandemic, would it be in new commercial construction?
September 01, 2020
---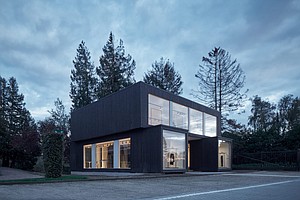 Ark-shelter creates modular showroom in Belgium
Strictly Cycling Collective enlisted TPG Architecture to create a unique experience that echoes the industrial atmosphere of their Hudson Yards location.
Featured
August 28, 2020 , by commARCH
---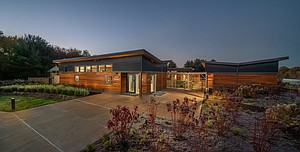 Slate School Specified with Slate Rainscreen
Slate School was designed to be small to allow interior spaces to fuse with the outdoor landscape, bringing the indoors outdoors and, vice versa.
Featured
August 23, 2020 - by commARCH
---
Adapted building injects fresh life into downtown business district
Northwest Studio creatively repurposed an existing vacant building to act as an urban catalyst in Oklahoma City.
Featured
August 23, 2020 - by commARCH
---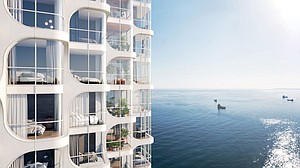 Penda China's New Work "Life Island": A Dream Mansion between Mountain and Sea
Keeping natural, original elements of a repair building for railcars and locomotives was one of the key goals of MBA Architects to create Brewhalla.
Featured
August 23, 2020 - by commARCH
---

Jen Luoni, director of operations - architecture, at Dacon, described the process of designing and building ABI Lab2. As a bio-incubator, ABI Lab2 was created to foster collaboration and discovery among bio-tech startups, thus accelerating the development of crucial medical therapies. That same spirit of collaboration was employed to create the facility itself, as the developers, Dacon, and technical experts and subcontractors worked together to speed up the building's development.

Beth Campbell, AIA, LEED CEO Wilson Associates, Las Vegas An industry veteran of more than 25 years, Campbell has dozens of high-profile projects in her portfolio. But perhaps her most impressive project was to realign the culture at Wilson Associates, empowering employees to achieve excellence.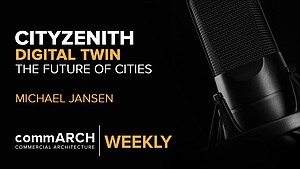 CityZenith's Michael Jansen on Digital Twin & the Future of the Urban Environment | commARCH Weekly 07/2020
In this episode, commARCH has a dialogue with Michael Jansen, Founder and CEO of CityZenith, to discuss the burgeoning landscape ...
WHITE PAPERS
---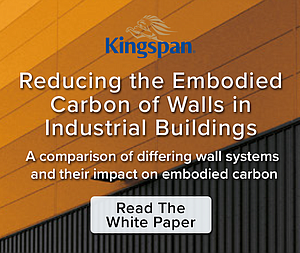 Reducing the Embodied Carbon of Walls in Industrial Buildings
Kingspan partnered with Kieran Timberlake to quantify how Kingspan can reduce embodied carbon in industrial buildings.