June 08, 2016 , by commarchtest
Send this article to a friend
CNU 24.Detroit
is the annual meeting of the Congress for the New Urbanism, a non-profit organization established with the goal of transforming the built environment from ad-hoc suburban sprawl toward human-scale neighborhood development. The meeting is being held this week in the Motor City. As opening speaker, and CNU co-founder, Andres Duany, principal at
DPZ Partners
, Miami, FL, stated, the roadblocks to achieving this goal are:
subdivisions in which you can only live
shopping centers where you can only shop
office parks where you can only work
super-sized schools in which more space is devoted to parking than classrooms.
But the subject that was at the center of most of the talks, and seems to be at the core of successful urban spaces, is walkability. Successful walkable designs, according to Jeff B. Speck, CNU-A, AICP, LEED AP, Honorary ASLA, Principal,
Speck & Associates LLC,
Brookline, MA,:
give people a reason to walk
make residents feel safe when walking
provide a comfortable walking environment
put interest in the walking experience.
From those four criteria emerge true mixed-use facilities, multi-modal transportation, and architecture that fits the environment. Residents can meet virtually all of their daily needs within walking distance of their homes, and streets can be smaller, parking needs decreased, and CO2 emissions reduced. We also see nature "that fits" integrated into the urban fabric and that promotes climate resilience, public health, and property values. This conference comes on the heals of our latest
"The Architects"
column, by Michael Johnson, principal at
Carrier Johnson + CULTURE
, and the accompanying podcast in which we discuss the various aspects of urban development/revitalization projects. The efforts of the CNU members put a new perspective for me on the built environment. One of the more thought-provoking statements was in reference to net-zero buildings—If occupants all have to drive cars to work in a net-zero building, the carbon footprint for that facility is no longer zero.—
Gary L. Parr, editorial director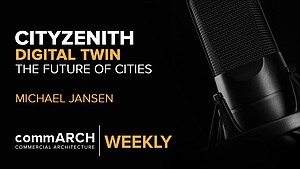 CityZenith's Michael Jansen on Digital Twin & the Future of the Urban Environment | commARCH Weekly 07/2020
In this episode, commARCH has a dialogue with Michael Jansen, Founder and CEO of CityZenith, to discuss the burgeoning landscape ...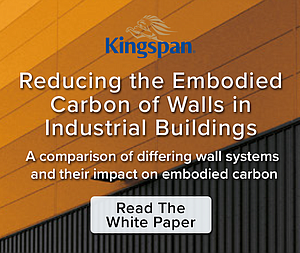 Reducing the Embodied Carbon of Walls in Industrial Buildings
Kingspan partnered with Kieran Timberlake to quantify how Kingspan can reduce embodied carbon in industrial buildings.