November 30, 2016 - by commarchtest
Send this article to a friend
The health of buildings, not to mention the well being of their occupants, communities, and the planet, are major movements evident in this year's coverage.
By Kenneth W. Betz, Senior Editor
Health and wellness emerges as a theme when looking back at Commercial Architecture's feature articles for 2016. Integration of biophilia, which emphasizes myriad connections to the natural world, started off the year. The changing role of libraries as community resources followed in March.
Green schools, the subject of our June feature, are a sought-after goal in many communities, not only as a cost- and energy-saving measure, but as a perceived more-healthful environment for students.
Similarly, in July/August, the changing face of cities such as Detroit reflects the New Urbanism movement toward move livable, walkable, and healthy communities.
Environmental product declarations (EPDs) and health product declarations (HPDs) in the September issue continued the focus on how the built environment contributes to the health and safety of building occupants.
Environment is a key word, as the acoustics article in November emphasized how the impact of environmental distractions might affect health and productivity.
Below, we'll recap some of the observations about the impact on the health and wellness of the built environment and provide highlights of some of the thoughts shared with us by experts.
But it's not just about looking backward. These are themes and concerns that have developed over time and will surely continue to be areas of relevance and advancement in building practice and design. CA
There is a growing body of research that quantifies the benefits of biophilic design, and the green movement and the well-building concept have acknowledged the importance of connections to nature.
Photo Credit: Architect — Gould Turner Group / Photographer — Terry Wier Photography
Back To Nature
Biophilia is a more formal and inclusive term for what architects, builders, and owners have been instinctively doing for a long time—letting daylight in, using natural materials and designs, and incorporating greenery.
Of course, biophilia is a great deal more complex than the foregoing simple description. Perhaps because of its origins in the academic fields of psychology and sociology, the term is still somewhat unfamiliar in the business world of construction, evidence-based design, and cost management. But that is changing. There is a growing body of research that quantifies the benefits of biophilic design, not to mention that the green movement and the well-building concept have acknowledged the importance of a connection to nature in their philosophies. The importance of daylight, plants, water, and materials is evident in the evolution of healthcare design, as well as the design of other aspects of the built environment, from office buildings to city planning. It just may not have been called biophilic design.
"The terms biophilia or biophilic design are not common in the industry yet, perhaps because they encompass a larger set of possible design interventions," agreed Catie Ryan, senior project manager at Terrapin Bright Green, a sustainability-consulting and strategic-planning firm based in New York, and co-author of 14 Patterns of Biophilic Design.
Biophilic design is a more complex and far reaching than a window and a potted plant in the lobby. Dr. Stephen R. Kellert, professor emeritus of Social Ecology at Yale Univ. and co-editor of the seminal book Biophilic Design (2008), identified 71 attributes of natural environments that have restorative benefits when incorporated into the built environment. Terrapin Bright Green distilled these attributes even further, identifying the most compelling features for commercial architecture.
Their white paper, "14 Patterns of Biophilic Design," identified the patterns of nature with the most qualitative and quantitative research documenting their positive influence on our psycho-physiology. These fourteen elements are classified under the three main categories of biophilic design:
• nature in the space • nature analogues • nature of the space.
Nature in space, for example, encompasses not just the obvious visual connection to nature but non-visual cues as well, such as auditory, haptic, olfactory, or gustatory stimuli. Thermal and airflow variability, the presence of water, varying intensities of light and shadow that mimic natural patterns, and an awareness of natural processes are additional elements of nature in space.
Finally, the nature of the space is important. View, or prospect, is significant, but so is a sense of refuge. The promise of more information, or mystery, is another attribute of the nature of space.
Using real materials from nature is preferred by some designers, but David Navarrete, director, research initiatives, The Sky Factory, Fairfield, IA, makes a case for nature analogues. "It depends on the attribute and the context of its use. It is possible to provide an indirect connection with nature by mimicking materials, colors, shapes, or sequences. In the core of deep-plan buildings, where it is not structurally possible to create a visual connection to the exterior, it is possible to provide a visual and spatially sound experience of open space using biophilic illusions that engage areas of the brain involved in spatial cognition," he said. 
The single biggest change to libraries is that they have evolved to become community centers with an emphasis on the value of collective societal spaces. Photo: Humphries Poli Architects, Paul Brokering
Libraries As A 'Want-To' Destination
Public libraries have been challenged by the Internet, the smartphone, and e-books in the past decade, but most are successfully adapting to remain relevant in a digital age, according to those who spoke to Commercial Architecture for the March article
"I think they're thriving, actually," said Lee H. Skolnick, FAIA, Lee H. Skolnick Architecture + Design Partnership, New York.
"Maybe as little as 10 years ago the library was not that different than the library that you and I grew up with—book heavy and with a traditional model of services—but we've been through an explosive growth of technology. Libraries are about information and access, and technology has changed how that happens," said Derek Jones, LEED AP, Practice Leader, Principal, Perkins + Will, Durham, NC.
"From my position, they've gone from 'have-to' institutions, meaning if you wanted a certain kind of information, you had to go to the library to get it. Now you can sit in a coffee shop, at home, or in transit and access the same information. Consequently, libraries have had to rethink of themselves as a 'want-to' destination—somewhere that has an appeal and a draw that will bring someone in physically to their space," he added.
"In the past, the main resource for library users was the card catalog, but today libraries are working to teach people to receive information in an efficient way, and the tools for doing that are at the heart of the pedagogy of public libraries now. Instead of the library as the end point, it is more of the gateway to the rest of the world," said Gordon Carrier, FAIA, NCARB, founding design principal at Carrier Johnson + CULTURE, San Diego.
Partnerships are one way libraries have sought to attract community members. "They've really looked at [partnerships] to improve services they can't just do on their own; they have gone out into the community and looked for like-minded, or complementary, organizations, that could offer things like health services or counseling. Or they've teamed with schools or art centers so their resources and activities can come together and they can start fulfilling some of those community aspects," Jones said.
"In a way, the single biggest change to libraries has been how they have evolved to become community centers," agreed Carrier. "There's also an emphasis on the value of collective societal spaces, and it's not about age or ethnicities or something else. It's about presenting an architectural solution where everybody has equal access. After all, it's a public library. Whatever your persuasion, it's a safe haven and resource," he added.
In the final analysis, libraries are far from obsolete, even as their service model evolves.
The Interdistrict Discover Magnet School, designed by Svigals+Partners, features many cost-effective energy-conservation and sustainability strategies. Photo: Robert Benson Photography, courtesy Svigals+Partners
Improving The Learning Environment
The "little red schoolhouse" used to be the traditional turn of phrase associated with early U.S. education facilities, but green has become the dominant color of those institutions in recent years. Green means energy efficiency, of course, but the term has taken on much broader meanings and connotations, whether it is applied to K-12 facilities or college and university campuses.
"Green schools are facilities that improve the learning environment while saving energy, resources, and money," said Richard Walker, manager, Business Solutions, Trane, Davidson, NC. "Green schools take an integrated, whole-building approach to optimizing key building systems and technologies to support the mission of the educational facility, creating conditions that improve student and teacher health, productivity, and comfort. In short, green schools reduce the use of natural resources, while quantitatively and verifiably increasing student performance and test scores."
Jorge Mastropietro, Jorge Mastropietro Architects Atelier (JMA) New York City, defines green as, "an environment that's healthy for the people who use it, as well as one that considers its effect on the planet more generally. So, when it comes to design, for example, green would entail the careful use of natural resources in a way that considers the effect on human occupants, as well as the effect on broader ecosystems. A green school is one whose design emphasizes a holistic approach to these issues—saving energy, resources, and money. But we think it entails a specific teaching philosophy, too, where the design becomes a starting point to teach students about what it means to be green."
"There are several characterizations of what a green school is, depending upon what type of environment and where the school may be located in the world," Theresa M. Genovese, AIA, LEED AP, CetraRuddy, New York, commented.
"However, a green school should strive to create a place which reinforces an awareness of how our actions will impact our environment. We believe that one important fundamental principle is that the school or learning environment leads by example. This may be exhibited by how the school teaches about the environment, operates (minimizing environmental impact), or how the school was constructed," she said.
"Additionally, learning spaces that integrate strategies which assist in reduction of natural resources and take advantage of the local climactic conditions, while instructing the students through example on how to work with the environment, should be paramount in conceptualizing any new green-school project," Genovese added.
The terms green and sustainable often are used interchangeably but are subject to more nuanced interpretation. Most often, they share common values.
The pre-Depression Art Deco David Stott building was purchased by Dan Gilbert's Bedrock Detroit in May 2015. An example of urban trends, the 38-story landmark is expected to house residential, commercial, and retail tenants, according to Bedrock's website. Photo: Bedrock Detroit
New Urbanism In Detroit
The urban landscape is changing, influenced to some extent by movements such as the New Urbanism, as well as market forces.
Much has been made of what has been called a "renaissance" in Detroit architecture, real estate, and development, but it's something that can be seen in other cities throughout the country.
Each city, of course, has its own set of circumstances and influences. "I would say Detroit has gone through a lot of renaissances, so it's a word architects don't like to throw around lightly. We've heard those buzzwords used multiple times, but it's definitely an exciting place to be an architect right now," said Melissa Dittmer, AIA, director of architecture and design for Bedrock Detroit.
"Cities grow over the years; they change; they become a city and then another city, and we're in the process of building the next Detroit," said Mark Nickita, AIA, Archive DS (Design Studio), Detroit.
"As we went through the recession and then through [municipal] bankruptcy, Detroit spent years as a city of planning," Dittmer said. "I mean, all we did was plan future neighborhoods and future buildings. We spent a lot of time thinking about the future of Detroit, but it never moved beyond the planning threshold. Now, coming out of those years of planning, it's the first time we've reached a moment of becoming a city of building," she concluded.
"I've practiced in the city since the 1960s, and I've never seen it like this. I see that as a positive thing, not as a negative, but that doesn't mean there aren't a whole host of issues," said Stephen Vogel, FAIA, professor of architecture, Univ. of Detroit-Mercy.
"For architects it's been great the past three years. If I look at the faculty at the school of architecture who have small practices on the side, they're all swamped. We can't graduate students fast enough to fill all the open positions," he said.
Asked if the boom in real estate and development is sustainable, Vogel observed, "There's a wild card, and that wild card is Dan Gilbert [of Quicken Loans and Bedrock Detroit]. He seems to be in for the long haul, and he's spending money unbelievably. I don't know if he's making money in development; I assume he's making money in his mortgage business.
"But if he's here to stay, he's one of the big reasons for the turnaround. He's attracting money from all over the world. The Chinese, the Germans are all in town buying buildings," he said.
Mark Nickita doesn't think the market is oversold or oversaturated or that the boom in real estate and development is anywhere near over. "It has a long way to go before that becomes a concern," he said. "It's a matter of having had a lot of deficiencies for a long time, so there's a long way to go before we get to the point of saturation. We lost a lot of momentum in the '70s and '80s. We are in need of a lot of different things, and we're just filling those voids right now."
The information contained in EPDs and HPDs is particularly important to healthcare facilities. Leo A Daly worked with Children's Hospital and Medical Center, Omaha, to renovate and improve the neonatal intensive-care unit (NICU). Photo: Matt DeBoer
Product Declarations Guide Materials Selection
Health and wellness are increasing concerns for building owners and designers, piggybacking on the green movement, which encompasses those concerns, along with energy efficiency.
Environmental product declarations (EPDs) and health product declarations (HPDs) are the prime tools in this movement but are by no means the only ones. The tools are evolving as to how data are collected and presented and as to what information is necessary for specifiers.
"An EPD is really about the environmental impact of a product, whereas an HPD revolves more around ingredients and hazards attached to the ingredients," explained Diane Martel, vice president, Environmental Planning and Strategy with Tarkett, Solon, OH.
"An EPD will have a list of ingredients, including recycled materials, but it generally will not give you any kind of indication of how the content relates to health concerns. There are a couple of EPDs that do touch on toxicology, but the modeling is so unreliable that it is meaningless," she said.
EPDs talk about life-cycle assessment—cradle to grave, although another philosophy is to look at a product's life cycle in cradle-to-cradle terms. Nevertheless, environmental impact, including greenhouse gases and carbon footprint, is the purpose of an EPD, Martel explained.
EPDs and HPDs, despite their similar names, are not necessarily similar documents. EPDs are usually third-party certified. UL Environment is one of the largest third-party certifiers in the U.S., although there are others. HPDs, on the other hand, can be third-party certified or self-declared.
Customers may not automatically ask for EPDs, but they may have RFPs (request for proposal) that often ask for the type of information that would be contained in an EPD. There might be questions on material health, manufacturing-plant efficiencies, the company's commitments regarding carbon footprint issues, and so on, Martel explained.
Today's tools regarding the environmental and health are relatively new and are evolving and can sometimes be confusing and intimidating to those not familiar with them. "We are at the infancy of these tools, and there will be a lot of work to do about what is meaningful," Martel said.
"The Environmental Protection Encouragement Agency (EPEA), Hamburg, Germany, has put together a new tool that seems to be easier to read, but it also may be subject to interpretation by whomever is reading it. It will, however, tell you if there is a risk, whether it is associated with the worker or the end user, and whether the product is recyclable, given the materials it contains," Martel said.
EPDs are not uniformly available for all products, Martel noted, but there is good penetration in industries such as flooring and furniture, for example.
HPDs are starting to appear, but the HPDs are not the only tool that is appearing in the material-health arena. "You have Declare; you have the Material Health Certificate; you have all kinds of different tools simply because I don't think we've really found the best solution," Martel said. "I believe using cradle-to-cradle methodology and showing the ingredients, as we are doing today, is probably one of the most advanced tools but probably not the final version."
Acoustic environments are increasingly important to tenants and building owners. The Saint Gobain and CertainTeed North America headquarters in Malvern, PA, was dubbed the Living Laboratory because the building was built with, around, and throughout with CertainTeed's products. Photo: courtesy CertainTeed Ceilings
Unwanted Sound Impacts Health And Productivity
Unwanted sound, or noise, is a major consideration in workplace settings where employees function in close proximity, often with different expectations and needs regarding the acoustics of their work environment.
Dr. Gary Madaras, acoustic specialist, Rockfon, Chicago, pointed out that 90% of an organization's operating costs are staff related. At the same time, 62% of the time, people need to do quiet work. In other words, good or bad acoustics affect 90% of a company's resources 62% of the time.
"Once again, health and wellness—along with productivity—is a driver in improving acoustical performance of buildings. "From the company's perspective, the effects of noise are: decreased productivity, errors, inefficient use of resources, and ultimately, worsened financial performance. From the perspective of the staff, uncontrolled noise can increase stress levels, heart rate, blood pressure, respiration rate, and muscle tension. Under these physiological conditions, they are more aggressive, impatient, nervous, and less likely to help others," Madaras said.
Sound isn't the problem per se. Not all sounds are distracting. Speech noise is the most distracting commonly encountered form of sound in the workplace, mainly because someone else speaking interferes with one's own internal monologue. When speech is intelligible, it's very difficult to ignore. The main negative effects of uncontrolled speech noise are worker dissatisfaction, decreased employee productivity, and compromised personal and company security, Justin Stout, director of market development, Cambridge Sound Management, Waltham, MA, observed.
Uncontrolled sound in the workplace could be the very reason employees look for employment elsewhere, commented Robert Marshall, technical services manager, CertainTeed Ceilings, Malvern, PA.
"People tend to feel tired and stressed in noisy environments, which can lead to higher rates of absence. We should no more design and build office environments where acoustics are poorly controlled or left to chance than we should allow temperature, lighting, or any other indoor environmental quality to go unaddressed," said Niklas Moeller, K.R. Moeller Associates Ltd., Burlington, Ontario.
Just as some acoustics experts make a distinction between sound and noise, the latter being unwanted sound, Moeller makes a distinction between quiet and silent. "Though many people tend to use these words interchangeably, there's a subtle difference that provides key insight into acoustic design. A silent space is one that has low or no sound at all, whereas a quiet space is one with little or no unwanted sound. In many cases, project teams attempt to provide quiet by designing for silence. In other words, they try to eliminate all sound from the space. However, this goal has the unintended result of making any remaining sounds that much more disruptive to occupants. And, in a workplace, sounds will definitely remain. If the goal is to design for quiet instead of silence, it's easy to see that adding a comfortable level of background sound is desirable in that it helps cover unwanted noises and reduces their disruptive impact," he explained.
Moeller cited a Gensler (San Francisco) survey that shows that the facilities that rate highest for collaboration are actually those in which the individual workspaces are designed for focus work. "It makes sense," he said, "because people typically feel far more comfortable talking when they aren't disturbing—or being overheard by—those in a wide radius around them. In other words, impromptu conversation is supported by providing a measure of acoustic isolation. To boost performance within an open plan, designers can implement greater levels of absorption and install a high-performance sound-masking system."
Click here for this month's Ken's View.
---
Sound Matters, GSA
14 Patterns of Biophilic Design
Greening America's Schools: Costs and Benefits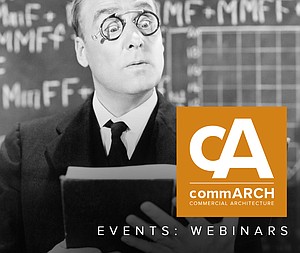 ABX | IWBC Virtual Experience Takes Place in Two Weeks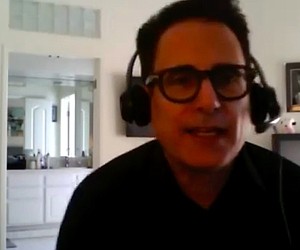 Project HEROE
HLW developed a concept to bring healthcare and other experts to the "ground zero" of a disaster and mitigate it ...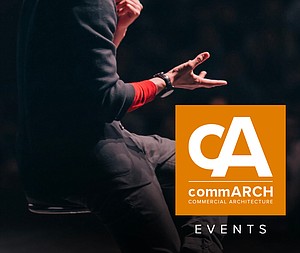 Midwest Build Week Online
Midwest Build Week Online is the largest virtual/online event covering all the latest projects and opportunities for the construction industry in Chicago and the Midwest.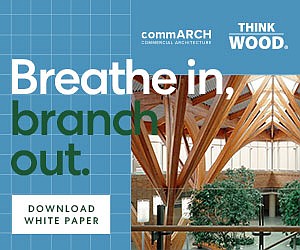 WHY DO WE FEEL BETTER WITH WOOD?
This commARCH White Paper focuses on how Wood shows psychological and physiological benefits, according to research.