December 03, 2017 , by commarchtest
Send this article to a friend
Employees at the Skullcandy headquarters stay connected to the surrounding Utah landscape through a virtually all-glass façade.
The Skullcandy headquarters building makes extensive use of glass to provide employees with views of the Uinta and Wasatch Mountains. Skullcandy, the iconic performance and lifestyle audio brand, was born on the ski slopes of Park City, UT. A $300-million technology company with international brand recognition, Skullcandy's 250 global employees design and produce headphones, earbuds, and wireless speakers and cater to the outdoor enthusiast with a rugged, tough yet stylish sensibility and a counter culture vibe. The company recently relocated to new headquarters at the base of Utah Olympic Park. The 45,000-sq.-ft. facility is home to roughly half of the company's employees. The site was selected for its stunning views and an opportunity for Skullcandy to stay close to their Park City roots. Think Architecture, Salt Lake City, was tasked with designing an environmentally-friendly structure that integrated into the landscape and maximized its striking views. According to principal architect Tyler Kirk, the "overall aesthetic of the building needed to reflect the future of where Skullcandy is going, while maintaining a connection to its past." The building also needed to feel like it belonged in Park City, while still fitting into the technology campus where it's located. Material selection was a critical component in the design process. The team specified modern, natural building materials that would weather gracefully and maintain their aesthetic appeal for a long time. Kirk wanted, "to create a look that would feel modern, yet remain connected to the natural environment of the area." Stone was mined from a local quarry. Zinc panels included in the design will naturally patina over time and take on a unique, mottled look. Cor-Ten steel will eventually transform into a natural orange that will reflect the color palette of the surrounding Park City environment. A modern, distinctive window mullion pattern creates a visual sense of movement and energy, evoking Skullcandy's identity as a musical and active lifestyle brand.
The Nanawall folding-glass wall system is designed to integrate seamlessly with the surrounding curtainwall. All building components were selected primarily based upon their long-term durability, with preference given to materials containing high levels of recycled content or the ability to be recycled in the future. Exposed structural steel and HVAC ducts, concrete floors, and a concrete ceiling are distinguishing aspects of the design that plays off the edgy, counter-culture brand identity of the company. Natural building materials and raw textures complement a high-performance, floor-to-ceiling glass system. The design goal for this building was to create an environment that was open, productive, and that housed all of Skullcandy's various departments in one cohesive setting. The resulting layout accommodates sophisticated 3D printing labs, sensitive sound-testing chambers, fabrication shops, research areas, conference rooms, and open office space. All of these elements function independently, but also allow for continual interaction and circulation between various departments. A large deck on the second floor of the building connects to an outdoor plaza on the main floor. The plaza is further connected to the building interior by a pair of NanaWall Systems Inc., Corte Madera, CA, SL70 folding-glass wall systems. Integration of indoor and outdoor living are at the heart of the company's culture, and the folding-glass walls facilitate this while providing overflow space for large company gatherings and public celebrations. The folding-glass walls also enhance the view of Utah Olympic Park. The folding-glass walls were customized to include horizontal mullion locations that match up with the curtainwall system, ensuring design cohesion. Initially, the architect considered using garage doors that would open the common areas up to the outside, but these would have interrupted the motif, compromised structural heat sealing, and interfered with some of the ceiling and lighting features. "The NanaWall system allowed us to seamlessly integrate the exterior façade so that, from the outside, it was perfectly integrated. Until you open the building, you would never even know that the doors were there," says Kirk. The thermally broken system performs to the same energy compliance and efficiency standards as the adjacent curtainwall.
Skullcandy's company culture is oriented to outdoor activities. Folding-glass walls are part of a building design that connects employees to Utah's fresh air and landscapes. Wind load was another important consideration when selecting glazing materials, as the building is in a high wind area. Tint, solar-heat gain, transference, shading coefficients, and energy performance balanced the goals to bring in as much natural light as possible, preserve the views, and reduce glare. NanaWall sourced the same glazing makeup used in the balance of the building, and the result is absolute aesthetic cohesion. After selecting various building components and glazing systems, energy use was reduced by 5.5% without changing the baseline mechanical and electrical systems. The mechanical and electrical systems were adjusted and modified to reduce energy consumption even further. LED lighting and elimination of unnecessary fixtures further enhanced energy conservation. The entire building is on a sophisticated light-control system to reduce electrical usage when daylighting provides sufficient illumination. Skullcandy is an anchor in the new Park City Tech Center. The first floor of the building includes a public space, full-service kitchen, showers, a game area, retail store, and a warehouse. A second floor is dedicated to employees, with an open floor plan featuring collaborative spaces, larger meeting rooms, standing desks, and smaller conference areas. A nod to the company's extreme sport origins, the headquarters includes an on-site, indoor skate ramp. Skullcandy's previous headquarters included heavy skate park theming, and the ramp in the new building is in constant use by employees and their guests. Another perk for employees is the headquarters' location near mountain-bike trails. "You can be on the dirt in about four minutes. Park City has a network of 450 miles of single-track mountain-bike trails you can get to from there. People bring their bikes and leave them here during the week, and ride during work or after work," said CIO Mark Hopkins. On-site showers and bike-storage areas support the culture. With stunning views of the Uinta and Wasatch Mountains, the digs have reinvigorated the company. "The new space is very uplifting," stated Skullcandy CEO Jason Hodell, and the folding-glass wall "makes it so easy to bring the outside to the inside and connect them." He added, "It's transformational for our company. Skullcandy was born in Park City as a startup, and it grew up and kind of went through adolescence. With the new headquarters, it definitely feels like we're a grown up company now. You can feel the energy. Everybody has been buoyed and picked up just because it's such a beautiful view and there's so much sun that comes in."
---
— 

Watch a video about the Skullcandy headquarters.
— 
Learn more about the SL70 folding-glass wall system.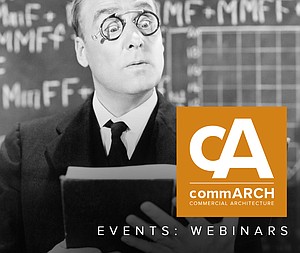 NOMA Homecoming | Detroit 50
NOMA is celebrating their 50th Year Anniversary in Detroit, where their twelve founders convened for the 1971 AIA Conference.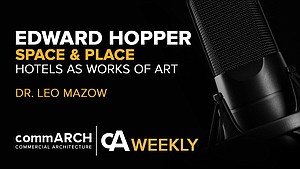 Space & Place: Edward Hopper and the Intersection of Hotels and Art | cA Weekly 02/20
In this episode of the commARCH Weekly Podcast Series commARCH speaks with Dr. Leo Mazow, curator of American art at ...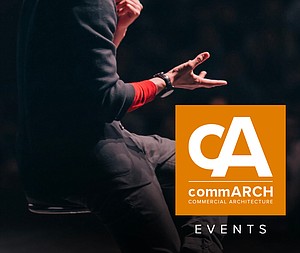 NOMA Homecoming | Detroit 50
NOMA is celebrating their 50th Year Anniversary in Detroit, where their twelve founders convened for the 1971 AIA Conference.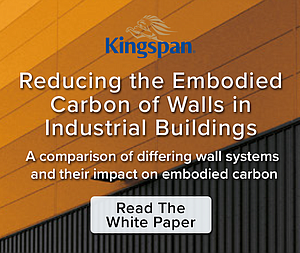 Reducing the Embodied Carbon of Walls in Industrial Buildings
Kingspan partnered with Kieran Timberlake to quantify how Kingspan can reduce embodied carbon in industrial buildings.