December 05, 2017 , by commarchtest
Send this article to a friend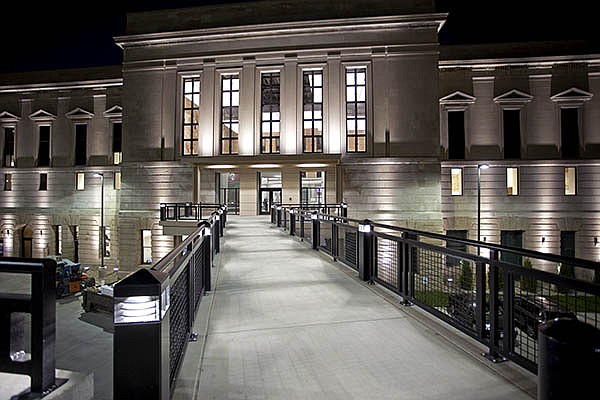 Regard for the past, healthy environments, new educational theories, and authentic experiences all influenced architecture and design in 2017.
By Kenneth W. Betz, Senior Editor Adaptive-reuse, mixed-use, new urbanism, and restoration of historical buildings are separate but related topics. All were of significance in 2017. And adaptive-reuse, mixed use, and restoration all come together in new urbanism—redefining neighborhoods into walkable, vibrant, user-friendly places that are an amalgam of old and new architecture and design. At its best, new construction pays homage to the fabric and style of existing neighborhoods. Restaurants and entertainment venues are likewise part of these revitalized neighborhoods, be they urban or suburban. Authenticity, the theater of food, and classic materials, are terms often used to describe contemporary restaurants—which are integral to any successful new urbanist neighborhood project. Elements of adaptive reuse and historic renovation are features of many new eateries. Schools reflect how education theory has evolved. Classrooms are more flexible, collaborative, and tech savvy. Instruction is more of a two-way conversation, and educational spaces reflect this trend. Learning is no longer siloed in a single classroom. In many schools, the whole facility is seen as a learning environment, and this is likewise reflected in contemporary design. Healthcare remains a large part of the U.S. economy, and facility design continues to evolve. Much has been said about making patients more comfortable and less stressed, but attention also is beginning to be paid to the well being and satisfaction of caregivers. Making working conditions safer and more pleasant is seen not just good for caregivers, but as having economic benefits as well. Sustainability and green healthcare facilities tend to speak to administrators as well. First of all, green and sustainable hospitals tend to use less energy, and administrators are ever mindful of cost containment. Secondly, a green and sustainable environment goes hand in hand with a more healthy environment, which can improve patient outcomes and improve staff satisfaction. In all of the areas, what were only nice-to-have amenities are increasingly seen as practical and necessary features. Vacant for 40 years, the Burlington Station in Omaha received a new lease on life when TV station, ABC affiliate KETV, repurposed the building despite damage from years of neglect. The adaptive reuse project was designed by Leo A Daly architects of Omaha. Photo: Courtesy Leo A Daly, Visko Hatfield
Old Is New Again
Adaptive reuse isn't new. As long as there have been buildings, we have been finding other uses for them as needs and priorities changed. "I think that we have crossed threshold to where planners and architects are now understanding there is a real importance in keeping the historical context and the historic buildings, to landmark and celebrate the history and cultural heritage of what brought the city to where we are today," Melissa Dittmer, AIA, director of architecture and design for Bedrock Detroit, observed. "You can't move forward without acknowledging and understanding the past. To me that's a big shift," Dittmer continued. "You see it in all cities, not just Detroit, where instead of taking things down and building anew there is a real effort to embed historic structures and historic references into new projects. Sometimes that means real strategic machinations in the way new buildings are done so that they can incorporate historic structures that are nearby or next to them." "It's not just urban planners, architects, and developers who understand the importance of preserving the cultural heritage of a building. It's tenants, too, who are really looking for a link to the past a well as a link to the future that represents their firm's ideology branding, and vision. They value the historic narratives of buildings and want that heritage ties into their spaces. Many are willing to pay the additional cost for that," Dittmer said. Asked if adaptive reuse and restoration were worth it, Dittmer emphatically agreed, "It's absolutely worth it. It's worth it for me just from a design standpoint, from a selfish single perspective, in order to have a heterogeneous city with a multitude of architectural styles. It's positively worth it to keep and restore these historic structures for everyone else that lives and plays within the city." Adaptive reuse has shifted in scale from single buildings to entire neighborhoods, cities, or regions, Dittmer thinks. The process may also be becoming more rapid. She cites a study about how to construct buildings, specifically parking garages, that can be adaptive within five years. "These are supportive structures that we know are going to fluctuate and evolve. We need to account for parking that we need right now but we also need to account for what that building might want to become in five years," she said. "Adaptive reuse of buildings is a form of sustainable urban regeneration," according to Clay Aurell, AIA, and Josh Blumer, AIA, both principals at AB Design Studio Inc., Santa Barbara, CA. "The term may be trendy, but the process of rehabilitating a building or a space for another use is not new. You can see transformative philosophies across industries, and this mindset is driving the escalation of adaptive-reuse architectural projects. Once a niche market, adaptive reuse has become a lexicon for architects and developers. Brownfield reclamations, urban pathways initiatives, repurposing a 19th-century town center into a 21st-century mixed-use development, are all adaptive reuse initiatives," they said.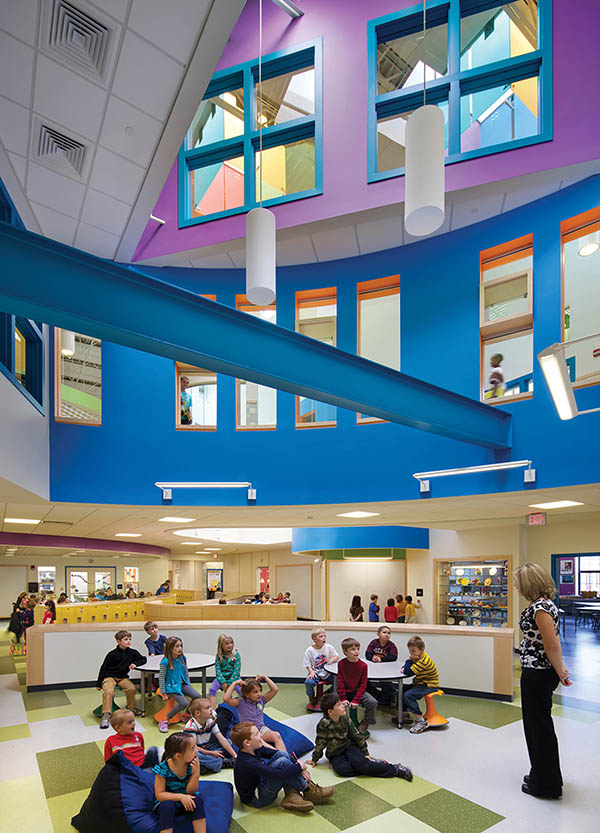 In a trio of new elementary schools in Concord, NH, a range of flexible learning spaces are dispersed throughout a central learning commons. Designed by HMFH, Cambridge, MA, the, central zone contains an amphitheater, a cozy circular storytelling room, media room, and multiple project areas. Photo: Courtesy HMFH, Ed Wonsek
New Learning Experiences
The traditional classroom is no longer the ideal building block for today's K-12 educational experience. Rather, rethinking where and how learning takes place is essential to creating new educational spaces. "Schools today need to depart from the idea that learning can only occur in a traditional classroom and move to the concept of the entire school building as a tool for learning. This means that every space in the building—the outdoor spaces, hallways, stairs, cafeteria, gym—should all be considered learning spaces. This is the ideal learning environment for today and the future," said Irene Nigaglioni, AIA, partner, PBK Architects, Dallas. "The goal is to make education student-centered, as we know that every student is a unique individual who learns differently. Traditional educational delivery was based on the factory model of education where all students were educated exactly the same. The factory model was represented by the teacher at the front of the room, delivering instruction to the students, who were recipients of information and not active participants in their learning. We know today this type of instruction does not prepare students for the demands of today's world. Today's jobs require students to be critical thinkers, creative, collaborative, and able to adapt to the needs of our global economy," she continued. Educational delivery needs to change to be a more inclusive, two-way conversation, Nigaglioni thinks. "In lieu of the teacher as a sage-on-stage, they need to be more of a guide-on-the-side, working hand-in-hand with students to ensure they are mastering the skills needed to succeed," she said. "This change in delivery results in a change in how learning environments are designed. First and foremost, they need to be agile, allowing students and teachers to rearrange the space as needed for the activities of the day, or to best suit their individual learning styles. This means active learning furniture that is light and easy to move and reconfigure," Nigaglioni commented. "Since learning will no longer be siloed in a classroom, diverse learning spaces throughout the building are needed. This may result in niches off of hallways where groups of students can come together to work, or it could be small conference rooms for groups to work more quietly. In order to activate the whole building as a learning tool, we see all spaces having more transparency between them, so that activities can extend beyond the walls of the space. In addition, we need to have the ability to have spaces flow from one to another, so the use of movable walls and folding walls is fundamental in the design of new learning spaces. Lastly, it is imperative that learning environments be designed with the user in mind, so access to natural light and good indoor air quality are key," she said. Indeed, flexibility is an often-mentioned ingredient in the ideal classroom, just as it is valued in higher education and corporate environments. "Students need options in the way they learn; good teachers need options to facilitate different ways of teaching. Spaces that adapt to more than one purpose allow learning methodologies to evolve. The future is infinitely malleable, so one approach to flexibility is to provide options—single student desks versus group learning spaces with movable furniture, mobile devices versus wall mounted screens, a mix of traditional and non-traditional classrooms within a facility," said Brendan Beachler, associate, Duda|Paine Architects, Durham, NC.
Located on the second level of the Whole Foods Market in Pasadena, 110 & Bellevue was designed by DL English Design, Pasadena, CA, and transforms an underperforming area into a premium draw for customers from both inside and outside the store. Photo: Paulo Marroquin
Cuisine Is Just The Beginning
Authenticity, the theater of food, classic materials, close attention to lighting details, and the location of bars and eateries in retail food environments are just a few of the trends in evidence in restaurant design today. "Restaurant design is about the authenticity of materials as an expression of the authenticity of food," said Clay Aurell, AIA, Principal, AB design studio, Santa Barbara, CA. "Many restaurants are also trying to capture the theater of food making," he continued. "Likely due to the rising amount of cooking shows on television today, this idea of theater in restaurant design seems to be of high interest to restaurateurs and speaks to the authentic vibe." In addition, operational shifts are taking place. "The restaurateurs of yesterday are moving toward a more fast-casual type scene during the day while adding more table service at night. This cuts down dramatically on staffing needs and helps a newer restaurant survive and adapt. I see adaptation as a strong concept that helps start-up food joints get through their beginning phase and into longevity," Aurell said. Josh Zinder, AIA, NCARB, LEED AP B+C, founding principal of Joshua Zinder Architecture + Design (JZA+D), Princeton, NJ, echoed Aurell's observation about authenticity. "Whether the venue is casual or formal, quick-service or high-end dining—and no matter the cuisine—a growing number of designs are showcasing exposed and raw materials. It has become not only acceptable to see concrete and steel, but even fashionable, where just a few years ago the focus on design had been all about transporting patrons into a curated atmosphere. This trend appears to be linked to an emphasis on authenticity in the menu: patrons want to be able to taste the ingredients, especially when they are paying a premium for farm-to-table or for imports. Now it seems they also want to see the architectural ingredients," Zinder said. This trend, he hypothesized, could have begun as a response to the economic downturn from a few years ago—exposed materials are typically a lower cost approach to design—and was likely supported by the increase in the population of diners who are millennials. "That demographic," he explained, "tends to prefer authentic approaches to design, food, and more." Another trend observed by Deborah Leigh English, IIDA, CCID, D L English Design, Pasadena, CA, is the addition of bars and eateries, sometimes multiple locations, within new and existing retail environments. Differentiated food and beverage spaces, branded independently from the greater retail store, provide the retailer and the community several distinct benefits, English noted. "For the retailer, they act as additional revenue sources from a captive audience who comes to the location with food on their mind already, expand brand reach, and make the store more alive by providing a gathering place for the community. These spaces expand and redefine food stores from just being where locals shop for groceries to becoming where the community goes for sustenance, regardless of the delivery form," she said. Relaxed, casual dining in lively, well-crafted social spaces and upscale environments is increasing the preference for today's customer. "Even in the sophisticated gastronomical mecca of Paris, dining is becoming more casual and fun, less stuffy and refined," English observed. "Young chefs all over are discarding fussy, formal service and rigid rules of the past and re-creating more convivial, relaxed eating and drinking places, where the food is of the highest quality, while the atmosphere is more friendly. These new chefs, in Paris, in LA with the recent food truck scene, and elsewhere around the world, are leading this rapid shift to restaurants that are more relevant to today's rapidly changing culture—food and otherwise. What we see is a wide variety of restaurant types that fit a multitude of desires around the type of experience a diner wants to have at that given time," she said.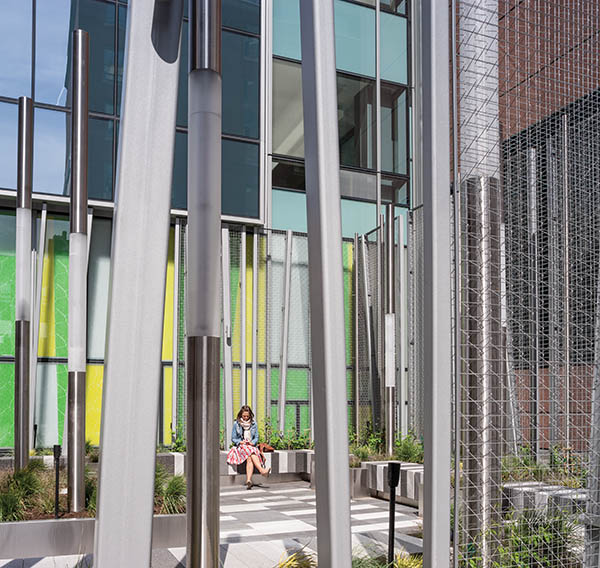 A pocket park created by Payette architects, Boston, out of a tiny corner of the Boston Children's Hospital campus adjoins the Mandell Building. The building is located on a dense urban site and the design team introduced connections to nature wherever possible for patients, staff, and visitors. Photo: © Warren Jagger Photography, courtesy Payette
Caring For Caregivers In A Sustainable Environment
Much has been said about the patient experience in healthcare settings. Until recently, less has been said about the caregiver experience, but that's currently changing. In fact, many think the two are not mutually exclusive. Milly Baker, AIA, LEED AP, ACHA,
senior associate, Payette architects, Boston, related having managed a facilities department at a teaching hospital where it was not unusual for senior staff with tremendous responsibility (such as an ICU nurse manager) to have 75-sq.-ft. windowless office on a unit with inadequate team work space and depressing break space. "Staff are under tremendous pressure; they are caring for families during often tragic situations where mental and physical strength and endurance are at a premium. Nurses work in challenging physical environments where facilities often fall short on supporting the needs of the staff," she said. Baker continued: "Emerging research has quantified the relationship between environmental factors and productivity. There are tremendous advantages to designing better spaces for staff in measurable gains in reducing sick days, improved job retention, and fewer mistakes. But the forces against expanding and improving staff spaces are also strong. The overall high cost of building construction ($1000.00 per sq. ft. in the Boston area) combined with competing project priorities means that space is always a scarce resource and daylight often emphasized for patient and family spaces. In order to preserve quality spaces for staff, senior administration must recognize both the need and the consequences of design decisions. "There are many opportunities for improvement," Baker said. " If identified and prioritized from the beginning, staff space can be appropriately sized and placed. The leading concerns for staff are: respect, security, collaboration space, respite, and the ability to offset grief and stress with diversions." "Respect begins the list because staff look for acknowledgement that they are being given the right tools to perform their jobs successfully, and the right tools include appropriate work space which provides some level of privacy. At the very least, staff should have access to a place to place their personal things, whether an office or a locker," Baker said. A panel of architects with Tsoi/Kobus & Associates, Cambridge, MA, expanded the definition of caregiver to family members, significant others, and the clinical care team. "Workplace redesign addresses issues related to the changing dynamics of care team interaction and collaboration as well as the differing needs/priorities of the multi-generational workforce. Consideration for the specific and unique needs of all and how these needs can be melded into a comforting, comprehensive, and holistic environment positively influences the customer experience," the team said.
Sustainability
Hospitals have incredible potential to contribute to a more integrated definition of 'green', one that certainly touches the basic building-driven metrics," according to Randy Guillot, FAIA, LEED AP, firmwide health and wellness practice area leader, design director, Gensler, Chicago. "For example," Guillot said, "hospitals utilize 50% more energy than a typical office building per square foot, and a recent report from the U.S. Department of Energy shows that the average hospital spends 15% of its revenues on energy. Therefore, the typical measures of sustainability related to energy, etc. are particularly relevant. But in addition, wellness principles around the sustainability of human health, happiness, and engagement are particularly important in these kinds of critical environments considering not just the sustainability of the building but of the people that occupy it. Climate change is also a health issue; impacts to communities and resources are real. "With the rapid consolidation of hospitals and healthcare systems, combining multiple projects and taking advantage of a range of sustainability opportunities, hospitals and healthcare systems can have significant impact over single building projects. Energy delivery, supply chain, and other operational economies of scale, as well as good design, can have a ripple effect throughout the communities where these hospitals are based. This also includes how sustainability can extend the life of the health campus," Guillot continued. In addition, "many cities and towns throughout the country are rife with shuttered or under-utilized healthcare facilities. These facilities vary in size, shape, design, context, and age, and have come to symbolize the state of the healthcare real estate market. Together these are the hospitals left behind, and it's a phenomenon that only promises to grow. Inventive reuse of these facilities can extend the useful life of buildings around the healthcare system's mission and help to create more livable communities," he added. "The health of the natural environment is the foundation for community, financial, and individual wellness," commented Maria Papiez, AIA, EwingCole, Philadelphia. "Since many of us spend 90% of our time indoors, the built environment is often a bridge between people and nature. That bridge is extra important in healthcare settings as research has shown positive impacts on healing time and patient satisfaction when we have connections to nature. The healthcare typology exemplifies the importance of a dual focus on sustainability — protecting nature that our health depends on and designing environments that promote wellness. Our opportunity as designers is to understand that the built environment plays a vital role in health and healing, and to design spaces that support the care provided by medical staff," she said.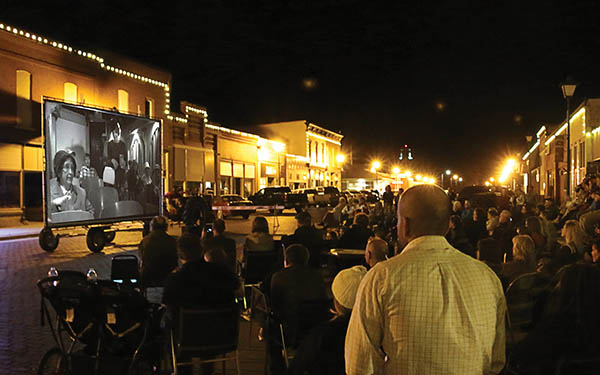 Artist Matthew Mazzotta's Storefront Theater in Lyons, NE, is a work of art that also encourages artistic events. Working with local craftspeople, Mazzotta created a theater that folds out from a vacant brick façade, using two hydraulic pump arms to raise and lower it for events.
Reinventing The Urban Landscape
Cities evolve and change. They always have. For a time following World War II, many U.S. cities were in serious decline, and residents fled to the suburbs. These days some cities are seeing a revival of varying degrees. Residents, and would-be residents, recognize the advantages of diverse communities with necessities and amenities close at hand, preferably reachable without reliance on an automobile. New urbanism is a concept that characterizes the changes taking place in cities and, to some extent, even the suburbs, but what is new urbanism, exactly? "In the United States, new urbanism would be something that looked like a piece of the United States as if it were built before World War II. It's about the simplest way that I can say it," John Torti, FAIA, Torti Gallas + Partners, Silver Spring, MD, said. "It's about how to plan and remake some of our older cities and suburbs and how to make new towns and villages beautiful, more pedestrian friendly, and more walkable," he continued. "It's also about restructuring public policy that changes the weight of the automobile in our public environment and produces better places for human beings—better walkable communities whether they're high-density communities or medium- or low-density communities." "New urbanism is a way of making buildings, neighborhoods, towns, regions in ways that favor walkability, transit, and compact, more livable mixed-use communities that are less reliant on the automobile and are organized around a very strong public realm," added Elizabeth Moule, partner, Moule & Polyzoides Architects and Urbanists, Pasadena, CA. "They encapsulate important environmental and sustainable considerations in making towns. It's a way of trying to restore the sense of community that people can share with one another in neighborhoods and towns and restore balance between the natural world and development." New urbanism is about a combination of architecture and city planning. "It's absolutely both," Moule agreed. "There really aren't fantastic cities, towns, and neighborhoods that don't have beautiful architecture. Architecture contributes to the kind of visceral qualities of a place as much as anything, and the way that buildings are designed contributes positively to walkability or not. For instance, the way that a building faces the street, whether there might be a curb cut or two for an automobile, may disrupt a pedestrian experience on a sidewalk. The façade that a buildings presents towards the city can be interesting or not and induce more walking or discourage more walking. That's a question of scale; it's a question of material; it's a question of how the sidewalk, the entire street frontage, is managed," she said.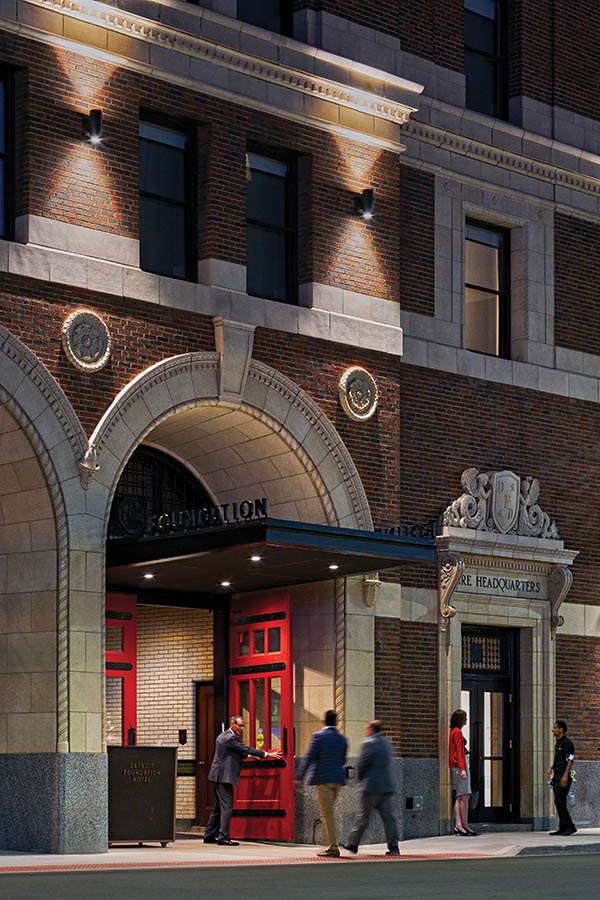 Historic preservation and renovation of the former Detroit Fire Department Headquarters and adjacent Pontchartrain Wine Cellars building by McIntosh Poris resulted in a new 100-key boutique hotel featuring ground-level restaurant, private dining room, chef's table, bar, lounge, retail, two business meeting rooms, and podcast studio. Photo: Jason Keen, courtesy McIntosh Poris
Preserve, Rehab, Restore, Or Reconstruct?
When it comes to historic buildings, the U.S. Department of the Interior, National Park Service, suggests there is more than one approach. In fact, Standards for the Treatment of Historic Properties enumerates four: preservation, rehabilitation, restoration, and reconstruction. "Fundamental to the question is integrity, significance, and economic viability." said David Bell, FAIA, LEED AP, BD+C, Bell Architects, PC, Washington, D.C., relating how the guidelines apply to his firm's work. "Preservation is most viable when there is a great deal of integrity, continuous use that is consistent with the historical use and limited increase or change in economic demands," he said. "Rehabilitation is the approach most applicable to our practice," Bell continued. "Much of our work is related to modernizing systems and enclosures in historic buildings to meet current demands for energy efficiency, comfort, life safety, and accessibility. While rehabilitation can have some areas or elements that are restored, this approach allows for some flexibility to incorporate new systems and change spatial configurations; it is suited to adaptive reuse. There are federal rehabilitation tax credits applicable to this approach—which are also available for restoration projects as well." "Restoration is a more of an academic approach, requiring rigor in research and application," Bell explained. "It is often related to a use similar to the period of significance. It's not uncommon for historic house museums to fall into this category. Sometimes these will be eligible for grants with associated conservation easements." Finally, reconstruction generally is done when the historic resource is largely gone, Bell commented. "It is probably the least common of the approaches. This can be a tricky approach, while it is hard to avoid conjecture without having a great deal of documentation. One of the most well-known examples is Colonial Williamsburg." "At STIR Architecture, we consider many factors when determining the right approach, as the order of importance of the concepts can shift these depending on the intended use and the source of funding," said James C, Auld, AIA, CDP, partner, STIR Architecture, Los Angeles. "Budget and funding sources, project location, the building and site condition, the context and the future intended use, if different than the historic use, as well as the intended outcome of a project, influence our choice of approach. We may borrow from all four approaches—especially when the historic use is being replaced with a newer one. When the project will remain in its original use, we may only employ a preservation approach to stabilize the structure, make it safe, and more resilient to damage from earthquake, fire, or wind," Auld said "Our work to date with historic buildings has focused on a combination of approaches, which results in the greatest benefit relative to the cost. For example, at Los Angeles Engine Co. 28, we added an additional office level on top of the main roof, behind and existing parapet. The parapet fronts the only significant façade and allowed a change of use from fire house to creative office on levels above ground and a ground level restaurant. Our work retained all of the significant features—the brick, stone, tile façade, great massive doors, ambience of the engine room, its paneled and tin ceiling and the fire pole linking to the floor above—while introducing new features to this 1928 monument in downtown Los Angeles," he said. Click here for this month's Ken's View column, "How Buildings Mess With Our Heads."
---
Older, Smaller, Better (Preservation Leadership Forum)
Restaurant Trends
Congress for New Urbanism
Next Gen Learning
American College of Healthcare Architects
Climate Action: A Playbook for Hospitals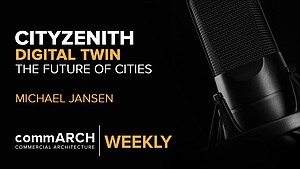 CityZenith's Michael Jansen on Digital Twin & the Future of the Urban Environment | commARCH Weekly 07/2020
In this episode, commARCH has a dialogue with Michael Jansen, Founder and CEO of CityZenith, to discuss the burgeoning landscape ...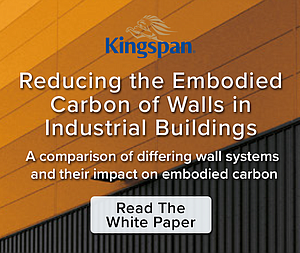 Reducing the Embodied Carbon of Walls in Industrial Buildings
Kingspan partnered with Kieran Timberlake to quantify how Kingspan can reduce embodied carbon in industrial buildings.