Interiors
Smart Design Equals Flexible Workplaces
February 02, 2017 - by commarchtest
To stay nimble and efficient, companies need workplaces that can be adjusted quickly, requiring careful planning for flexible design.
Interior spaces in the Sempra Energy building were designed for maximum flexibility.
By Danette Ferretti and Stuart Fromson, Carrier Johnson + CULTURE
Whether for new construction or renovation, the workplace design challenges for interior designers are usually familiar ones. Clients who operate in similarly competitive fields require the designer to strike an optimal balance among multiple project goals. We strive to create harmony between professional, aesthetically pleasing workplaces and flexible spaces that quickly adapt to changing needs. [powerpress url="http://media.blubrry.com/commercialconversation/content.blubrry.com/commercialconversation/Architects_0217.mp3"]
Learn more about workplace flexibility in our interview with Danette Ferretti and Stuart Fromson.
Flexibility may mean different things in different contexts. Recent trends exemplify more standardized workplace designs, tending toward open-office plans and smaller workstations. Our approach embraces a flexibility that offers choices, expanding the options for leadership, management, and employees to determine how and where they work. We make efforts to include a huddle space for four, a meeting room for as many as six, an open breakout space, and a quiet corner, each accessible to every employee.
For public-facing areas where flexibility is not as important, such as the lobby (background) and café, the Sempra brand was emphasized. A recent project in San Diego is particularly instructive in this regard. We were commissioned by Cisterra Partners LLC, San Diego, to design a building that would attract a single tenant, and then build to suit for that tenant. Sempra Energy signed a 25-year lease, at which point we began working closely with them. Our experiences on this project offer some valuable lessons for interior designers, owners, and tenants facing these or similar challenges: •
Make an informed plan, early.
One cannot overemphasize the importance of the pre-planning and planning phases. To design for a 25-year lease, we made every effort to hear "the voice of many" by surveying staff company wide, and seeking direct input from a wide range of nearly 200 employees. We then compiled this comprehensive data to run programming scenarios. Considering a set of fixed elements such as meeting, focus, and break areas, we worked out what the floor-plate configuration might look like for an office-to-cubicle ratio of 90:10, then for 80:20, and for 70:30, and so on. This process became the foundation for every decision that followed, from infrastructure to planning to furniture selection. •
Balance with beauty.
In addition to flexibility, project goals and norms also included sustainability, budget, maintenance, and aesthetic appeal. The company's professional image is critical for client relations and employee satisfaction, so aesthetics could not be sacrificed for flexibility. We emphasized Sempra's brand in public-facing areas where flexibility is not as important. Offices and workspaces were selected to provide a timeless appeal, by incorporating colors and textures found in nature. •
Room to move.
To make a truly flexible workplace, a primary building element to consider is electrical and data infrastructure. As a build-to-suit project, we were able to introduce 6-in., raised-access floors throughout the office areas, allowing easy access to distribution frames for electrical and data. Demountable wall systems provide most of the partitioning and, while a facility crew or furniture-dealer's team may be required to reconfigure them, there is no need for a construction crew. •
In the zone.
Once we understood workflows and operating norms within the company we set about programming zones—possibly the most important part of our flexibility strategy for Sempra. We developed office sizes to be roughly interchangeable with zones where furniture reconfiguration would likely take place, and other zones where offices could be taken out (removing demountable walls) to be replaced with system furniture.
Office spaces are built on 6-in. raised-access floors to allow easy configuration of electrical and data infrastructure. Whatever approach shareholders adopt to optimize workplace flexibility, client needs and goals should be carefully explored to the utmost degree that timeline and budget allow. Evidence-based planning and design demonstrates to clients that a desired outcome will be realized in the final design. Keeping these methods, techniques, and elements in mind will guide the workplace design team to success, and their client to a prosperous long-term tenancy.
Danette Ferretti, IIDA, is senior associate and interior designer for Carrier Johnson + CULTURE, San Diego. She has 25 years of experience in the world of interior design and design management and has directed a range of projects, from full interior renovations to new construction in the private and public sectors. Stuart Fromson, CID, senior interior designer for Carrier Johnson + CULTURE, has more than 30 years of experience as a design innovator and a leader in the community. His body of work includes projects in every building sector, at all scales.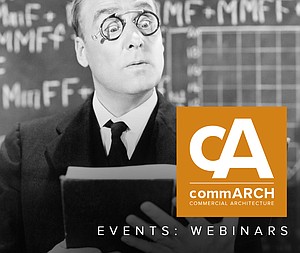 Owens Corning: LIVE Webinar Series
Online Educational Webinar Schedule for Architects is Attached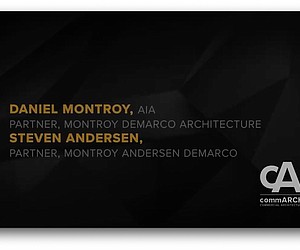 Seeing the Entire Picture
The coronavirus pandemic of 2020 changed commercial architecture, especially offices and other workplaces. Almost overnight, employers sent all of their ...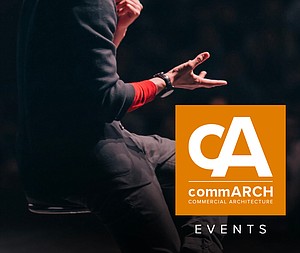 Join Vitro for live Continuing Education opportunities throughout the month of October.
Vitro is offering several online Continuing Education (CE) opportunities for you throughout the month of October.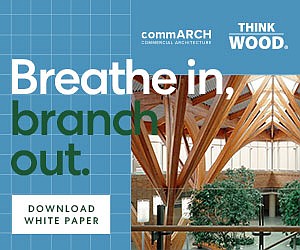 WHY DO WE FEEL BETTER WITH WOOD?
This commARCH White Paper focuses on how Wood shows psychological and physiological benefits, according to research. Wood has been used as a building material for millennia, but its benefits to people who live, work, and gather in the built environment are only beginning to be understood. Researchers are discovering that wood can contribute to the health and wellbeing of building occupants. While many people would agree that wood is visually pleasing, its aesthetic properties affect humans on a deeper level. Can the use of natural elements in building design enhance moods and reduce stress? Can they improve focus, creating environments that enhance productivity and learning? In this white paper, we'll examine the benefits of an emerging design approach, and the science behind it