Interiors
Preserve, Rehab, Restore, Or Reconstruct?
November 06, 2017 - by commarchtest
Working with historic buildings involves choices, challenges, and rewards.
The Northeast Neighborhood Library, Washington, (c. 1932) was rehabilitated for continued use by Bell Architects. Interior and exterior improvements were completed. The project obtained LEED Silver status, EUI (Energy Use Intensity) of 76, and ADA access was provided. Photo: courtesy Bell Architects
By Kenneth W. Betz, Senior Editor
When it comes to historic buildings, the U.S. Department of the Interior, National Park Service, suggests there is more than one approach. In fact, Standards for the Treatment of Historic Properties enumerates four: preservation, rehabilitation, restoration, and reconstruction. "Fundamental to the question is integrity, significance, and economic viability," said David Bell, FAIA, LEED AP, BD+C, Bell Architects PC, Washington, relating how the guidelines apply to his firm's work. "Preservation is most viable when there is a great deal of integrity, continuous use that is consistent with the historical use, and limited increase or change in economic demands," he said. "Rehabilitation is the approach most applicable to our practice," Bell continued. "Much of our work is related to modernizing systems and enclosures in historic buildings to meet current demands for energy efficiency, comfort, life safety, and accessibility. While rehabilitation can have some areas or elements that are restored, this approach allows for some flexibility to incorporate new systems and change spatial configurations; it is suited to adaptive reuse. There are federal rehabilitation tax credits applicable to this approach—which are also available for restoration projects as well." "Restoration is a more of an academic approach, requiring rigor in research and application," Bell explained. "It is often related to a use similar to the period of significance. It's not uncommon for historic-house museums to fall into this category. Sometimes these will be eligible for grants with associated conservation easements." Finally, reconstruction generally is done when the historic resource is largely gone, Bell commented. "It is probably the least common of the approaches. This can be a tricky approach, while it is hard to avoid conjecture without having a great deal of documentation. One of the most well-known examples is Colonial Williamsburg." "At STIR Architecture, we consider many factors when determining the right approach, as the order of importance of the concepts can shift these depending on the intended use and the source of funding," said James C. Auld, AIA, CDP, partner, STIR Architecture, Los Angeles. "Budget and funding sources, project location, the building and site condition, the context and the future intended use, if different than the historic use, as well as the intended outcome of a project, influence our choice of approach. We may borrow from all four approaches—especially when the historic use is being replaced with a newer one. When the project will remain in its original use, we may only employ a preservation approach to stabilize the structure, make it safe, and more resilient to damage from earthquake, fire, or wind," Auld said. "Our work to date with historic buildings has focused on a combination of approaches, which results in the greatest benefit relative to the cost. For example, at Los Angeles Engine Co. 28, we added an additional office level on top of the main roof, behind and existing parapet. The parapet fronts the only significant façade and allowed a change of use from firehouse to creative office on levels above ground and a ground-level restaurant. Our work retained all of the significant features—the brick, stone, tile façade, great massive doors, ambience of the engine room, its paneled and tin ceiling, and the fire pole linking to the floor above—while introducing new features to this 1928 monument in downtown Los Angeles," he said. Philip B. Chen, AIA, LEED AP, president, Ann Beha Architects, Boston, agreed that the categories may overlap. "We refer to the Secretary Of Interior's Standards For The Treatment Of Historic Properties a lot in our work. We use those guidelines even in private projects, projects where the state historic preservation officer may not be involved. That's simply because these guidelines, which were really issued first in the 70s, have become really tried, tested, and have become standard for a lot of historic commissions and people who are interested in preservation of projects," he said. The clues to determining which approach is most appropriate are in the guidelines themselves, Chen observed. "How historic is the building; what is its level of significance? These are questions architects must ask. If something historic happened there, or the building is such a quintessential example of a certain style or a certain work by an architect, then it falls into the preservation/restoration categories," Chen commented. "Much of our current work," Chen observed, "mostly falls into the category of rehabilitation. "That is determined by the proposed use of the building. Clients are often looking for a new use—adaptive reuse. "We've found for a lot of historic buildings, their original use may not be viable any longer, or their owners may not be able to continue maintaining and sustaining their buildings," he said. "We do a lot of higher-education work; we do a lot of public work or cultural work. A lot of our clients often are able to step in and take on the maintenance of these buildings, and sometimes they're the only ones that are able to; they have the resources to do it and do it properly. For a college or university or a public institution, or a cultural institution to come in and actually use a building, that's going to, I think, ensure its preservation and maintenance over time."
After an eight-year closure, the Felipe de Neve Branch Library in the Los Angeles Lafayette Park neighborhood reopened its doors following an historic restoration, seismic upgrade, and expansion. The library is listed on the National Register of Historic Places. Photo: courtesy STIR Architects
Increased interest
There is increased interest in preserving and restoring historic properties throughout the United States. David Bell of Bell Architects commented, "The Washington, DC, area has a strong interest in historic properties. Many historic districts and individual landmarks can be found in places such as Washington; Alexandria and Middleburg, VA; Frederick, Annapolis, and Prince Georges County, MD. In my opinion, there is a desire to retain and enhance the sense of place, so that cities retain their cultural heritage and identity. As globalization becomes more pronounced, authenticity becomes more valued and also more difficult to retain/achieve." "There is a growing interest in reusing historic places, buildings, and interiors and not just in older cities with large stocks of buildings 200 years old and older," agreed James Auld. "In areas of the U.S. that developed largely after WWII, like Los Angeles, buildings of some age and specific character are enjoying a renaissance. In fact, there is recent interest in buildings that are not necessarily listed in local or historic registers, but have unique, relevant, and adaptable features that can be a key part of the redesign in an adaptive reuse. Underutilized commercial, office, warehouses, and department stores from the turn of the century in downtowns, along with the larger structures built in suburban locations, have become available and desirable for reuse," he said. "These structures are interesting to developers of office, residential, and retail for a number of reasons. In downtowns, there are usually highly utilized at the street level for retail, but sit unused above ground. Such buildings are largely not listed on local or national historic registers, and that is helpful given the perception that it is difficult to deal with the Secretary of the Interior's Standards. Without the listing, the Standards can be treated as they were intended—guiding concepts, versus rules to be obeyed," Auld added.
Avoiding mistakes
However, preserving, rehabilitating, restoring, or reconstructing historic buildings involves myriad decisions, and mistakes can be made. "Making decisions in a piecemeal way without understanding the property is something that should be avoided," said David Bell. "We encourage people to understand not only the significance of the property, but also building science. One should not treat a symptom, without understanding the underlying cause(s) of deterioration and distress. Blindly introducing air conditioning and thermal upgrades, for example, can have unintended consequences on the building fabric, causing accelerated deterioration in masonry and wood." "Often, in an effort to improve energy efficiency and sustainability, people will replace windows and furr-out original plaster walls with added insulation. We have documented evidence for projects that have retained original single-glazed wood windows while still meeting aggressive energy-efficiency performance targets," he said. "Analyzing the configuration of the building and defining treatment zones (hierarchy of significance) should be done in order to make informed decisions about alterations and modernizations," Bell continued. "For example, many historic 19th century and early-mid 20th century buildings are not configured with ceiling plenums. Trying to utilize HVAC systems with horizontal ducts and piping distribution may be incompatible and result in lower ceilings, hiding character-defining interior features and conflicting with windows," he noted. Philip B. Chen of Ann Beha Architects agreed on the importance of understanding the building itself. Not understanding the context, the significance, and what is it that makes that a building significant are mistakes. "All our projects begin with a rigorous research phase, so we can really understand the context, understand the building, both physical and cultural, really what is it that makes that piece of architecture important. With that understanding, then I think you can decide how can you adapt, modify, or add on to that building without sacrificing its character," he said. "Then, I think, moving from there, some of the mistakes may be disrupting that character, whether it's the scale. You could add an addition that overwhelms that historic building or changes the context so radically that the building no longer has the same relationship to the context and the setting. Very simply, you could make the mistake of removing or damaging the character, removing too much fabric, removing something that really was significant. Then even more in an abstract way, you don't want to create a false sense of history, to mislead people into thinking that something which is not historical is historical," Chen said.
Challenges
Making historic properties energy efficient, sustainable, accessible, and compliant with current building codes can be challenging, but "there are numerous strategies, techniques, technologies, and approaches that skilled design, engineering, construction, or governing agencies can approve, accept, and implement to improve and sometimes meet or exceed codes," observed James C. Auld of STIR. "In the event that the explicit code can't be met in the most literal sense, the Department of the Interior Standards gives local building officials some leeway on issues that aren't related to life/safety. Since improvements can be made in many areas—accessibility, energy efficiency, water use, and user responsiveness—a building owner's liability is greatly reduced. It continues to be more affordable to make such improvements as new products come online and are embraced by the design and construction community," he said. Mid-to-late 20th Century buildings may have more challenges than some older buildings, according to David Bell. "Historic buildings, especially those built before the advent of air conditioning, are fairly well suited to sustainability because they were originally designed for passive strategies and basic physics. They may have thermal mass walls, passive ventilation, orientation to solar and wind, and other climate-responsiveness. While not complying with prescriptive building codes, many older buildings can meet performance-based code compliance and achieve equivalent life-safety standards," Bell said. On the other hand, "As far as accessibility is concerned, many of these historic buildings are significantly deficient in accommodating mobility impairments. These can be especially challenging to respect the historic setting and retain the main entry, because the main level is often multiple steps above grade and there is no elevator," Bell said. "Definitely, I think access is a challenge to a lot of these buildings," agreed Philip Chen. "Some of the more historic buildings were built at a time when they were trying to exude monumentality, authority, and power. That may have meant having to walk up several flights of steps to get to the main entrance, that they were very opaque, or they might have had walls encircling them. I think a lot of our clients are looking to make these buildings more accessible, not only physically accessible, but also just more transparent. They are trying to welcome people, rather than keep them out, so that's something that is a challenge, but I think it's one of the interesting things about adapting these old buildings, making them available to new publics, diverse publics," he said. "Older buildings were not built for the types of systems that we have today, for duct work and power and lighting," Chen noted. "Being able to integrate all of that into historic buildings and making them energy efficient and sustainable is a challenge, but it's worth doing," he said. "One of the things that we found as we were doing energy modeling for a project at the University of Chicago is that the single most impactful move you could make was to deal with the windows," he related. "It had original steel-sash windows, and every one of those were leaded glass, so every window unit was like having 16 windows. Just the energy loss from infiltration and solar gain was dramatic. We were able to replace those steel-sash windows with energy-efficient units that were able to reduce the heating and cooling loads by 40% in the building. We found that that was going to be the biggest impact, even more so than dealing with insulating the masonry walls. The windows were going to get us the most efficiency for the effort," Chen said.
Benefits
Preserving, rehabilitating, restoring, or reconstructing historic buildings can be well worth the effort. "There can be economic benefit to rehabilitating an existing structure, as long as the proposed uses are compatible," said David Bell. "There is potentially a perception of increased value, since a property may convey meaning and be more timeless and seem less like a commodity. Capturing the embodied energy and infrastructure of existing buildings makes it one of the most sustainable approaches to development. "As globalization and commodification expands, the zeitgeist often results in places becoming more and more alike," he added. "Chain restaurants, airports, building enclosures are all looking the same. Their designs are often based on market studies, trends, fashion, and what manufacturers currently are selling. It's important for cities to retain their identity, grow organically, and respond to problems and opportunities iteratively. Some of the hubris of planners and designers of the 20th century has resulted in dehumanizing, inhospitable, and unhealthy places." "Among the economic benefits of working with an existing structure are lower impacts to the environment with energy stored and saved, shorter schedules and saving on the demolition, recycling, and construction. More difficult to measure in dollars are the invaluable benefits to the community of connecting with our history and culture through these preserved, restored, or adaptive places, buildings and artifacts," commented STIR's James Auld. "When the time is right, and the market is right, it is right time to act," continued Auld. "The wise decision is to leave historic structures, places, or artifacts alone, until such time as funding can be secured, interest increases, and the demand creates the right conditions for a solid move forward when an owner with a business plan and design and construction approach allow the standards to be deployed for the highest and best results." Judging from the increased interest in the new urbanist approach to restoring urban neighborhoods throughout the country, the time just may be right.
Historic preservation and renovation of the former Detroit Fire Department Headquarters and adjacent Pontchartrain Wine Cellars building resulted in a new 100-key boutique hotel featuring ground-level restaurant, private dining room, chef's table, bar, lounge, retail, two business meeting rooms, and podcast studio. Photo: Jason Keen, courtesy McIntosh Poris
Detroit Fire Department Headquarters, Detroit
Historic preservation and renovation of the former Detroit Fire Department Headquarters and adjacent Pontchartrain Wine Cellars building resulted in a new 100-key boutique hotel featuring ground-level restaurant, private dining room, chef's table, bar, lounge, retail, two business meeting rooms, and podcast studio. The Foundation Hotel includes a fitness center and a new modern building addition to the fifth floor to host banquets and parties for as many as 160 guests. McIntosh Poris Associates, Detroit, worked with Aparium Hotel Group and Simeone Deary Design Group, both of Chicago, to repurpose the former fire department headquarters and the adjacent building. The $28-million project embraces a "Detroit State of Mind" to welcome visitors and locals with an authentic sense of place. The existing red-sandstone and masonry building façade was repaired and restored to maintain the building's character. Decorative terra cotta panels sporting firehouse themes, such as busts of firefighters, gryphons at a fire hydrant, and winged serpent-tailed figures flanking a shield proclaiming "DFD," were repaired, cleaned, and maintained. The original fire-engine-red doors were restored and reused. The building's origins are used to great advantage in the ground-floor 150-seat restaurant and bar situated in the former fire-engine hall and private dining room in the historic lounge.
McIntosh Poris Associates worked with Aparium Hotel Group and Simeone Deary Design Group, both of Chicago, to repurpose the former Detroit fire department headquarters and the adjacent building. Photo: Michelle and Chris Gerard, courtesy McIntosh Poris "The apparatus room was an amazing space, and we wanted that to be the hub of the hotel," said Michael Poris, AIA, principal, McIntosh Poris Associates. We wanted to keep that space intact. That meant keeping the tile and keeping the columns, but then making it into a space, obviously, much different than what it ever was when it had fire trucks in it. "We were joining two buildings together, one was built in the 1880s and one in 1929, and the floors didn't line up at all. They were like, 5 feet different between the two buildings. There were two elevators in the fire department but to make the two buildings accessible, we had to put in a third elevator and a third stair in the other building," Poris said.
The trendy and chic St. Joseph Brewery and Public House in Indianapolis emerged from an abandoned 1880s Catholic Church. The building had been empty for nearly 30 years. Photo: courtesy Schmidt Associates
St. Joseph Brewery And Public House, Indianapolis
The trendy and chic St. Joseph Brewery and Public House in Indianapolis emerged from an abandoned 1880s Catholic Church. The building had been empty for nearly 30 years. The church, however, is located in one of the oldest historic areas of the city. The area now has a lot of foot traffic and a lot of restaurants and destination points. For Wayne Schmidt, FAIA, principal, Indianapolis-based Schmidt Associates architects and engineers, the building was a good candidate for reuse. "Buildings that aren't good candidates are probably the ones that were never good buildings to begin with. They weren't well designed in the beginning, they're sort of pseudo-historic, and no one cares whether they're saved or not. Whereas a building like St. Joe, it was always significant. It was well done in the beginning, and everyone wants to keep buildings like that around longer." The reuse celebrates the facility's original design. The sanctuary is now home to a 3,000-sq.-ft. establishment with dining space for about 125. The former altar was reconstructed from the original timber framing to support the weight of the brewing operations—now fully in view of the dining area. The bar construction includes reclaimed wood from the original church construction.
The sanctuary is now home to a 3,000-sq.-ft. establishment with dining space for about 125. The former altar was reconstructed from the original timber framing to support the weight of the brewing operations—now fully in view of the dining area. Photo: courtesy Schmidt Associates Light fixtures were added that keep with lighting that would have been in the original church. The kitchen—along with other brewing support spaces—is located in the lower level of the church to minimize the disruption of the sanctuary space. Finishing the space, a new stair was constructed to access the original choir loft overlooking the dining areas below. The balcony includes private dining spaces for groups and events. The renovation cost was approximately $1.5 million. The reuse did require new mechanical and electrical, but the roof was sound and not contributing to water damage, Schmidt commented. "Had that been the case, it would have been much more expensive to restore," he said. The challenge becomes maintaining the original design integrity of the building, using new systems that the building was never designed to have in the first place," added Phil Medley, an architect and engineer with Schmidt Associates. "I think the designer has to be humble and understand that the building is far more important than making a contemporary statement," Schmidt said.
Click here for the Ken's View column for November 2017.
---
Foundation Hotel, McIntosh Poris
University of Chicago, Ann Beha Architects
Felipe de Neve Branch Library, STIR Architects
St. Joseph Brewery & Public House, Schmidt Associates
Northeast Neighborhood Library, Bell Architects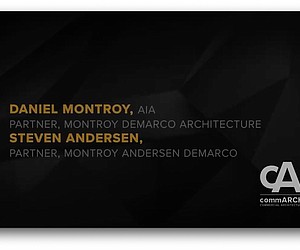 Seeing the Entire Picture
The coronavirus pandemic of 2020 changed commercial architecture, especially offices and other workplaces. Almost overnight, employers sent all of their ...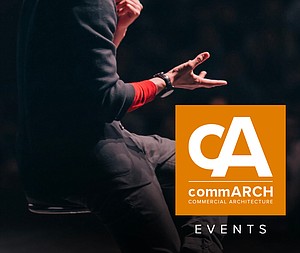 Innovation Summit World Tour 2020
Join us for the Innovation Summit World Tour 2020, a series of 11 virtual events to discover the future of energy management and automation for your industry.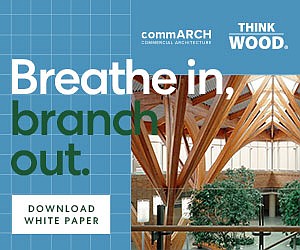 WHY DO WE FEEL BETTER WITH WOOD?
This commARCH White Paper focuses on how Wood shows psychological and physiological benefits, according to research. Wood has been used as a building material for millennia, but its benefits to people who live, work, and gather in the built environment are only beginning to be understood. Researchers are discovering that wood can contribute to the health and wellbeing of building occupants. While many people would agree that wood is visually pleasing, its aesthetic properties affect humans on a deeper level. Can the use of natural elements in building design enhance moods and reduce stress? Can they improve focus, creating environments that enhance productivity and learning? In this white paper, we'll examine the benefits of an emerging design approach, and the science behind it