Interiors
Integrated Design Delivers Branded Workplaces
September 05, 2017 - by commarchtest
Multidimensional branding concepts help recruit/retain talent and surrounds employees with an internal marketing message that reinforces innovation.
The DiamondView Tower, San Diego, is the first U.S. office building built in conjunction with a major league ballpark (Petco Field). Interior and exterior branding, such as the Hall of Fame lobby, reflect the partnership.
By Brian M. Koshley, AIA, Carrier Johnson + CULTURE
Teams assigned to new-construction and major-renovation projects can become sprawling armies, adding complexity and red tape to what should be a streamlined process. For owners, a shorter roster of consultants and designers helps demystify the process and invites engagement. Short rosters also reduce turf tussles and professional jealousy. [powerpress url="http://media.blubrry.com/commercialconversation/content.blubrry.com/commercialconversation/archpod0917v2.mp3"]
Learn more about branded workplace design in our interview with Brian Koshley.
There is another, stealthier and very positive benefit: Integrated project teams get better results translating top-level organizational strategy into brand-centric built environments. According to LinkedIn data, investment in employer brands increased 59% between 2015 and 2016. Other studies show this trend is expanding to unexpected disciplines, such as green building and environmental design. Only a decade or two ago, spending on brand expression was concentrated on product design and marketing collateral. Now it's about competing for talent, market share, and customer affinity. For one global technology client, its newly designed offices strategically capitalize on its roots as a garage-based startup. To leverage this appeal, the solution integrates interior architecture with branded graphics to celebrate the culture of the technology-startup community. Naturally, every building project brings together multiple disciplines and experts, and the core design disciplines should be integrated, wherever possible. That's why firms around the country are putting specialty studios to work under one roof. Call it simply an integrated approach, branded environments, or "dimensional branding," as Gordon Carrier, FAIA, dubbed it. By any name, it's a strategic, high-level connection between client mission and building expression. This approach also requires professional coordination in architecture, interior architecture, branding, graphics, and identity and client culture consultation. Multidimensional branding has an excellent track record in retail and hospitality projects, where crafting meaningful experience is seen as a best practice and a requisite high-value offering. But the approach also works for institutions of higher education, healthcare-delivery organizations, and especially in workplace environments. Branded workplaces have been shown to be cost-effective tools for recruiting and retaining talented employees. The concept also surrounds employees with an internal marketing message that reinforces innovation.
The LEED Gold Procopio building, San Diego uses interior branding to deliver reinforce the company's commitment to sustainability. Architecture firms offering integrated design packages with a focus on brand need to proactively introduce the topic in the earliest discussions with clients. This means engaging and listening. Second, firms need to show how their process and professional approach work. Third, instead of waiting for prospective clients to say, "What have we overlooked?," integrated teams begin with a discussion of brand and culture. Many client groups express that they need a stronger identity and clearer touch points and will consider in-house branding offerings and integrated experience teams. In the best firms, branding leaders work hand-in-glove with the architecture and interiors studios. The results integrate ideas on various levels, i.e., branding concepts go beyond signage and spot art to inform finishes and forms and indeed entire experiences, outdoors and indoors. An added benefit for architects and interior designers is that they earn the chance to work across typically "siloed" areas of service, and realize innovative ways to make them work together. This leads to better architects and designers, better project outcomes, and happier clients. Of course, all client groups are different. Cost and schedule often dictate how an integrated team delivers the benefits of branding to the solutions. But it's no longer an "extra." While common in some contracting approaches, integrated project teams see no boundaries or discrete deliverables. It's an approach to project design that creates value, requiring investment with real returns.
Brian M. Koshley, AIA, is Global Director—Interior Architecture for Carrier Johnson + CULTURE, San Diego. His broad experience spans branded environments, building repositioning, workplace interiors, and technical design solutions.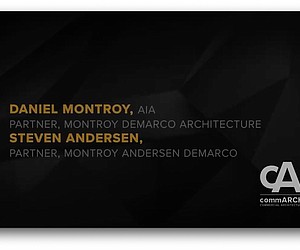 Seeing the Entire Picture
The coronavirus pandemic of 2020 changed commercial architecture, especially offices and other workplaces. Almost overnight, employers sent all of their ...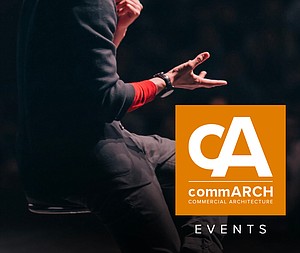 Innovation Summit World Tour 2020
Join us for the Innovation Summit World Tour 2020, a series of 11 virtual events to discover the future of energy management and automation for your industry.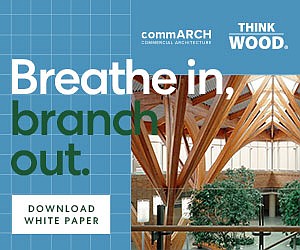 WHY DO WE FEEL BETTER WITH WOOD?
This commARCH White Paper focuses on how Wood shows psychological and physiological benefits, according to research. Wood has been used as a building material for millennia, but its benefits to people who live, work, and gather in the built environment are only beginning to be understood. Researchers are discovering that wood can contribute to the health and wellbeing of building occupants. While many people would agree that wood is visually pleasing, its aesthetic properties affect humans on a deeper level. Can the use of natural elements in building design enhance moods and reduce stress? Can they improve focus, creating environments that enhance productivity and learning? In this white paper, we'll examine the benefits of an emerging design approach, and the science behind it