April 16, 2018 , by commarchtest
Send this article to a friend

Steve Kleber, 
Kleber and Associates
The Streamlabs Smart Home Water Monitor easily installs over a pipe and bounces sound waves up and down the pipe to determine a base level of water use. Here's a scary scenario: You and your family live in a multi-story apartment complex, one that you have been living in for 10 years. You have diligently paid your rent on-time every month for those past 10 years, even as rents have risen. After a long day of work, you come home to make dinner, only to find your apartment complex swarming with police officers, firemen, health inspectors, and news vans. From the street you can see the walls of several buildings have been forcibly opened, revealing large patches of dark black mold. Several angry residents can be seen desperately trying to track down the owner of the property, only to find out that owner doesn't even reside in state. The walkway to your building is blocked with police caution tape. You are then approached by an officer who tells you your apartment has been condemned and you have 15 minutes to evacuate with your belongings. In the course of one evening, dozens of rent-paying families suddenly come to find themselves scrambling to find a new place to live. It's a frightening scenario, but one that happens more often than you would think. Just ask the residents of
Norton Tower Apartments
 in New Haven, CT, or
The Flats at Ginter Park
 in Richmond, VA. Office buildings are no exception. One example is the
850 Sligo Ave. building
  in Bethesda, MD, which was condemned after becoming a public nuisance. Aside from the threat of condemnation, a sick building can have serious, long-term negative effects on the people living and working in them, such as an increased risk of sinus infections, asthma, nausea, miscarriages, and even cancer. Apartment complex and building owners have an obligation to ensure the environments in which people live and work are healthy, mold-free, and well-ventilated. One of the ways building owners can take greater responsibility for the people in their care is having systems in place to detect environmental threats in real time. Working smoke, fire, and carbon-monoxide detectors are great (and in most states, mandatory), but did you know there are devices that will immediately alert property owners to leaks or unusual water usage? One such gadget is the
Streamlabs Smart Home Water Monitor
(streamlabswater.com). This inexpensive, hand-sized device easily installs over a pipe and bounces sound waves up and down the pipe to determine a base level of water use. If any time usage spikes occur, such as in the event of a burst pipe or slow leak, the property owner receives an alert through a smart-device app. The property owner can also monitor water use in real time to see if efforts to promote water conservation are working. The greater benefit, however, is catching leaks before they have a chance to develop into health-damaging, building-condemning mold. Another way residential building owners can take greater care of their residents is by seeking health and wellness education offered by Wellness Within Your Walls (WWYW). Based in Atlanta and founded by interior designer Jillian Pritchard Cooke, WWYW offers a four-course educational series to residential real estate professionals, architects, builders, manufacturers, and designers, which provides cutting-edge information and resources needed to build and maintain healthier interior environments with significantly fewer toxins. Upcoming WWYW 4-Course educational series are April 20 and May 21 in Atlanta.  The series includes an "Introduction to WWYW," "The Natural Approach," Sustainability & Innovation," and "Making Responsible Choices."  For more information about the courses and how to become a WWYW-Certified professional, visit
wellnesswithinyourwalls.com
.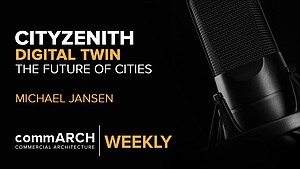 CityZenith's Michael Jansen on Digital Twin & the Future of the Urban Environment | commARCH Weekly 07/2020
In this episode, commARCH has a dialogue with Michael Jansen, Founder and CEO of CityZenith, to discuss the burgeoning landscape ...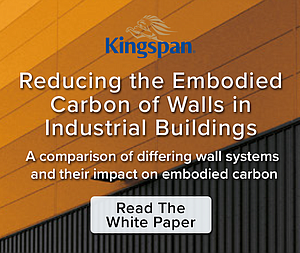 Reducing the Embodied Carbon of Walls in Industrial Buildings
Kingspan partnered with Kieran Timberlake to quantify how Kingspan can reduce embodied carbon in industrial buildings.