May 15, 2018 - by commarchtest
Making time to evaluate and incorporate today's digital design technology will keep you in the game, regardless of your firm's size.
Engaging promising young designers who understand digital tools is a critical growth strategy these days. It is just as important to keep them inspired and focused on innovation.
By Casey Mahon, AIA, Digital Practice Manager, Carrier Johnson + CULTURE
As digital technology evolves at breakneck speed, the emergence of new design tools has opened valuable horizons for architects. In fact, architecture and design firms often feel immense pressure to adapt and adopt—or lose out on new opportunities.
[audio mp3="http://www.commercialarchitecturemagazine.com/wp-content/uploads/2018/05/0518archpod_mixdown.mp3"][/audio]
Learn more about digital-design technology in our interview with Casey Mahon.
Adding to the challenge, many firms report a lack of clarity as to which tools are most important and most likely to have enduring value. This is especially true for smaller firms: the time invested into researching the market and adapting practice structures and project workflows to building information modeling (BIM), for example, is a significant and unbillable expense. Yet, successfully deploying BIM provides any firm with the best prospects for long-term growth, since BIM is key to leaner design processes with improved outcomes, a lasting and valuable dataset, and better project-team communication with the building trades and clients.
Ultimately, staying competitive requires leading firms to stay informed of the latest in digital design technology, and to make quick investment decisions. Carrier Johnson + CULTURE, San Diego (carrierjohnson.com) has dedicated a growing pool of resources to our own research and development on new digital design and delivery methods. In the spirit of "open-source" sharing of emerging new practices, here are some ideas for applying promising technologies that can boost any design practice, large or small.
Refine the process for better results.
When evaluating digital tools, it's often easy to overlook the importance of actual data. Every completed project generates a large dataset that can be leveraged for future designs, not only to refine quality control and assessment procedures, but also to improve construction management.
Once the data starts becoming available, firms need to look into data-mining tools that organize the information in ways that are simple to understand and offer clear lessons. Our digital practice efforts have successfully applied business intelligence (BI) platforms to this purpose. Two products, Tableau (Tabelau Software, Seattle, tableau.com) and PowerBI (Microsoft, Redmond, WA, powerbi.microsoft.com), give clear insight into key data points and help project teams share critical insights.
Improve stakeholder communication.
The number of architects implementing VR (virtual reality) technology has jumped dramatically, as more firms use it to demonstrate design concepts and boost collaboration with clients and other stakeholders. A growing number are using VR platforms, such as Revizto, produced by Vizerra, San Francisco (revizto.com), in the actual design process and even in jobsite applications. In this way, VR now serves as a robust communications tool for project coordination.
At our firm, there is particular excitement about multi-user VR tools. These include IrisVR, IrisVR Inc., New York (irisvr.com) and InsiteVR, New York (insitevr.com), which allow simultaneous VR experiences in a 3D digital model for more than one user—instead of one user with a headset at a time, with everyone else watching on monitors.
Have you implemented virtual-reality technology? It's rapidly becoming a powerful collaboration tool for firms of all sizes.
Tap young talent.
Continued investment this year in digital practice often demands new, strategic hires. Engaging promising young designers who understand digital tools is a critical growth strategy these days. It is just as important to keep them inspired and focused on innovation. For example, senior staff at our firm started a monthly R&D challenge among members of the Digital Practice team. Participants have to propose a daylong project as a proof of concept that might have an impact on the design process, current project designs, or offer a future research focus. The participants have shown good success already with built proof-of-concepts for projection mapping and a proprietary augmented-reality (AR) tool.
Embrace open source.
While the term "open source" sounds mysterious or maybe unprofitable, it's really just a path to better communications among stakeholders. Leveraging an open-source BIM platform, such as Grasshopper (grasshopper3d.com) and Dynamo (dynamobim.com), can make an architectural design stronger, its execution more effective, and construction more efficient. The reason is that the digital platform being used can more easily communicate with those of partners and consultants.
As a growing number of architecture firms have seen, smaller studios and even individuals in practice can benefit from these ideas. The key is to recognize that the future is here, now, and to make smart, incremental changes with the promise to improve long-term prospects. If any of these ideas still sound mysterious to our more, ahem, mature readers, please see the section "Tapping young talent," above.
Casey Mahon, AIA, is digital practice manager with architecture, interiors, and strategic branding firm Carrier Johnson + CULTURE San Diego (carrierjohnson.com). Mahon's work focuses on the impact of computational modeling and technology adoption in the creation of the built environment.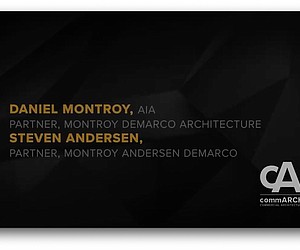 Seeing the Entire Picture
The coronavirus pandemic of 2020 changed commercial architecture, especially offices and other workplaces. Almost overnight, employers sent all of their ...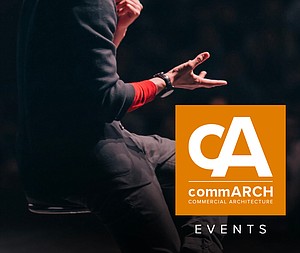 Innovation Summit World Tour 2020
Join us for the Innovation Summit World Tour 2020, a series of 11 virtual events to discover the future of energy management and automation for your industry.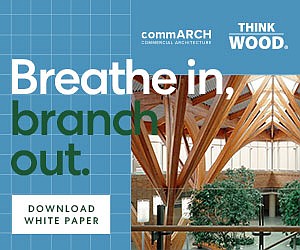 WHY DO WE FEEL BETTER WITH WOOD?
This commARCH White Paper focuses on how Wood shows psychological and physiological benefits, according to research. Wood has been used as a building material for millennia, but its benefits to people who live, work, and gather in the built environment are only beginning to be understood. Researchers are discovering that wood can contribute to the health and wellbeing of building occupants. While many people would agree that wood is visually pleasing, its aesthetic properties affect humans on a deeper level. Can the use of natural elements in building design enhance moods and reduce stress? Can they improve focus, creating environments that enhance productivity and learning? In this white paper, we'll examine the benefits of an emerging design approach, and the science behind it