October 09, 2018 - by commarchtest
Growth and planning are continuous on college and university campuses, regardless of shifting trends.
The recently completed renovation at Northeastern Univ. has reimagined the Orientation Department facilities for initiating students into the campus experience. Photo: Courtesy Dyer Brown Architects
By Kenneth W. Betz, Senior Editor
College and university campuses, even those bound by history and tradition, continue to evolve with each new generation of students. There have been population booms, and educational priorities and trends come and go, but education is still the main business. Planning for growth and change is ongoing. Following are the thoughts of a number of architects who are deeply involved in the process.
Question: Has the approach to higher-education planning changed?
• John Kirk, AIA, partner, Cooper Robertson, New York (cooperrobertson.com)
— At a certain level physical planning is physical planning regardless of the shifting sands of time, pedagogy, and societal milieu — it is about establishing a strong fabric of buildings and open space that create a coherent, legible, and memorable whole.
We (Cooper Robertson) distinguish between campus "framework plans" and campus "master plans." Campus framework plans identify opportunity sites for buildings and open space, but without a pre-determined program. Master plans are driven by an established program for growth and how to achieve that sensibly and sensitively in a way that creates a great campus fabric.
The factors that drive physical planning for higher education are both internal and external factors — with the external factors being the more exigent: the economy, available resources, demographics, size of student-age population, what is trending with respect to plentiful and well-paying jobs, and technology demands.
The Great Recession, for example, saw an explosive expansion on community college campuses because students were seeking more affordable means of attaining a higher degree — in some cases a quasi-vocational degree (with a keen eye on developing a skill that would readily yield a job after two years) or as an inexpensive stepping stone to a four-year degree. While in 1964, the Baby Boomers started entering college, and every college in America expanded exponentially (in the worst period of architecture in American history). Because the Baby Boomers created a building boom, there was a great demand for engineers and architects, so schools responded by either expanding their existing programs or creating them.
At the Univ. of Delaware, Newark, DE (udel.edu), a school with no history of fundraising or master planning, we were tasked with showing the university how it could grow without building any new buildings; at Longwood Univ., Farmville, VA (longwood.edu), we were tasked with reinforcing a strong, walkable residential college campus and investigating ways the university could be a positive economic force in the revitalization of the town of Farmville; and, most recently, at Drury Univ., Springfield, MO (drury.edu), we were tasked with creating a greater campus identity, establishing psychological thresholds that better defined the campus and created a stronger network of campus open spaces from the iconic to the intimate and idiosyncratic.
All that said, the two most prevailing shifts in attitude in higher education have to do with the environment and entrepreneurship. The word "sustainability" can be found in the first paragraph of almost every college and university mission statement — and it has to be because each new half-generation of students is more and more sensitized to environmental issues. Students today value balance in life and that means a certain independence and that independence means cutting one's own swath through life.
• Rachel D. Woodhouse, NCIDQ, principal/director of operations, Dyer Brown Architects, Boston (dyerbrown.com)
— We've seen an increasing need for flexible, student-centered spaces that provide a place for true collaboration. Fixed classrooms are not serving student or faculty needs any longer. Particularly on urban campuses, space needs to be able to be used in multiple ways. We think it's important to understand the unique mission of an institution and ask how each space does or does not support that mission. For example Northeastern Univ., Boston (northeastern.edu), is focused on creating cross-disciplinary, global problem solvers, and their facilities need to support that outcome.
Universities are looking at facility ROI, ideas for reducing faculty office space, and ways to create more flexible classrooms. They are also consolidating back-office and administrative functions to both improve service and reduce costs. Outdoor spaces are becoming more important.
• Katelyn Chapin, AIA, NCARB, project architect, Svigals + Partners, New Haven, CT (svigals.com)
— Students entering universities today are "digital natives." Many of them attended K-12 schools with electronic resources more advanced than some universities have in their classrooms. These students have an expectation of what they will find on their first day of class, and universities must adapt to an increasingly technology-driven generation in order to compete for top applicants.
Universities are making efforts to tailor spaces to fit both the needs of today's students and the needs of the overall campus. These institutions are incorporating spaces into the fabric of their learning environments that are more communal, collaborative, and flexible. Other efforts aim to maximize space-use ratios, to do more with less square footage. Designers working on these projects employ strategies that help achieve both goals, by including operable partitions and mobile furniture, for example, to maximize room-use while still maintaining the functional requirements for each program. Faculty spaces and university cultures are changing, too, as dedicated offices are being replaced with shared touch-down workstations.
The planning process is also becoming much more collaborative and inclusive, with architects and university stakeholders working together through all phases of the process. The most effective and innovative projects include data gathered from end-users — individuals with diverse backgrounds, who can offer insight from the ground level. All of us together are smarter than any one of us, after all.
• Mark Sullivan, AIA, NCARB, LEED AP, partner, Joshua Zinder Architecture + Design (JZA+D, joshuazinder.com), Princeton, NJ
— Campus planning efforts are increasingly focused on luring students with more appealing facilities and residences with easily accessible food service and retail amenities. Education is the goal, but it's the day-to-day aspects of the campus experience that attract applicants, such as dining, lifestyle, activities, athletics, and so on. Therefore these have emerged as a critical part of the planning process.
The newly renovated Rutgers—Camden Welcome Center creates a memorable experience for visitors and prospective students. Greeting admissions candidates with a "winding hallway of discovery," JZA+D's solution reimagines a 2,600-sq.-ft. storefront in a student-housing complex. Curving walls, soffits, and furnishings include a bespoke reception desk and custom flooring designs. Beyond the main waiting area, an enticing hallway with movable benches and chairs leads to newly finished meeting rooms and a large presentation space for applicant information sessions. Photo: Michael Slack, courtesy JZA+D
Question: What are today's priorities at colleges and universities? What do students want? What do administrators want?
John Kirk, Cooper Robertson
— The biggest and most pervasive shift in higher education today is with pedagogy: it is said the "sage and stage" method of teaching is dead. The current pedagogical milieu is all about collaborative, inter-disciplinary, experience-based learning through problem solving. Maker Spaces, innovation labs, incubators, sandboxes, and shark tanks are the buzzwords and programmatic direction universities are taking, and have taken, in the last decade.
So the priorities today are for spaces that support and nurture this, spaces that are optimally flexible, tricked out to the nines with respect to technologies, and are about creating things — products, solutions to issues, new businesses. Within the last few years, Georgia Institute of Technology (Georgia Tech), Atlanta (gatech.com), the Univ. of Virginia, Charlottesville, VA (virginia.edu), Harvard Univ., Cambridge, MA (harvard.edu), and Stanford Univ., Stanford, CA (stanford.edu), have all built innovation laboratories, known as I-Labs. In many cases these are accessible (for a fee) to local businesses and start-ups, as well as to students. They tend to be campus hubs where a group of students from various disciplines come together to work on an idea, rather than be associated with a particular major. They have wood shops, 3D printers, and green-screen studios. They are open, transparent, and flexible environments that can be readily reconfigured to a project group's liking.
At Virginia Tech, Blacksburg, VA (vt.edu), for example, the new dean of the School of Business worked for a decade, in his spare time, on how music can speed the recovery of ambulatory function in stroke victims. That doesn't sound like your typical business school dean, but that's more common now than extraordinary.
• Rachel D. Woodhouse, Dyer Brown
— Students are looking for facilities and campuses that meet their unique needs. They also like special offerings such as varied dining options and recreation/fitness amenities. Safety and security on campus are also of elevated importance today.
Students want authentic, personalized experiences but at the same time wish for more community interaction with classmates, faculty, and outside organizations. They also want to connect with their special-interest areas, whether its faith groups, study groups, or support for LGBT or foreign-born students. For this reason, student centers are getting more popular.
• Katelyn Chapin, Svigals + Partners
— Students today want choices, including a variety of available work environments: communal areas for group work, individual work zones, and venues for hosting student-engagement programs. Convenient food service and coffee locations are also essential, not only for practical reasons but for enabling socialization, studying, and other forms of informal collaboration. Students also desire spaces that allow them to innovate and to stretch their boundaries beyond classroom walls. Maker-spaces have become the proverbial water-cooler on campus, offering opportunities for interdisciplinary interaction with other students and access to resources that flex students' minds.
Administrators, while cognizant of the student's priorities, are interested in the long-term flexibility of spaces and the success of their students and faculty. They understand that priorities change, sometimes suddenly and unexpectedly, which requires the ability to be nimble and adapt. Consider the speed with which science and technology evolve, creating greater demands on classrooms and labs for STEM studies. Administrators want to provide students with opportunities to acquire the skills needed for the jobs of the future, and to encourage faculty to be flexible, new technology is integrated into the campus. As an example, the Bergami Center for Science, Technology, and Innovation, designed by Svigals + Partners and currently under construction at the Univ. of New Haven, West Haven, CT (newhaven.edu), will include rooms that will support content-creation and experimentation of virtual-reality technology.
• Mark Sullivan, JZA+D
— Administrators are looking to minimize facility footprints. They may try to rid themselves of older buildings that are costly to operate and maintain or upgrade them and adapt them to new uses rather than building new. If contributors to the capital costs of running an institution — physical maintenance, energy and utility usage, cleaning and servicing — can be reduced or eliminated, those monies can be redirected to the institution's other priorities. These may include academic programs or enhancements to students' experiences on campus, both of which may help attract applicants.
Cooper Robertson's master plan for Longwood Univ. builds upon the classical beauty of the main campus. While it envisions some new buildings, it focuses more broadly on building community — on creating places and spaces, both on campus and reaching into the college town. The firm took the following into consideration: New Urbanist ideas of place making; walkability; the university's strong sense of community; aspirations for a vibrant residential campus; stronger connections to downtown Farmville and surrounding neighborhoods; and how the university can be an economic engine for revitalizing Farmville. Illustration: Courtesy Cooper Robertson
Question: Much has been said about designing for specific generations. Is too much attention being paid to generational preferences that are only likely to change? How do you make long-range plans for the kind of rapid change that appears the norm these days?
• John Kirk, Cooper Robertson — Each new class of enrolling students is more technologically sophisticated than the previous — so, to borrow Michael Lewis' phrase, what students think they want is "the new new thing" (
The New New Thing: A Silicon Valley Story
(books.wwnorton.com/books/The-New-New-Thing). That said, they also want to be part of a college community; they want to be proud of their school; they want to love their school. Ironically, the technologies conspire against that as each new class is progressively more caught up in the electronic cloud. At a recent Society for College and University Planning (SCUP, scup.org) conference I sat in on a panel discussion with three university presidents. One president discussed a survey of students at his university that revealed, on average, its students had seven devices each. So university leaders are looking for ways, through the design of new buildings and spaces, to force human intersections and interaction. Collaborative, inter-disciplinary, experience-based learning through problem solving, involving teamwork, helps break down the barrier created by the omnipresent screen.
At Longwood Univ., after interviewing every constituent group at the school in dozens of "listening sessions," one of the themes that emerged, which became one of the guiding principles for the master plan, was the need for a greater number and variety of places for spontaneous collaboration to occur — collaboration between students, between faculty and students, between faculty and faculty, and between departments. Those spaces included everything from quads and courtyards, to interior flex spaces, to nooks and niches in the hallways of academic buildings and residence halls.
Both of these drivers — a priority on collaboration and inter-disciplinary learning — along with technological advances, have also ushered in a change to the notion of library, which is now much less about being a repository for books and more about being a place for group study and project team work, with video conferencing capability and food service. A survey of students at Longwood Univ. identified, as a number-one priority, a place to study 24 hours with access to 24-hour food service, like a self-serve cafe with soft drinks, coffee, snacks, and microwaveable meals. Students also pine for more disaggregated and diverse food offerings, so they can "graze" all day long.
At the most basic level, however, what "sells" a school to prospective students are shiny new student centers, dining halls, residence halls, and student centers with an abundance of student amenities and hangout spaces; dining halls with a plethora of daily choices; and residence halls that are more like luxury apartments than the dormitories of old.
With regard to the residence halls, part of what is driving change is a growing percentage of the enrolling class arriving their freshman year with anxiety issues — so shared, common bathroom facilities, for example, with "gang" showers at the end of the hall, are being replaced by much more private and decentralized facilities, often within individual rooms accommodating a single student to six students, with bathrooms in the single or suite itself.
• Rachel D. Woodhouse, Dyer Brown
— I'm not one to make over-generalizations about generations. Technology and the global economy are changing the reality of learning, living, and working for all of us, not just whatever generation is currently in college.
Some of the generational changes seem likely to be permanent. For example, Generation Z students (born 1995–2010) face bigger concerns about college costs and benefits. They generally want more practical skills to come from college education. They tend to be more entrepreneurial than past generations, too. One of our clients, Northeastern Univ., did a study of Gen Z perceptions. We can take these findings and craft a better campus life experience for these future enrollees.
• Katelyn Chapin, Svigals + Partners
— Change is inevitable. The rapid advancement of technology is informing the evolution of higher education learning modes, with a focus on the real-world needs of the present and future. These generational preferences are reflected in parallel shifts in the workplace culture, too. Flexibility is a critical component of this progression — we will never be going back to the traditional classrooms of the 20th Century, with all chairs facing front towards the professor.
A key component to design is understanding that a space will be used differently as teaching and learning modes evolve. Design teams can establish a structural grid that supports the flexibility of spaces. Long-term campus planning and visioning can inform the institute's adaptability and utility when approached with care and forethought.
• Mark Sullivan, JZA+D
— We are beginning to see the emergence of environments for living and learning that are geared toward the individual, that allow for living independent lives, working and studying remotely, and for being able to retreat into a more private space while still enjoying access to the campus collective. Architects and planners need to be cognizant of creating spaces and places that offer students the best of both worlds.
Flexible-use buildings should be a priority. There is no reason why new buildings should not be able to evolve and adapt as times change, thereby increasing each building's life- span delivering greater value to the institutional client. Examples from our experience include adapting classroom spaces to administrative uses, science buildings to use by humanities departments, even boiler plants to use as administration buildings or academic settings.
The master plan of Drury Univ., by Cooper Robertson, set out the following guiding principles: to more clearly define Drury's edges; to establish a hierarchy of open spaces; to articulate major intersections with hardscape, landscape, and wayfinding; to imbue Drury with distinctive character through architectural interventions; and to transform Drury Lane into the heart of campus by remaking it into a pedestrian mall. Illustration: Courtesy Cooper Robertson
Question: Has the relationship between the university and the community changed and how has this influenced design and planning?
• John Kirk, Cooper Robertson
—Town-and-gown issues remain strong at all institutions of higher learning — whether they are larger institutions like the Univ. of Virginia and Georgia Tech or smaller institutions like Longwood Univ. and Drury Univ.
At Longwood, President W. Taylor Reveley IV, a third-generation university president, is deeply committed to partnering with the town of Farmville, finding mutually beneficial projects to undertake, and reversing a history of stand-offish university policies and tensions between the university and the historically black residential neighborhoods that surround it. Mayor David Whitus described the current relationship between the town and the university, thanks to President Reveley's efforts, and as witnessed by the open, transparent, and inclusive development of the master plan, as "hand in glove."
At Drury Univ., what precipitated an urgent push to develop a master plan was an announcement by the city of Springfield of its intentions to redesign Central St., which travels through the middle of the Drury campus. Drury leadership approached Springfield city officials and asked: 1) to be at the table for any discussions of interventions on streets impacting the Drury campus; and, 2) to postpone their design efforts until after Drury had completed its own master plan, so Drury would be able to form independent attitudes about Central St. for discussion with Springfield. Throughout the master planning process we (Cooper Robertson) and Drury met with city officials for open, candid, and transactional discussions and working sessions.
Central St. is of great historic significance locally, regionally, and nationally. It was the first street in Springfield to be formally mapped, and it was the site of numerous, threshold events in the emerging Civil Rights movement, involving, among others, Rev. Oliver L. Brown (of the landmark Supreme Court decision, Brown v. Board of Education), who staged peaceful protests on Central St. The master plan envisions Central St. to be a shared-street with narrowed carriage lanes, shared pedestrian and cyclist ways, street trees and other landscaping and hardscape improvements, and on-street parking — as well as a historic corridor commemorating the many historical moments that occurred there.
Now the university and the city are working in concert on a "complete streets" initiative for all of Springfield, beginning with Central St.
When we were first introduced to Drury Univ., the prevailing notion was that Drury was landlocked and needed to acquire more land in order to grow, so the focus of the master plan should be on strategic land acquisitions. To the contrary, we were able to illustrate to the university that it could add in excess of 600,000 gross sq. ft., net, at an average of two to three stories per building, in keeping with the scale of the school, to its existing one-million sq. ft. under roof — all within its existing boundaries — while simultaneously strengthening the campus fabric, reinforcing its psychological edges, and creating a rich hierarchy of open space and outdoor rooms defined by new and existing buildings.
Drury's connection to its community is equally strong, particularly the Midtown Neighborhood to its north. Drury has a Family Business program through its Breech School of Business Administration, which helps local families get set up in business. The Breech School of Business Administration also helps prepare tax returns for more than 600 low-income families in its community and holds resume-building workshops, with access to computers and printers, for local citizens. Finally, the mission of Drury's Center for Non-Profit Leadership is "to enhance the quality of life in Southwest Missouri by partnering with nonprofit organizations to help maximize their impact."
• Rachel D. Woodhouse, Dyer Brown
— Many campuses want to increase connections with the community. Some have campus-based high schools and elementary schools. Others have work-life exchanges with local businesses, or invite area social groups to work on their campuses. More privately owned campus housing is appearing.
• Katelyn Chapin, Svigals + Partners
— The community voice has extended beyond just the facilities department. At the Univ. of New Haven, the programming committee consisted of individuals with diverse backgrounds and representation: administrators, provosts, college deans, facilities, staff, the university president, students, and the design team. This inclusive design process on campus allowed the design team to present different design scenarios and receive instant feedback.
To strengthen the quality of education that is offered, many institutions have extended the campus borders into the surrounding community, often with the goal of fostering entrepreneurial relationships. Students are now able to train for real-world experiences after working directly with professionals and gaining industry-relevant skills, enhancing the talent pool while strengthening the economy in the immediate community.
• Mark Sullivan JZA+D
— There continues to be, and continues to grow, an interdependence and mutual respect between town and gown. Each needs the other in order to be successful in its economic, environmental, and community goals. Universities are actively engaged with the communities they live in, and vice versa, bringing significant issues to the table and helping to resolve them. As a result, campus-planning efforts are increasingly outward facing, obscuring the dividing lines between the college and the surrounding neighborhood.
The Edward M. Dowd Art and Art History Building at Santa Clara Univ. unites formerly scattered studio and academic programs within a new 45,000-sq.-ft. facility designed by Form4 Architecture. Photo: John Sutton
Designed For The Future And History Of Art
The Edward M. Dowd Art and Art History Building at Santa Clara Univ., Santa Clara, CA (scu.edu) unites formerly scattered studio and academic programs within a new 45,000-sq.-ft. facility designed by Form4 Architecture, San Francisco (form4inc.com), to promote innovation, creativity, and collaborative learning. Tradition and innovation are blended into a confident scheme where art is produced, reflected upon, recorded, and narrated. The new building is part of a major redesign of the northwest side of campus into a vibrant creative district, and positions the art and art history department near theater, music, and dance facilities.
The three floors of the building offer contemporary, technology-rich classrooms and studios, including the "Virtual Canvas" and "Imaginarium" for digital 3D projects. Two dedicated computer classrooms double the instructional space for digital arts classes, compared to the department's previous space. Media-centered classrooms bring the study of art history close to the spaces where art is created.
A glass sculpture by Seattle artist Dale Chihuly hangs in the two-story entrance foyer of the Edward M. Dowd building to greet all who enter. Photo: John Sutton
"Given the university's proximity to Silicon Valley giants, such as Pixar Animation and Lucas Films, the new facility will offer unparalleled support for the aspirations and ambitions of graduates to compete in digital design, computer imaging, and 3D animation," says John Marx, AIA, design principal of San Francisco-based Form4. "It is intended to add new energy and momentum to the performing and creative arts facilities already found on the campus."
The Dowd Building is designed to make a positive impact on the local community and a wide range of students, including the more than 1,000 undergraduates who enroll in studio art and art history classes as part of the university's core curriculum. Light-filled, shared workspaces for students, faculty, and visiting artists enhance opportunities for collaboration among these groups. Classrooms and studios occupy perimeter spaces to take advantage of windows, while services, storage, and restrooms occupy a central, interior zone on each floor.
Its stylistic setting is markedly historical, with a recognizable palette of building elements, such as cornices, arcades, loggias, and towers. Contemporary formal gestures—asymmetries, juxtaposed geometries, offset planes, and multiple rhythmic openings—easily coexist with quotations from the classical period. The exterior skin is an exercise in flirtation with the architectural syntax of a Renaissance palace, with its base, middle section, and termination wrapping a rather contemporary volumetric composition.
The building's planning diagram and vertical organization are unapologetically modern. The ground level accommodates the creation of 3D works in studios for sculpture and ceramics. The second floor includes offices, a dedicated photo lighting studio and a workspace for visiting artists, as well as an informal learning space in which students may study and socialize between classes. The third floor accommodates the instruction of 2D media, including painting, drawing, photography, printmaking, and graphic design. Two dedicated computer classrooms provide the opportunity to increase offerings in digital art and photography. The glass-enclosed rotunda at the top of the building provides a shared space for receptions and gatherings, and access to digital arts classrooms and an outdoor terrace overlooking a sculpture garden and pedestrian campus mall on street level.
Light-filled, shared workspaces for students, faculty, and visiting artists enhance opportunities for collaboration. Classrooms and studios occupy perimeter spaces to take advantage of windows. Photo: John Sutton
Considerable space is dedicated to the display of art from all media in the building. A glass sculpture by Seattle artist Dale Chihuly hangs in the two-story entrance foyer to greet all who enter the building. On the ground and third floors, gallery space accommodates student, faculty, and visiting artist exhibitions, as well as provides a flexible venue for lectures and community programs.
"A noted architectural historian once said that buildings have an esthetic effect and an evocative effect," said Marx, "and from there, strong emotional responses ensue and a shared sense of place comes into being. Those larger aspirations fed the intent behind this design."
Initiating Students Into The Campus Experience
The recently completed renovation at Northeastern Univ., Boston (northeastern.edu), has reimagined the Orientation Department facilities for initiating students into the campus experience. The redesign supports more flexible uses and creates a stronger impression for greater impact on first-year arrivals, according to Dyer Brown architects, Boston (dyerbrown.com).
The orientation meeting spaces and shared workspaces for student use were fully reinvented by Dyer Brown and the Northeastern Univ. project team, with the architects bringing ideas from both institutional and commercial workplace strategies. The new layout situates the Student Orientation office by the entrance lobby, where it is more accessible and visible, while redesigning the meeting and conference area known as Frost Lounge to increase their square footage and improve adaptability to a wide range of expected uses.
The overall redesign also incorporates an abstracted version of Northeastern Univ.'s logo as a subtle reference in new furnishings and finishes. Interpreting the 45-deg. geometry for a bolder and more contemporary look, the design subtly reinforces the school's capital-N branding and spirit by wrapping the angled shapes across interior walls, floors, and ceilings throughout. The design team also introduced inventive, cost-effective elements such as installations of wood fins integrated into the new reception desk and several walls, creating visual interest and textural dimension.
Click here for the Ken's View column for October 2018.
---
Find out more on the Society for College and University Planning (SCUP) or 
A Practical Guide to Strategic Planning in Higher Education.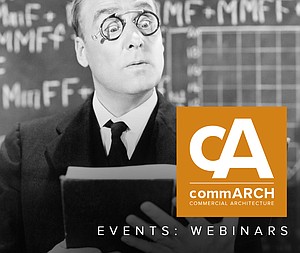 Owens Corning: LIVE Webinar Series
Online Educational Webinar Schedule for Architects is Attached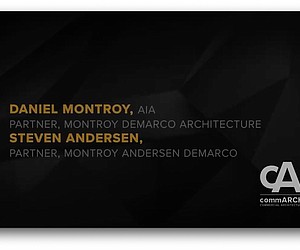 Seeing the Entire Picture
The coronavirus pandemic of 2020 changed commercial architecture, especially offices and other workplaces. Almost overnight, employers sent all of their ...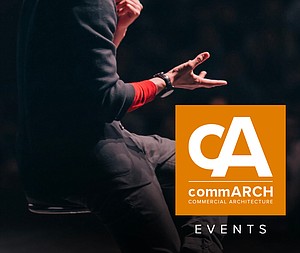 Join Vitro for live Continuing Education opportunities throughout the month of October.
Vitro is offering several online Continuing Education (CE) opportunities for you throughout the month of October.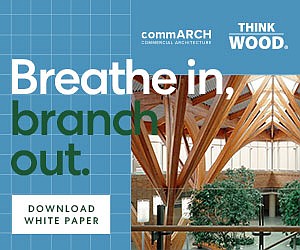 WHY DO WE FEEL BETTER WITH WOOD?
This commARCH White Paper focuses on how Wood shows psychological and physiological benefits, according to research. Wood has been used as a building material for millennia, but its benefits to people who live, work, and gather in the built environment are only beginning to be understood. Researchers are discovering that wood can contribute to the health and wellbeing of building occupants. While many people would agree that wood is visually pleasing, its aesthetic properties affect humans on a deeper level. Can the use of natural elements in building design enhance moods and reduce stress? Can they improve focus, creating environments that enhance productivity and learning? In this white paper, we'll examine the benefits of an emerging design approach, and the science behind it