Products
Finding The Ideal Vegetated Roof
April 10, 2019 - by commarchtest
Advice to determine the best green roof for a particular application.

Vegetated roofing is not a new concept, but it is new to many architects and designers who are approaching their first vegetated-roofing project. These green roofs are progressively catching on with building owners, as they offer a variety of benefits. There are several reasons a building owner might pursue a vegetated roof, including:

Mandated/External reasons

Various cities, such as Toronto and San Francisco, require or heavily incentivize vegetated roofs to deal with larger problems affecting the area, such as excessive stormwater runoff or urban heat-island effects.
• Stormwater runoff is a major issue in municipalities where aging sewer systems can be overwhelmed and chemicals/waste can end up in waterways. Some sewer districts tax stormwater runoff as a result, and cities sometimes require new buildings to have water-retaining roofs to mitigate the problem. Vegetated roofing not only slows the rate of runoff during heavy rains but also can filter and remove 95% of heavy metals in rainwater.
• Urban heat islands, where cities become especially hot when sunlight is absorbed into hard, dark surfaces, are another long-standing problem. Vegetated roofs alleviate this when plants absorb sunlight instead of nonporous surfaces and typically emit a temperature of only 95 F on a 90 F day whereas a traditional roof might exceed 160 F.
• Green roofs can also help combat CO2 and smog levels, actively converting CO2 to O2 to improve air quality.
Building-specific reasons

In other cases, a building owner might choose a vegetated roof because of the benefits such a system grants to the owner.
• A vegetated roof can help save energy by absorbing sunlight that would otherwise raise the temperature in the building and tax the HVAC system, which is part of why its inclusion in a design can contribute points toward LEED credentials.
• If a building has solar panels on the roof, vegetated roofing can help the panels perform more efficiently.
• Vegetated rooftops also protect the roofing membrane from UV radiation, heat aging, extreme temperature fluctuation, and physical damage.
• Planted roofs simply look good, making them attractive in situations where the rooftop is often in view of building occupants or is an occupied space featuring useful overburden, such as pavers, flanked by aesthetically pleasing plant life.

There are a number of factors to consider when determining the proper design and construction of a planted roof. The following questions offer information to aid in the selection of a vegetated-roofing solution for a variety of needs.

Ask Correct Questions

1. What is the intended use of a vegetated rooftop?
Is the rooftop going to be a generally unoccupied space, chiefly designed to absorb rain and solar rays, or will it have visitors? Will a patio, garden, or other usable space be incorporated? The functional design of the rooftop makes a difference not only in the sort of materials used to construct the space, but in the types of plants installed.

Work with a landscape architect to determine which plants are best based on the desired use, climate, and how much time and resources can be dedicated to upkeep. Then, ensure the selection of the correct type of vegetated-roofing system to meet the requirements of those plants and the needs of the mixed-use design.

2. What value is to be receive from this planted roof?

If you simply want the rooftop to look attractive, that is one thing. But if you want more utility from the roof design (for instance, carbon dioxide/greenhouse-gas management or stormwater management), that can affect vegetation choice and construction decisions.

Using a vegetated roof for stormwater management is partially influenced not only by plants' ability to soak up water through their roots, but also by structural factors below the soil layer of a vegetated rooftop. Is storage space needed that allows water to collect below the soil level, minimizing the amount flowing off the roof during heavy rains? The construction of the drainage layer and choice of moisture-retention mats will depend on the answer to this question.

3. Based on the performance expected from the roof, is a traditional vegetated- roof construction or a tray-based system needed?

Traditional vegetated roofs have various layers installed as part of their design, and the composition of those layers depends on the performance one is seeking, the weight-carrying capability of the roof, and other factors. Traditional vegetated-roofing constructions typically include:
• Growing medium with custom soil depth on top with plants embedded
• A drainage layer with water-retention mats underneath to let plants drink
• An insulation layer under the drainage layer to insulate the building against the elements
• A root barrier designed to prevent penetration of roots into the waterproofing membrane
• A waterproofing-membrane system on the bottom to protect the building.

Tray systems can be used for smaller, multifunction spaces where water retention is less of a priority and vegetation is installed around patios, pavers, or designated garden areas. These reportedly easy-to-install systems, such as the Sopranature modular tray system from Soprema Inc., Wadsworth, OH, are all-in-one systems that include a drainage layer, filter fabric, and pre-installed vegetation. They offer time and labor savings but are less customizable and do not fit every application.
4. How extensive/intensive a vegetated roofing system is planned?

If a tray-based system is chosen, there are fewer decisions to make; a contractor simply installs what was purchased. If the roof is a traditional approach with a built-in-place system, the consideration process is more complex. What type of system will be created?
• An extensive system is designed for projects requiring lightweight vegetated roofing. This typically includes sedum, herbs, or other low-maintenance plants that may not require an irrigation system and are installed more for utility than aesthetics.
• A semi-intensive system allows more plant diversity, including small shrubs, grasses, and flowers. This design means more maintenance and irrigation than an extensive system but provides better stormwater retention.
• An intensive system requires the most maintenance and irrigation, but allows the creation of on-structure landscapes with deep soil profiles that can sustain large shrubs and trees. These systems are often used to facilitate rooftop vegetable gardens or park-like spaces for multifamily residential buildings. This sort of system can retain the largest quantity of stormwater.

5. What is the real cost of the project?

Material choice is one factor influencing vegetated-roofing costs, based on the intensity of the project and which material options are chosen for each layer. Maintenance is another consideration, as certain plants require more care than others, especially when diverse, intensive plantscapes are designed.

Also consider what government incentives and tax abatements may be available. These can vary from city to city and state to state, and there could also be national incentives for implementing green-roofing options. One can begin by reviewing some of the current offers listed at the following link to get an idea of how net costs of implementing a vegetated rooftop may be lower than anticipated. (http://blog.soprema.us/vegetated-roofing-tax-incentives)

Don't Fear Complexity

Vegetated roofing is, by nature, a complex topic, and there are many resources available to ensure the correct decision is made.

Begin by considering the above questions, and then reach out to professionals that can help with the details. From roofing-material suppliers to landscape architects to contractors who have carried out planted-roofing projects, know that the expertise is available for a successfully completed project.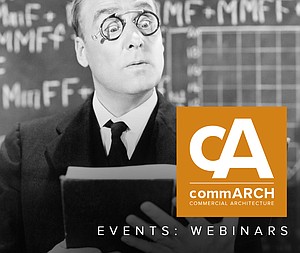 Owens Corning: LIVE Webinar Series
Online Educational Webinar Schedule for Architects is Attached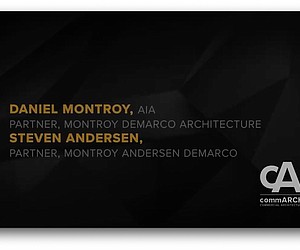 Seeing the Entire Picture
The coronavirus pandemic of 2020 changed commercial architecture, especially offices and other workplaces. Almost overnight, employers sent all of their ...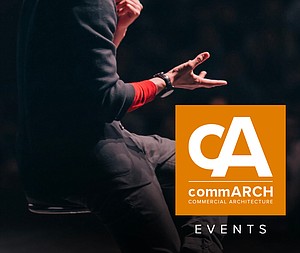 Join Vitro for live Continuing Education opportunities throughout the month of October.
Vitro is offering several online Continuing Education (CE) opportunities for you throughout the month of October.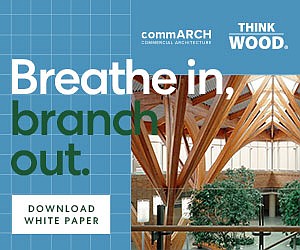 WHY DO WE FEEL BETTER WITH WOOD?
This commARCH White Paper focuses on how Wood shows psychological and physiological benefits, according to research. Wood has been used as a building material for millennia, but its benefits to people who live, work, and gather in the built environment are only beginning to be understood. Researchers are discovering that wood can contribute to the health and wellbeing of building occupants. While many people would agree that wood is visually pleasing, its aesthetic properties affect humans on a deeper level. Can the use of natural elements in building design enhance moods and reduce stress? Can they improve focus, creating environments that enhance productivity and learning? In this white paper, we'll examine the benefits of an emerging design approach, and the science behind it