Building Areas
1440 Multiversity – An Old Growth Forest Gets a New Life
December 06, 2019 , by rnunez
Send this article to a friend
[gallery size="large" link="file" columns="2" ids="22474,22476,22479,22480"] Founded by former Silicon Valley executive Scott Kriens and his wife Joanie, 1440 Multiversity is a non-profit immersive learning center and corporate retreat created with a mission to help people build stronger connections in the world and grow in relationship, spirit and wellness. Guests are able to participate in curated personal development programs and spend time renewing and recharging while enjoying farm-to-table food, wellness classes and a host of amenities and personalized experiences. The Kriens teamed up with architect Jerry Yates and
South Bay Construction (SBC)
to construct the learning center, which is located in Scotts Valley, California on a 75-acre site nestled in the Santa Cruz Mountains and surrounded by towering redwoods. Instead of starting from scratch and building a new development on open land, the Kriens decided to revive an abandoned college campus – what was once Bethany University. Spanning the course of several years, the Kriens, Yates and SBC worked together to take the vision of Multiversity from dream to reality. Seeking to incorporate a design style that was endemic to California, Yates suggested a modified Craftsmen style inspired by the designs of 20
th
century architects Greene & Greene, who married the Arts & Craft aesthetic with Japanese design. The Kriens appreciated the design direction – and its connection to California – and gave Yates the green light. While the design itself was straightforward, significant improvements had to be made to the existing campus and its surroundings to ensure a cohesive look throughout the site. It was important that the old growth redwoods and tranquil streams were preserved, as maintaining natural environmental elements and native species was a key focus of the project. Due to the age of the campus, and the land it sits on, the infrastructure also had to be updated to support the daily use of its facilities. Among the buildings on the site are the Lodge, which serves as the welcome center and a gathering space; the Healing Arts Center, which offers massage rooms, steam rooms and an infinity edge hot tub; and the state-of-the-art Redwood Auditorium, which seats 800 people. Other structures include an amphitheater, sanctuary, fitness center and classrooms, along with a communal eatery, cafe and guest lodging. [gallery columns="2" size="large" ids="22483,22482,22481,22475"] "Nearly two thirds of the buildings had to be remodeled," said Yates. "The original structures weren't well-built and were lacking in aesthetic appeal. So, we had to bring those buildings up to a level that was compatible with the new architecture." In addition, because the property is in the mountains, the terrain made ADA-compliance challenging. Since the buildings were spread out over the site's 75 acres, the team had to connect all of the buildings with accessible public thoroughfares, wherever possible. Shuttle service was designated for the areas that couldn't be completely accommodated. Yates and the SBC team transformed the campus and buildings into a functional oasis, sourcing natural materials locally and internationally. This included cedar planks for columns and trusses, redwood for a wooden pedestrian bridge, more than 1,400 tons of stone, and slate for the roofs. Copper gutters and downspouts were also incorporated to give the buildings a refined finish and ensure longevity. The project involved a significant amount of stonework, including bridges, walls, bollards and the exterior of the buildings. Noted Yates, "Our design philosophy was based upon creating harmony between the architecture, landscape and the existing setting. It was important to showcase the location's inherent beauty and to evoke a feeling of serenity and well-being. The use of natural materials reinforced the sense of connection to nature."
When it came to railings for the project, Yates chose solutions from Feeney. The company's DesignRail® aluminum railings with CableRail infill had been used on the interior in one of the first buildings in the project – an interior dorm – and Yates liked the clean, streamlined look of the railings and how they complemented the Craftsman aesthetic. He ultimately specified DesignRail® with CableRail infill for the balconies of the site's four story hotel-like building. The top rails were Ipe, which harmonized with the redwoods and mirrored the site's organic look and feel. "The combination of aluminum railings with cable infill not only provided a durable and low maintenance solution, but also really accentuated the architecture while preserving the beautiful views," commented Yates. "The Feeney team was very easy to work with and made the entire process seamless, which we appreciated."
The renovation and remodel successfully transformed the former university into a rejuvenating learning center that inspires individuals and communities through holistic activities and workshops. On any given weekend, it is not unusual to catch one of the leading luminaries on health and well-being – Deepak Chopra, Elizabeth Gilbert, and Neale Donald Walsch come to mind – strolling along one of the inviting redwood-lined pathways.
www.feeneyinc.com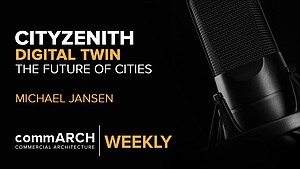 CityZenith's Michael Jansen on Digital Twin & the Future of the Urban Environment | commARCH Weekly 07/2020
In this episode, commARCH has a dialogue with Michael Jansen, Founder and CEO of CityZenith, to discuss the burgeoning landscape ...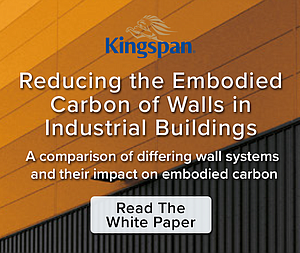 Reducing the Embodied Carbon of Walls in Industrial Buildings
Kingspan partnered with Kieran Timberlake to quantify how Kingspan can reduce embodied carbon in industrial buildings.