December 12, 2019 , by rnunez
Send this article to a friend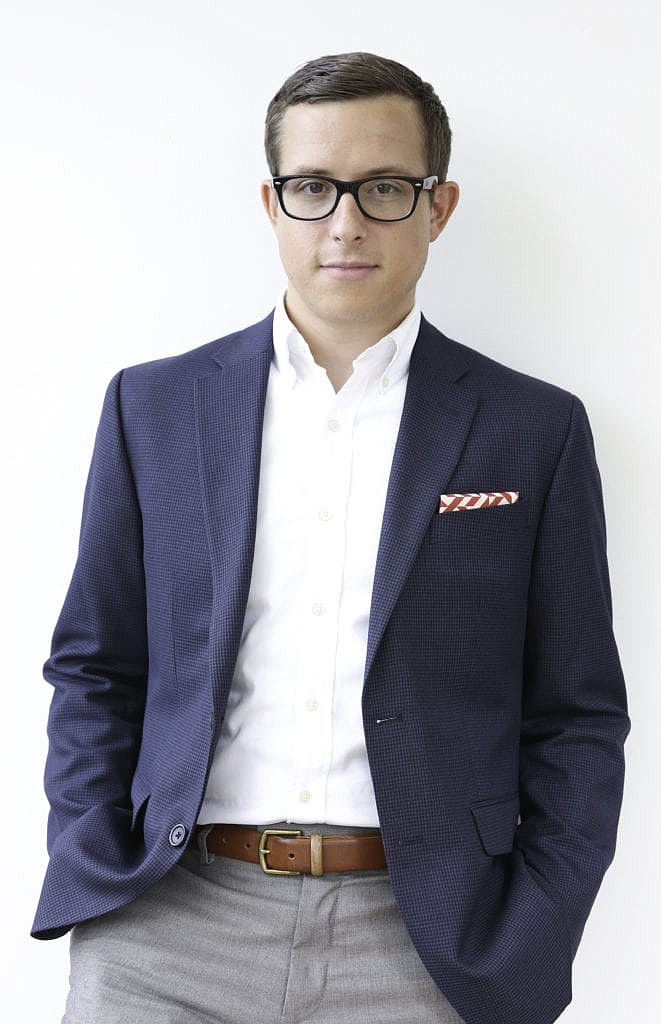 By Kurt Hoechstetter
As the calendar rolls into a new decade of the 20's there's never been a more exciting time for the convergence of technology and design. Exponential increases in computing power and advanced interoperability combined with changes in workforce demographics point to the fact that companies in the AEC space have the opportunity to conduct the business of design in ways never before imagined. We've reached a point where the majority of people in the workforce are accustomed to and comfortable with using Technology, Services and Platforms that just a few years ago would have been considered highly advanced. At the same time the costs associated with the implementation of technology continue to drop, allowing more and more companies to engage tools that previously would have been far out of reach. I recently had the chance to talk with two companies that view technology as core to how they conduct the business of design.
MANCINI DUFFY
Michael Kipfer, Principal at Mancini Duffy was brought on specifically to help lead the firm into a new era, where they view themselves as a technology company that happens to output commercial architecture. Recently recognized by Commercial Observer as one of the Top 20 AEC Professionals under 35, speaking with him I'm struck by his dynamic personality as well as his ability to explain potentially complex solutions in easy to digest terms. Kipfer is enthusiastic about what he does and views technology as a tool for bringing improved workflows and Mancini's design process. To do so, the firm has established an in-house Design Lab--a central nexus where technology meets the medium of design.  He describes it as an incubator where the firm experiments with and implements new technology applications, often involving clients with the development of new processes which often combine technologies together in unique ways. Amongst other cutting edge tech you'll find a bank of 3D printers and free-range VR gear that allows clients to interact with a space before it's built while the design teams make updates in real time. Then there's their
mobile
VR Labs that can be taken to a client's office, allowing everyone from janitors to executives check out a new space, gaining buy-in from everyone by making it tangible. "We don't say what the design challenges are, it just comes out through the specifics of each project.  When other firms were using VR for aesthetic purposes we thought it'd be good to use for simulations. Take for example our client Boqueria, a tapas bar in NYC that's also been expanding to other cities.  Because they're located in existing spaces it's impossible to standardize the kitchen layouts." By putting the kitchens into a VR environment the client was able to see that some shelves needed the height adjusted because they were blocking line of sight within the kitchen. Being able to address this while in the design process saved invaluable time and money by creating efficiencies in the kitchen's workflow.  "Now we've used VR as they've expanded to five new locations, because each space and each kitchen is different." For design firms, Construction Administration is always where the biggest costs lie in a project. Adding efficiencies to the design process benefits both the firm and their clients. For the client, they're able to open their doors to begin generating revenue sooner, and Mancini Duffy can apply personnel resources to other projects sooner.  It's a win-win.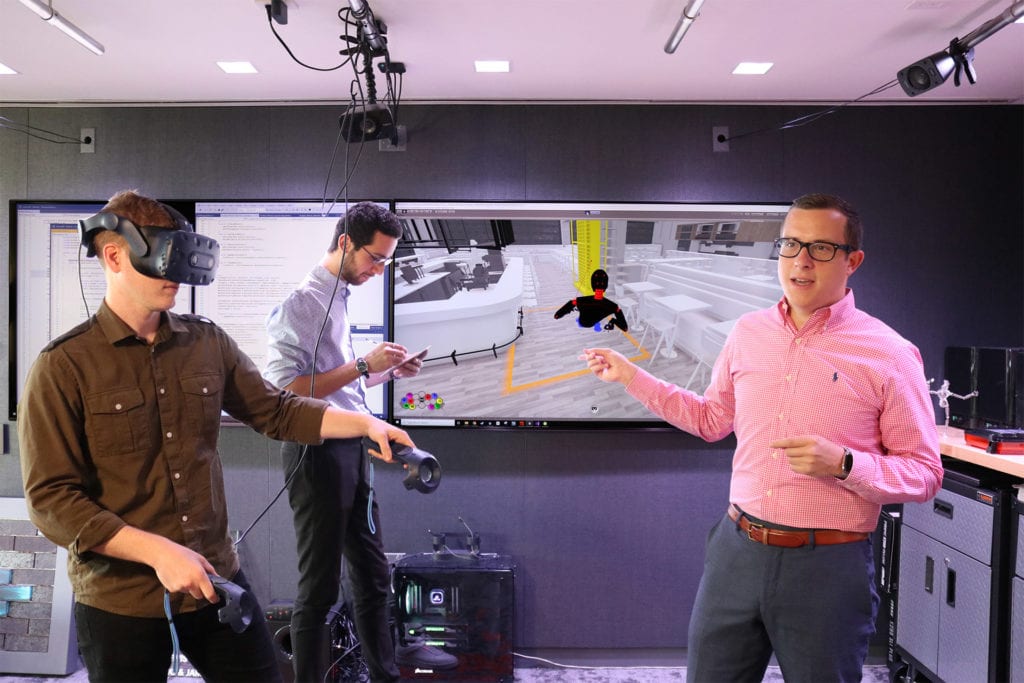 "We've really sought out not only what we can do for a client but also how can we disrupt the normal process." By letting clients and consultants see and coordinate things in real time before they've even completed all of the design documents helps improve the Construction Administration phase, and reduce costs. "The ultimate ROI is decision-making,"says Kipfer. "We need fast--and more importantly educated and accurate decisions. How to better inform the decision-making matrix is the primary goal of Mancini Duffy." When what they need isn't available off the shelf? Mancini Duffy solves the problem by making their own software. "We hire people with a background in architecture but who also have strengths in development and coding languages." Kipfer encourages other firms not to wait until a (software) product is perfect to get it launched.  When their internal team developed Mancini Toolbelt for clients to do markup while in a VR environment, they got feedback that having a tape measure would be useful.  And then an "undo" button.  Both were quickly added by their internal team and have been extremely helpful as other clients use the Toolbelt.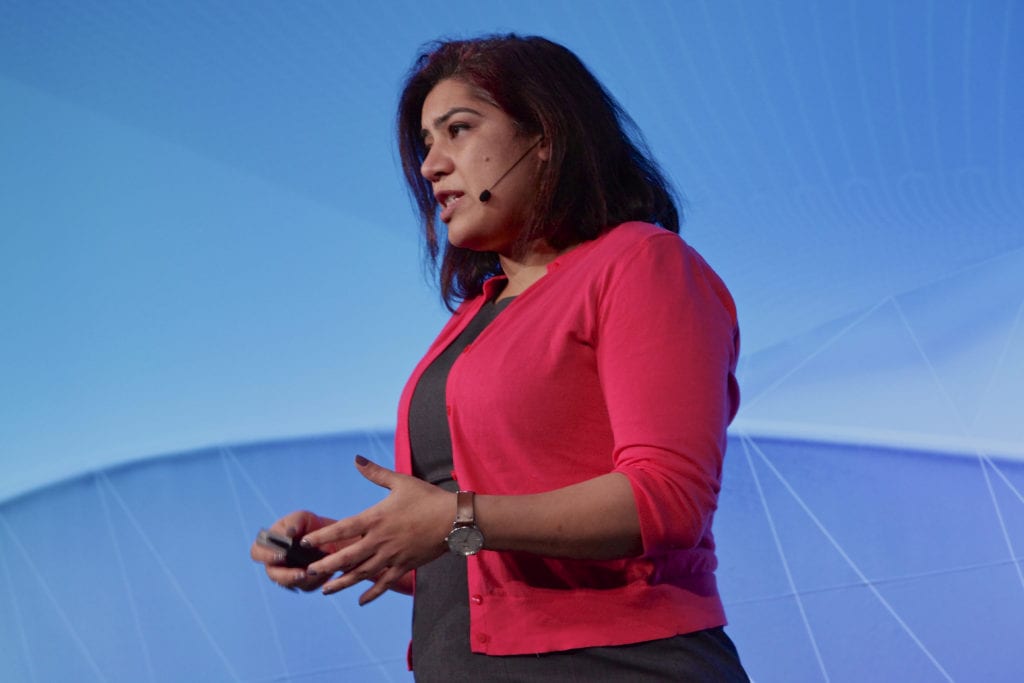 JACOBS
I also spoke with Natasha Luthra, who is Director of Emerging Technologies for Jacobs and a member of the AIA's Technology in Architectural Practice knowledge community, which hosts the AIA Innovation Awards. As the 2018 Chair of TAP she chose "The Future of Design" as the focus for the Building Connections Congress, where speakers discussed ideas around what we are going to become, as an industry. The AEC industry has a reputation for lagging behind when it comes to the adoption of technology but Luthra is optimistic when it comes to things like Automation and AI, saying,"We can catch up quickly--it's not so groundbreaking that it hasn't been done before.  If we can find the repetitive tasks and processes that machines can do better or faster,
then
we can have the machines learn from the patterns we've identified so we're able to focus on the design aspects." Another area of focus for Luthra is intelligent asset management and the use of digital twins to improve building lifecycle management. "As an industry we're really good at delivering the building but we need to get better at managing what the building does over the next 20-30 years.  The costs associated with building management--whether that's using IoT and sensors or just knowing where assets are and when they will need to be replaced-- there are big opportunities to help reduce and manage costs." "We talk about sustainability and LEED requirements of a building, for example.  We
think
it should function a certain way, therefore it should be a highly sustainable building but that all changes based on how the building is actually used. While we describe what we think is an ideal condition, we should map against the life of the building and that's where IoT and sensors are extremely valuable because years from now we can look at the data and tell that the building is performing exactly like it was intended or make adjustments if it isn't." When I ask where we are related to "true as-builts" delivered to the owner at the time of commissioning she's quick to brush it aside. "I believe an as-built is something we shouldn't even be looking at other than as a snapshot in time, because as soon as the building goes into operation things begin to change. That's why I like the idea of a digital twin." She explains that part of her role is looking for problems to solve with technology, and then find technologies that are the best fit for solving that.  And if there isn't software available in the marketplace?  Just like Mancini Duffy, Jacobs makes what they need. "We don't feel constrained by what's available in the market. We think about ourselves as a company that's extremely comfortable with technology, and if it's a big enough problem to tackle then we'll develop our own software in-house."
A great example is Jacobs' ION System,
a comprehensive industrial wireless application networking system that provides an integrated, secure and scalable system for monitoring, managing, and securing multi-vendor wireless devices and applications. Talking with Luthra you can hear the passion and excitement she brings to her role. Over the past year she's launched a Global Innovation Program—a funded grant program that solicits transformative ideas from Jacobs' 50,000 employees and once selected, tests those ideas to find new and innovative solutions. The program continues to grow and Luthra expects to see a number of Innovation Centers open around the world in the next year or so as she and her team ask "What technology will we be using in the future?  What are we not focusing on today?" Seeking answers to those questions is what keeps us
all
intrigued as we continue the dialogue and watch our fascinating industry continue to evolve.
Kurt Hoechstetter is an AEC-focused Sales and Marketing expert with a passion for helping his clients get the absolute most from their Technology, Services and Platforms and the data they deliver. Kurt's helped hundreds of architectural, engineering, contracting and building product manufacturer firms with tech solutions including AR/VR, BIM, CRM and CEU's as well as specification and cost estimating software and virtual photography. Having spent 7-years at Autodesk, he continues to actively pursue emerging technologies that promise to impact the future of our industry.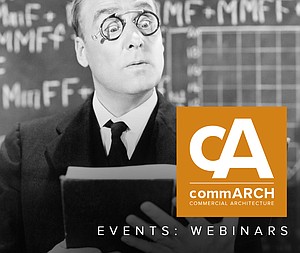 Registration now open for FGIA 2021 Virtual Western Region Summit
Registration is now open for the FGIA 2021 Virtual Western Region Summit to be held August 24.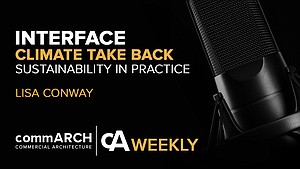 Climate Take Back + Sustainability with Interface's Lisa Conway | cA Weekly Podcast Series
In this episode, commARCH has a dialogue with Lisa Conway, Vice President of Sustainability at Interface, to discuss the ever-more-important ...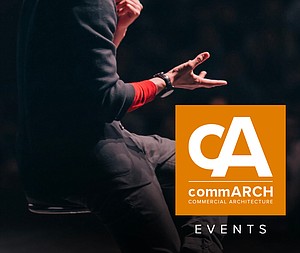 Registration now open for FGIA 2021 Virtual Western Region Summit
Registration is now open for the FGIA 2021 Virtual Western Region Summit to be held August 24.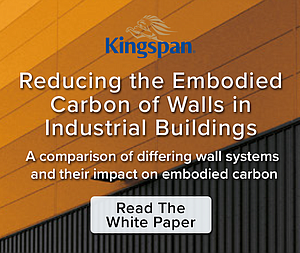 Reducing the Embodied Carbon of Walls in Industrial Buildings
Kingspan partnered with Kieran Timberlake to quantify how Kingspan can reduce embodied carbon in industrial buildings.