Case Study
New event center features Rockfon's metal ceiling systems
National Cowboy and Western Heritage Museum's new event center features Rockfon's metal ceiling systems
December 08, 2020
Send this article to a friend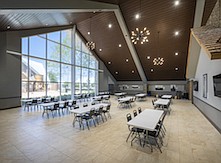 According to Oklahoma City's 
National Cowboy & Western Heritage Museum, 
they recently opened its new 100,000-square-foot outdoor educational expansion and Annie Oakley Society Event Center. 
What? 
Its mission is to build and sustain world-class educational experiences for children and families to teach the rich history of the American West for generations to come.
The Liichokoshkomo´ addition includes an intertribal village representing seven tribes (Caddo, Chickasaw, Hopi, Kiowa, Navajo, Pawnee, and Ancient Puebloan), a rail car and train depot, a trading post, pioneer wagon, playground, waterfall, sod house, and more. Walking through the sod house doors, visitors enter the new Annie Oakley Society Event Center. As the museum's newest indoor addition, the event center hosts activities and education, as well as corporate and private events for up to 250 people.
Designed by Benham, the event center needed to accommodate a wide range of functions and people.
September 17, 2020.

Supporting the Event Center's acoustic and design goals. Rockfon Planar Macroplus, linear metal ceiling system are acoustically improved with perforations and an Acoutex backer. The ceiling's high acoustic performance provides exceptional sound absorption as demonstrated by its 0.90 Noise Reduction Coefficient (NRC).
Visually connecting the Event Center's comfortable interior with the Museum's outdoor exhibits and landscape, the ceiling panels feature a Metalwood Walnut woodgrain finish. Unlike actual lumber, the metal ceiling adds a biophilic note without the maintenance. The aluminum panels resist rot, pests, moisture, mold, mildew, and other microbial growth. Manufactured with 75-100% recycled content, the ceiling panels also are 100% locally recyclable at the end of their lifecycle on the Event Center.
Link: https://nationalcowboymuseum.org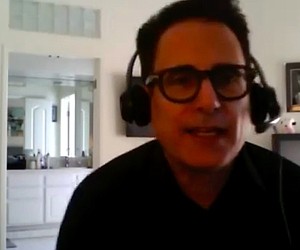 Project HEROE
HLW developed a concept to bring healthcare and other experts to the "ground zero" of a disaster and mitigate it ...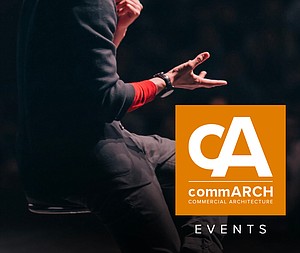 Midwest Build Week Online
Midwest Build Week Online is the largest virtual/online event covering all the latest projects and opportunities for the construction industry in Chicago and the Midwest.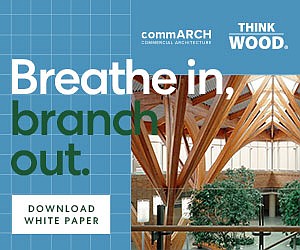 WHY DO WE FEEL BETTER WITH WOOD?
This commARCH White Paper focuses on how Wood shows psychological and physiological benefits, according to research.