commARCH Studios
Reduce Risk, Save Money, Install Faster: Securock® ExoAir® 430 System
February 03, 2020 Dean Horowitz
Send this article to a friend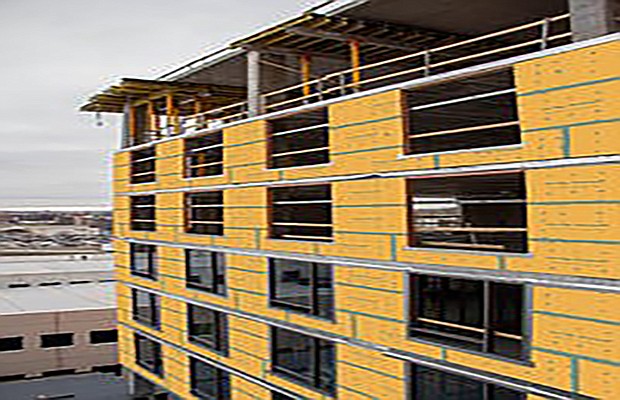 Sponsored Content
There's inherent risk involved with building envelope, and it's the duty of an architect to design a system that reduces this risk of failure. Seeking a way to combat the pitfalls of building envelope, USG developed a truly innovative product in partnership with Tremco. The Securock® ExoAir® 430 System is an innovative air barrier technology that delivers built-in control, confidence, and performance from installation through the entire lifecycle of the building. Recently, USG's own Andy Vegter, National Specification Manager for Building Envelope, appeared on the commARCH podcastto speak with Dean Horowitz about the Securock ExoAir 430 Air Barrier System. During the interview, Vegter went into detail about the multi-faceted benefits of this revolutionary product.
Keeping Architects & Contractors Happy
Whenever the Securock ExoAir 430 system is specified, it becomes imperative for USG to meet and connect with members of the project to handle any worries about design issues to significantly decrease the chance of failure down the road. Securock ExoAir 430 has an entire team to support the installation on a project—everything is managed from start to finish. In the early stages of design, an architectural team will contact the architects on a project directly to help with product specifications. Once the project bids and contractors and GCs are awarded, a team of Securock ExoAir 430 representatives will call on the contractors and distributors to work with them on the jobsite, helping with any installation questions or issues that may arise. The product is a combination of USG Securock® Brand UltraLight Glass-Mat Sheathing with Tremco ExoAir® fluid air barrier membrane applied to the panel in the factory. The membrane is cured and delivers to the jobsite as a single panel, combining two steps of installation into one. Pre-applying the membrane to the panel's surface in a factory setting is the key component to USG's system when comparing Securock ExoAir 430 to competitors. This is an important step to ensure that this product performs to the same level as a traditional fluid-applied air barrier on glass-mat sheathing.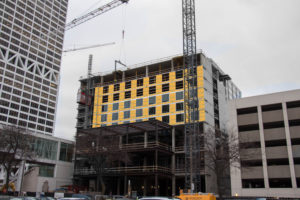 Adding to its benefits, the Securock ExoAir 430 System can help cut down on emissions from contractor transit, production of single-use containers, and non-renewable energy consumed from generators on the jobsite. Not only will a significantly smaller number of installers be required on-site, but these panels do not require any specialized installation equipment, as opposed to traditional application methods. The risk reduction combined with time and money savings leaves Securock ExoAir 430 without a competitive equal. Since these panels are mainly competing with traditional fluid-applied air barrier on glass-mat sheathing, this system stands out in the industry by reducing jobsite challenges and simplifying installation, creating superior control of air, water, and vapor throughout the entire building envelope.
Building the Westin Milwaukee
USG prides itself on the real-life application of its products, especially in success stories such as the construction of the nine-story Westin Hotel in Milwaukee, Wisconsin. With construction scheduled to stretch into winter months along the lakefront, the Westin Milwaukee project was challenged with freezing temperatures, snow, rain, and high winds. What's more, the hotel would be closely situated near surrounding buildings—each of these factors was a major concern. Harsh conditions make weather-related delays a near-certainty in the construction industry, which can lead to overrun schedules and overspent budgets. Recognizing this, the Westin Milwaukee needed an air barrier that could not only withstand inclement weather but also increase the productivity of its workers in order to limit their exposure when handling materials on the jobsite. The Securock ExoAir 430 Air Barrier System was specified for 55,000 square feet of panels for the Westin Milwaukee project, reducing risk, saving time, and saving money on the air barrier installation. Securock ExoAir 430 installs up to 40% faster than traditional field fluid-applied air barriers and is 70% faster overall when including dry time. Furthering their commitment to the construction process, technical support from USG and Tremco was available throughout the project, making several jobsite visits to ensure the product was installed correctly. This technical expertise combined with exceptional product performance made the Securock ExoAir 430 System an ideal solution for the Westin Milwaukee. Learn more about the benefits of this innovative product here; watch a project profile video of the Westin Milwaukee here.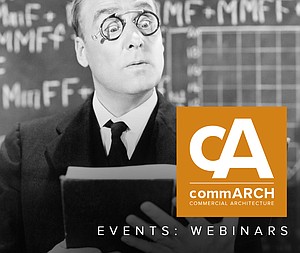 Owens Corning: LIVE Webinar Series
Webinar Series Schedule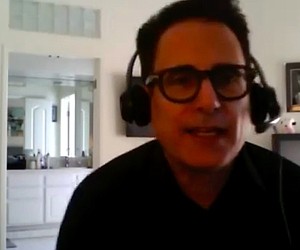 Project HEROE
HLW developed a concept to bring healthcare and other experts to the "ground zero" of a disaster and mitigate it ...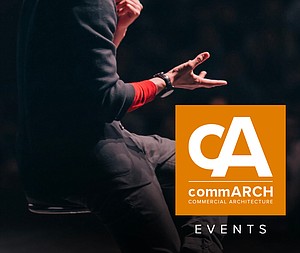 Midwest Build Week Online
Midwest Build Week Online is the largest virtual/online event covering all the latest projects and opportunities for the construction industry in Chicago and the Midwest.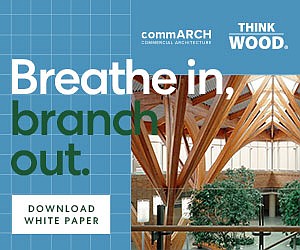 WHY DO WE FEEL BETTER WITH WOOD?
This commARCH White Paper focuses on how Wood shows psychological and physiological benefits, according to research.