Interiors
Dare to Dream
The Morpheus Creates an Icon for Asia
February 28, 2020 - by Griffin Suber
Send this article to a friend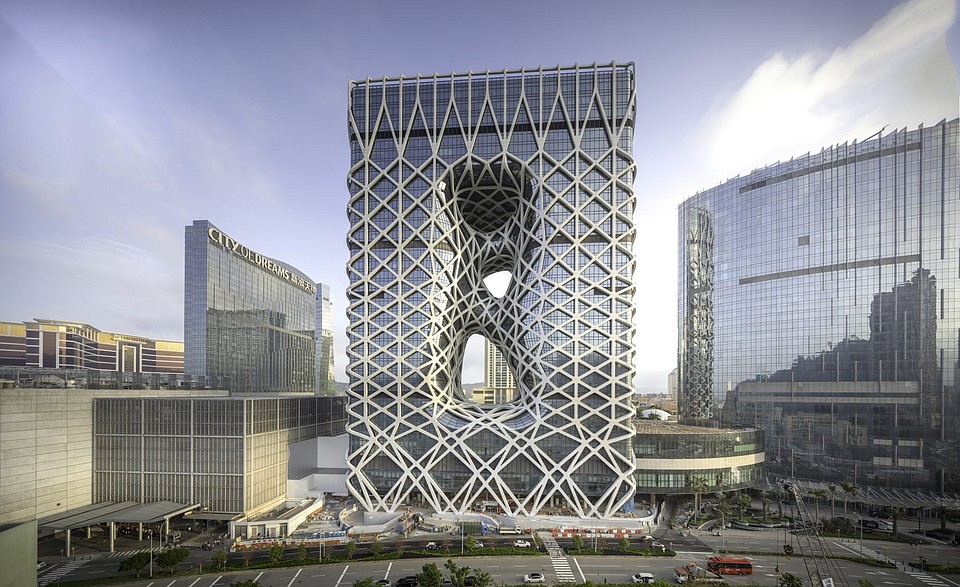 Built on the abandoned foundation of a condominium that never got off the ground, inspired by the fluid carvings of Chinese jade, and a standing testament to more than a few architectural breakthroughs, The Morpheus Hotel is Macau's latest marvel of engineering. In honor of its ongoing acclaim, let us revisit this dreamlike structure.
In December 2019, Morpheus received The Institution of Structural Engineer's 2019 Award for Construction Innovation.
Made possible by the latest digital sequencing and communication methods, this imaginative structure playfully pokes holes in what could have been just another monolithic hotel. Hailed as a "forerunner in the new digital era of construction" by the contest's judges, it's a physical representation of pushed boundaries.
Bearing the name of the Greek god of dreams, the Morpheus Hotel sprung from the imagination of the late Zaha Hadid and her partners at Zaha Hadid Architects (ZHA), Patrick Schumbauer and Viviana Muscettola. ZHA's cutting edge projects span the globe and consistently the firm demonstrates a unique ability to make steel and concrete flow, mimicking nature's aversion to right angles.
Technology + Imagination

Morpheus is an awe-inspiring style and you don't need to be architecturally trained to appreciate its revolutionary complexity. It's the world's first free-form high-rise exoskeleton.
Restricted to a height of 160 meters by local building codes, the structure was built to take the place of a rectangular condo that was never completed, so its basic shape was decided before any designs began.
However, the exoskeleton is something new. Melding technology and imagination, it's a feat of engineering comprised of 2,500 steelwork connections and 1,200 junctions clad in 50,000 square meters of aluminum. Morpheus is 28,000 tons of structural steel sculpted into graceful abstract form, capable of withstanding the region's typhoon climate.
The barebones design of the hotel is two towers connected at the ground and roof levels. A central atrium in the middle is pocketed by three voids which create a window to the rest of the city.
While bringing to mind infinity's figure eight from the outside, from the inside the voids dramatize public spaces and create unique corner suites with unchallenged views of the atrium and the city.
Viviana Muscettola, ZHA's project director explains, "Morpheus combines its optimal arrangement with structural integrity and sculptural form. The design is intriguing as it makes no reference to traditional architectural typologies," she said.
"Macau's buildings have previously referenced architecture styles from around the world. Morpheus has evolved from its unique environment and site conditions as a new architecture expressly of this city."
An Icon for Asia

Macau, known as Asia's premiere entertainment destination, is a fitting site for Morpheus.
The structure itself offers its own visual entertainment. The design is dramatic. With its curves and steely demeanor, one can imagine it being a set piece in a future James Bond movie.
Twelve glass elevators provide guests with panoramic views of the hotel's interior and exterior as they travel between voids. The hotel features two restaurants by renowned chefs Alain Ducasse and Piere Herme. From the hotel lobby, guests have direct access to the ground-level retail strip and main gaming area.
In the 147,860 square-meter (1,591,550 square foot) building, there are 772 guest rooms, suites, and villas, including three villas with their own private indoor pools, and six duplex villas complete with large living spaces, massage rooms, 24/7 butler service, steam saunas, and private gyms.
The 23rd floor features an art gallery. The pool is forty stories above the sidewalk, and the fitness center offers a Virtual Reality experience.
The entire project cost $1.1 billion and created 1,300 jobs in Macau.
Lawrence Ho, chairman and CEO of Melco Resorts, said, "From the curved exterior to the dramatic interior spaces, [Morpheus] pleases the eye and excites the senses: a contemporary masterpiece to be enjoyed by many generations to come. We're not just opening a new hotel, we're opening a whole new chapter for Macau. We've built a landmark for the city and an icon for Asia."
Energy-Efficient Design

Though luxury and awe were construction priorities, ZHA gave considerable thought to energy-efficiency and the environment as well. The thirty-five meter high atrium was coated in a high-performance glazing and was designed to significantly reduce solar heat gain. The space, which is also the main lobby, is defined by towering geometric panels that run along the same lines as the exoskeleton. Aesthetically, they're like the mathematical rose windows of some futuristic cathedral. This design allows for plenty of natural light without admitting any of the accompanying heat.
Air-conditioning is limited to essential areas such as bars, bridges, and dining spaces. Construction materials were sourced locally, whenever possible, to reduce unnecessary transportation. Other efficiency increasing methods include air handling units with high efficiency variable speed water-cooled chillers and thermal wheel energy exchangers to recover energy from exhaust air, as well as a water-to-water heat pump that preheats domestic water. An intelligent building management system monitors energy use and responds in real time to usage and environmental factors, keeping overall consumption to a minimum.
Consistently within this project, form follows function as opposed to the mortal combat in which they usually find themselves. The hotel's shape maximizes the number of rooms with external views while also providing an equal room distribution within each tower. The building's exoskeleton erases the need for any intrusive supporting walls or columns. Such innovations make the interior spaces especially adaptable which, in a hotel with its many functions, conferences, and parties, may go unnoticed by visitors but are a blessing to hardworking hotel employees.
When Morpheus received the Construction Innovation Award, the judge's comment remarked, "When the unknown can be made known, the impossible can become possible, and the value of the structural engineer is revealed in its true light." As technology catches up to the human imagination, the simple existence of this hotel proves our wildest architectural dreams can make it into the real world.
Design: 
Zaha Hadid and Patrik Schumacher
Client: 
Melco Resorts & Entertainment
ZHA Project directors:
Viviana Muscettola, Michele Pasca di Magliano
ZHA Facade director:
Paolo Matteuzzi
ZHA Project architects:
Michele Salvi, Bianca Cheung, Maria Loreto Flores, Clara Martins
Executive Architect: 
Leigh & Orange, Hong Kong
Local Architect: 
CAA City Planning & Engineering Consultants, Macau
Structural Engineering: 
Buro Happold International, London/Hong Kong
M&E Engineering: 
J. Roger Preston
Facade Engineering: 
Buro Happold International, Hong Kong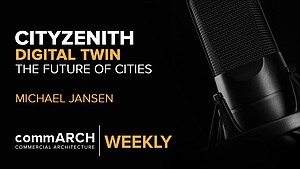 CityZenith's Michael Jansen on Digital Twin & the Future of the Urban Environment | commARCH Weekly 07/2020
In this episode, commARCH has a dialogue with Michael Jansen, Founder and CEO of CityZenith, to discuss the burgeoning landscape ...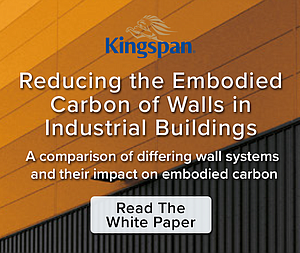 Reducing the Embodied Carbon of Walls in Industrial Buildings
Kingspan partnered with Kieran Timberlake to quantify how Kingspan can reduce embodied carbon in industrial buildings.