Featured
Not Your Great Grandfather's Government Facilities Approach
February 28, 2020 , by commARCH
Send this article to a friend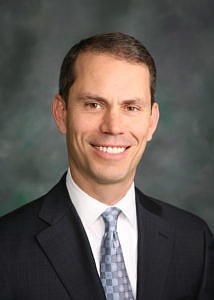 Public project boondoggles that are behind schedule and over budget are well-known at the federal and local level. But the U.S. General Services Administration Public Buildings Service (GSA PBS), which runs the majority of civilian real estate, design and construction for the U.S. Federal Government, is using contemporary tools and processes to reverse that old image of government design and construction. The U.S. General Services Administration was created in 1949 when a number of federal agencies, including the Public Works Administration, were combined. The Public Works Administration was created in 1933 to build federal buildings as part of the New Deal. With a succession of forward-thinking leaders implementing commercial-level approaches to achieving goals, the current GSA PBS has a series of mission successes that show architects this government owner is worth looking at for potential projects and inspiration. Dan Mathews, Commissioner of the GSA PBS talked with commARCHto explain some of the policy, strategy and tactics that are in place to help his organization better serve its U.S. Federal Agency clients . . .and U.S. tax payers. Commissioner Mathews also pointed to recent projects that provide insights to how one of the world's largest owners of buildings and leases is increasing value with input from planners, architects, builders and other stakeholders. The GSA PBS attends to approximately 8,600 buildings, leases and properties of various kinds for most of the civilian agencies in the U.S Federal Government.  They provide space for about 1.1 million federal workers. About 500 historic buildings are managed by the GSA PBS. The organization is structured in 11 regions where work is project managed. At headquarters in Washington, D.C., there are seven main lines of business including Leasing, Acquisition Management, and Design & Construction. In-house professionals staff the headquarters and regional offices to manage contracts with pre-qualified contractors. The GSA PBS uses a variety of contracting methods including design/build, Indefinite delivery/indefinite quality and direct contracting. The following articles include an interview with Commissioner Mathews and highlight federal projects that provide readers with insights and services needed in this rapidly changing business world that can be used to win government . . . and private industry. . . work. 
A Conversation with Commissioner Mathews
Dan Mathews, Commissioner, U.S. General Service Administration Public Building Service since 2017 was previously a federal legislative aid for 15 years. During his last years as a legislative aid, Mathews was a director of the House Transportation and Infrastructure Committee's Subcommittee on Economic Development Public Buildings, and Emergency Management. There he oversaw federal buildings and courthouses, the General Services Administration, the Smithsonian, the Kennedy Center, the National Gallery of Arts and many other federal facilities. He knows of what he speaks. As GSA PBS Commissioner, he is ultimately responsible for the approximately buildings, leases, and other properties representing almost all U.S. civilian real property assets. "We have been making a significant effort for many years to reduce the federal facility footprint. In the current administration that is still policy, and we have been more aggressive with it," Mathews says. In large part, that means helping agencies move to more contemporary office standards with open environments, less square footage per person and more amenities, such as shared meeting space, engaging kitchens, private call rooms and the ability to rearrange furniture to accommodate quickly changing business requirements. It also means moving agencies from leased properties to federally owned buildings to achieve value for the nation. "When a lease expires it starts a conversation with the tenant agency. Ideally, we are able to move the agency into a federal space. Something that the federal government has already paid for, taxpayers have already invested in, and we are already paying to operate and maintain it every year," he says. "Ideally, we can get out of a lease altogether, stop those payments and just incorporate them into something that has already been paid for and will be paid for in the future whether they are in it or not." 
Digitizing Images Advances Mission Success, Changes Space Needs
That was the case for the recently completed U.S. Department of Agriculture Forest Service Geospatial Technology Application Center and the Farm Service Administration Aerial Photography Field Office. Moving these divisions out of leased spaces and into the Bennet Federal Office Building in Salt Lake City, Utah, is projected to save $1.5 million a year. But more than that, the change in location activated a change of business processes that makes their main asset – aerial photography and film – more valuable to the country. Mathews explains, "They have aerial photography and film footage of huge swaths of this country since about the 1920s. But they were housed for the last 40 years in metal tins and metal film reel cases on metal racks in storage rooms that were cumbersome to access. You had to physically come to their location, find it, physically pull it off of the shelf. . . it would take forever." It is no surprise that it takes a time to physically comb through 70,000 reels of film and 10 million photographic images. When the lease came up a few years ago, the GSA PBS started talking about the ways new facilities and new processes could benefit the mission of the tenant agency. Simply stated, digitizing the decades of film could make the images available to more people and would allow the staff to be housed in a well-located office that was right-sized for the people working there. The original analog film could be stored in a specialized offsite warehouse archive kept at 35 degrees and 30 percent humidity that is much less expensive because it is in a remote location. "They thought there was no alternative. But when they got comfortable with the notion of digitizing it, they made the financial investment in high tech image digitizing equipment, which makes the content available for land use change studies, scientific studies, water shed studies, pollution studies…all sorts of things," Mathews says. "I doubt we realize how all that information can be used in the future. "It transformed the way they do their business from a physical-based model to a digital model. That allowed them to not only reduce their footprint, but gave them significant new capabilities with their new, digital business model," Mathews says. Talk about value to the nation. Once committed to the process, the tenant agency purchased 13 machines that can help digitize the content in about 5 years. While this approach may seem obvious in hindsight, people being people, it took effort to help the tenant agency to embrace it. Mathews explains, "At the dedication of the space in 2019, the Director said to me, 'I pulled every trick out of the book to kill this thing, but we couldn't be happier. I am glad I didn't stop it.'" 
The Human Factor of Architecture 
The way the GSA PBS addresses the very human characteristic of resisting change is well considered. "We have a special unit called our Total Workplace Office that helps walk agencies through the process of radically reducing their footprint, go from paper to digital, move from offices and cubicle to open space, and go from assigned space to unassigned space," Mathews says. "These are really big change management issue for people." Mathews continues, "And then what are the benefits you get out of it that are actually useful for your agency and your employees? Recruitment and retention. Particularly, recruitment of a younger workforce. It is a real plus for agencies when they are trying to get a younger workforce. They are expecting a more collaborative open environment with amenities." The Total Workplace Office has extensive experience working with agencies they know how to bring agencies along, how to articulate the benefits and value that come out of new approaches to the work environment, according to Mathews. Good architecture addresses these human issues in addition to providing aesthetically pleasing, energy efficient, comfortable environments. Which bring us to the fun of designing the new offices. The Bennet Federal Office Building in Salt Lake City had been recently received seismic renovations and significant HVAC updates. It has "good bones" that will be viable for decades and a more desirable downtown location than the previous, suburban facility, which was not as accessible to public transportation and less interesting to a young workforce. "We consolidated some of the other agencies in there, which freed up most of a floor. Then we went in there and gutted that floor. Everything was removed. The entire space was built out for them new," Mathews says. "We built out a room for them in the core of the building where there is not access to windows and built something like a super-clean, high-tech laboratory with really expensive machines. They bring in the film and they scan it all in there," says Mathews. In the outer space along the windows, they created an open office plan with amenities more common in tech start-up spaces than in federal government offices. 
Human Challenges
Again, people being people, it is not always possible to lead agencies to a better place. In a Chicago federal office building, a similar process of consolidating agency space to free up entire floors for remodeling in contemporary, open office space was in full swing. "We are shrinking their footprint, so that will free up a floor and bring some more people into that space, just like we did in Salt Lake City,'' says Mathews. But one agency tenant had issues with the open office environment. 'We recently brought in an agency and they had some issues about the open work plan. Some of the unions were concerned, so they ended up with a modified version of the open work plan with a little more assigned cubicles and private offices than we would prefer," Mathews said. When all of the workforce showed up, some of them wandered into the open plan floors elsewhere in the building and liked it. "The feedback we got from the workforce is they want the GSA space. They are not happy with the new space we just built out for them because it doesn't have as many amenities…and our space has better utilization rate than theirs does," Mathews said. Taking responsibility, he added, "But we didn't get them fully on board with the open work space. It is hard for them to get their heads around it, but once they see it and live with it, they like it, particularly the younger folks." Lesson learned. But when you are responsible for 8,000 buildings, leases and properties, you are not going to hit it out of the park every time. "The Total Workforce Office is a problem solver," according to Mathews. "People say, 'We can't do this because of this,' and we say, 'Actually another agency had the same issues and they solved it this way.' We take issues off the table as people put issues on the table. The USDA office didn't want to modernize, so they were coming up with all kinds of reasons why they didn't want to change. We walked them through it by saying how we have done it in the past." That appears to be a winning, repeatable process inside governments and in private industry. 
More than just Office Space
Mathews explained that the GSA PBS takes on a large range of projects for civilian agencies. "People often think, 'The GSA, they are only addressing office space.' Well, we do a lot more than just office space. We have significant capabilities," Mathews says Nothing explains that better than two large projects completed in 2019. One is the San Ysidro Land Port of Entry on 52 acres between San Diego, California and Tijuana, Mexico. The other is the U.S. Department of State Foreign Affairs Security Training Center on 1,500 acres of a former U.S. Army Base in Blackstone, Virginia. For the San Ysidro Land Port of Entry, the CBP needed to accommodate the increasing volume of vehicle and pedestrian traffic between the U.S. and Mexico. There are currently about 85,000 people entering the U.S. every day through the port today. It was designed to accommodate up to 100,000 people per day over its 50-year planned life. There were originally 24 inbound lanes and 24 booths. That was increased to 35 inbound lanes and 62 booths, most of which are arranged in a "stacked" configuration so two vehicles can be processed at the same time in the same lane. Previously, there were 6 outbound lanes no outbound inspection booths. Now there are 10 outbound lanes and 10 outbound booths. "It is the single busiest personal vehicle port of entry in the Americas. There are 70,000 north bound passenger vehicles every day," Mathews says. "It is a dense urban, landlocked port of entry with not a lot of expansion room." While you might think of a border land port as being surrounded by open space, that is not the case at San Ysidro. "It was a very landlocked construction site, kind of like building in New York City. We didn't have a lot of room and of course we had to keep the port open every day 24/7 in the midst of one of our largest design and construction projects in a very tight very tight physical geography," Mathews says. The $740 million project included the reconstruction of a section of the I-5 interstate highway in addition to the complete reconstruction of the port in three phases over 10 years. The project included a port operations building, narcotics building, employee parking, tunnels through the site to ease staff movement, in- bound and out-bound pedestrian crossings and the primary and secondary canopies to cover inspection booths. The new facility, designed by Miller Hull Partnership provides a highly welcoming sense of entry into the United States. According to Mathews, the challenging project succeeded because all the key stakeholders where involved on a regular basis so they were not getting blind-sided. The well-orchestrated team enabled properly designed phases that allowed for complete operation of the port. (See accompanying article for more design and process details.) "Fundamental capital project management principals were followed – good people doing what they needed at the right time so operations continued and the construction moved forward without delays and on budget," Mathews says. "A project like that could easily go far over budget. We have all heard horror stories about big government projects. But this is a massive one and it was delivered on time and on budget." 
Foreign Security Practiced in a Complex U.S. Facility
For the U.S. Department of State Foreign Affairs Security Training Center (FASTC), the GSA PBS helped bring together a variety of security and counter-threat training to one 1,400-acre site on the former Fort Picket Army Base in Central Virginia. The $431 million facility incorporates 11 training activities, including weapons training and defensive driving through multiple scenarios, to one location. "FASTC is a unique project that highlights the capabilities of GSA to help an agency meet a really important operational requirement that previously did not have an adequate solution,' says Mathews. "They made due for decades with a hodge-podge of facilities scattered all over a large geographic area to meet their mission requirements, but not in a not terribly effective way." The State Department obviously sends many people overseas to dangerous environments, according to Mathews. "The threat scenarios got to a point where the State Department made a decision that everyone they send overseas, including spouses of their employees, has to receive a certain level of security training. Their capacity grew significantly and they just did not have a physical facility to accommodate the demand," Mathews says. The State Department was using a variety of leased locations for driving courses, firing ranges, explosive ranges, classroom training, mock villages and mock embassies scattered all over the Middle Atlantic. While the State Department has their own land-holding authority and the authority to do their own construction overseas and in the U.S., they went to the GSA PBS to explore options and meet the need. A great variety of options were explored, including expanding an existing facility in Glencoe, Georgia. But the Georgia site was close to residences and would not accommodate night firing and aerial operations. It was decided to use some of the property available on the former 45,000-acre Fort Pickett and purchased adjacent land to meet the complex arrangement of needs at one site. "We built multiple driving courses, classroom buildings, multiple firing ranges, - indoor, outdoor, pistol, rifle - even a range where you can drive a vehicle and shoot from the vehicle at the same time," Mathews says. "There is a covered range and a fake village, a mock embassy where they can have realistic training, live-fire-shoot-houses for diplomatic security personnel, and explosive ranges where they can blow things up for explosive training." Mathews added, "It is a massive facility and very complicated. It was like building a little city and we were able to deliver it on time and on budget. It greatly enhanced their capability to train large numbers of people they are sending overseas. It is a real important mission enabler for them." 
Courting Project Improvements
Another example highlights what the GSA PBS has been doing with its courthouse program. The GSA PBS is responsible designing, constructing and maintaining all the U.S. Federal Courthouses. But the program has a checkered history. Challenges arose when there was a funding entity, a strong tenant in the judiciary and a separate project delivery team. "If you Google the 'General Accountability Office and Courthouse' you will be busy reading a variety of reports that are not terribly favorable to the GSA or the courts," Mathews said. "Because of those GAO studies, the GSA and the judiciary and Congress had instituted a number of reforms to basically institute cost and schedule controls to the courthouse program." According to Mathews, there was a consensus between Congress, the judiciary and the GSA to change the way the courthouse program had been delivered in the past to one that is more disciplined and budget conscious. "It took a while to get that consensus, particularly around courtroom sharing, but the judiciary got on board and has been a very critical partner in helping manage these projects from the national level. They help keep their change orders down – they are committed to project schedule and budget just as much as we are and that has made all the difference in the world." Among the consensus decisions was a reduction in courtroom size and mandated courtroom sharing for senior district judges, magistrate judges, and bankruptcy judges, according to Mathews. "There were some real reforms to bring down the costs of delivering justice through the courts," Mathews says. Confident that the reforms were in place, Congress appropriated $900 million for new courthouses in 2016, which was the first time in years federal courts received such a significant appropriation for facilities. GSA PBS is building 13 new courthouse projects across the country as part of the $900 million and a couple courthouses that were funded after 2016 when Congress saw progress and developed confidence in GSA PBS in guiding the process of building more cost-effective courthouses, according to Mathews "A great example is in Mobile Alabama, where we had a 1930s courthouse that didn't meet modern security requirements. There were shared elevators with the public and judges, it needed renovation and it just wasn't large enough to house all of the judges that were there," Mathews says. There had been a project on the books for years to build a new courthouse across the street. GSA PBS had acquired the site, but the GAO reports came out and reforms took precedence over the new Mobile Federal Courthouse. The reforms scaled down the size of the originally proposed courthouse by about 40 percent and that provided significant projected cost savings according to Mathews. So much so, that at Congress' urging, the existing Campbell Courthouse, which is listed on the National Historic Register, was incorporated into the masterplan. The new Mobile Federal Courthouse was completed in 2019 and includes, six courtrooms and nine judges' chambers in 155,000 square feet in a five-story structure with a secured garage. The building houses U.S. District Judges, U.S. District Clerk, U.S. Magistrate Court and the U.S. Marshalls services. The Campbell Courthouse has 115,000 square feet in a classically designed building completed in 1932. The renovation is underway and when complete the building will reuse 4 courtrooms and seven judges' chambers. Separate elevators for judges and the public will be included along with perimeter security upgrades, better accessibility, improved HVAC, plumbing and electrical and new fire suppression equipment. Mathews says that the reforms to court designs contributed significantly to the project. "It will be about the same amount that was originally proposed for the new courthouse," he says, but includes the new courthouse and the renovated Campbell Courthouse. And the new court building was able to enjoy an exterior cladding upgrade to Alabama limestone through good procurement strategy, according to Mathews. "It is a gorgeous building as a result," Mathews says. He adds that the other courthouse projects are also on schedule and on budget. Which goes to show that even when there are other pressing issues on the U.S. Federal Government, there is the ability to work together for mutual success. Maybe building better buildings can be used as an example of how to keep building a better society.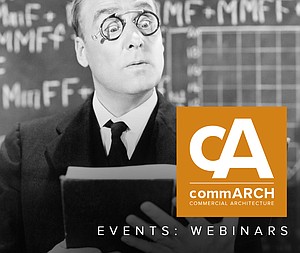 USA Digital Construction Online
The World's Largest Virtual Event for Digital Construction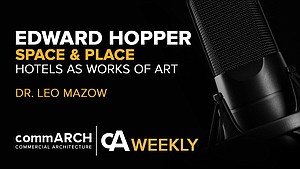 Space & Place: Edward Hopper and the Intersection of Hotels and Art | cA Weekly 02/20
In this episode of the commARCH Weekly Podcast Series commARCH speaks with Dr. Leo Mazow, curator of American art at ...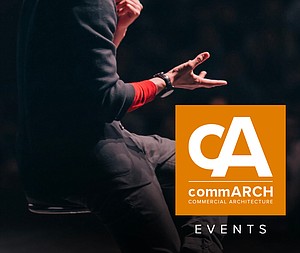 USA Digital Construction Online
The World's Largest Virtual Event for Digital Construction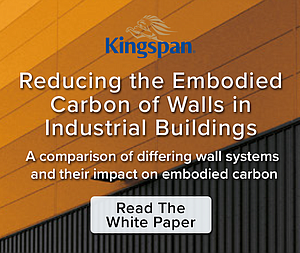 Reducing the Embodied Carbon of Walls in Industrial Buildings
Kingspan partnered with Kieran Timberlake to quantify how Kingspan can reduce embodied carbon in industrial buildings.