Featured
Retail Revival
Singapore's newest mall offers a new formula
May 22, 2020 - by Griffin Suber
Send this article to a friend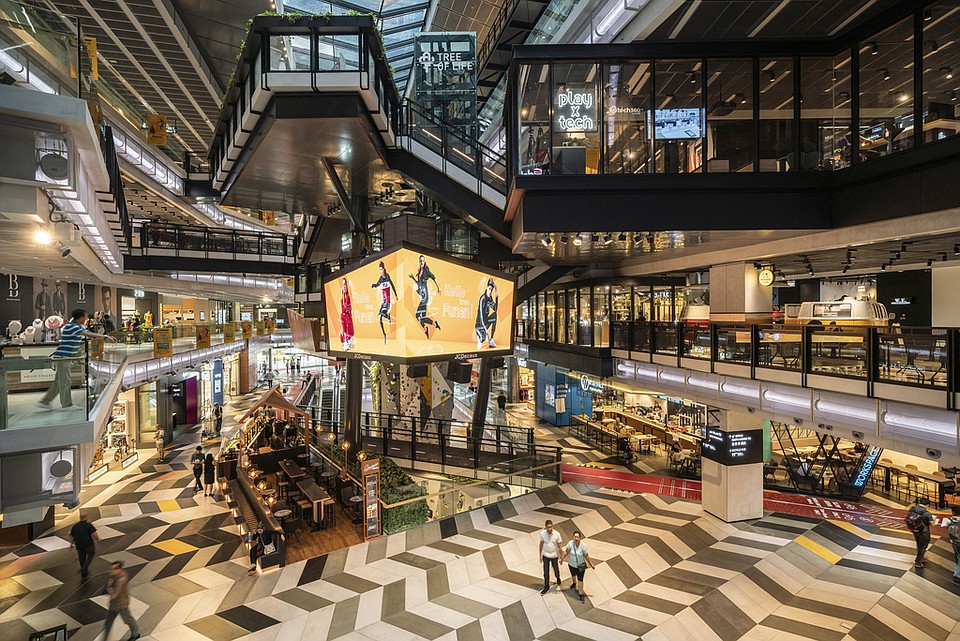 Photo: Woods Bagot 
Since the internet became the new bastion of American commerce, 
malls have slowly decayed 
into depressing fenced
-
in 
elephants
 awaiting demolition.
Singapore, howeve
r,
 loves their malls. 
Fifty percent of the country considers shopping a hobby and, like a gift shop at the end of a tour, nearly every subway station in Singapore is attached to some sort of shopping center. Now
,
CapitaLand's
 Funan Mall in Singapore shows what happens when mall
s are allowed to evolve into the twenty-first century.
Future Looking
The 
Funan 
brand 
has always been associated with tech
nology
. 
Before the mall 
went into hibernation
 for a three-year revamp, it was known as Funan 
DigitaLife
 Mall and was the go-to destination for the latest tech and IT products. 
Now, in what is more a rebirth than a 
redevelopment
, the latest descendants of those products are built into the structure's bones.
Visitors to the food court can place orders through the Facebook Messenger app on their phone
s
 and pay with their pick of cashless transactions, including cryptocurrencies. 
Dining counters feature wireless charging for your devices. 
Directory panels use facial recognition to suggest shops suited to your profile.
Facial recognition also acts as a keycard into the 
WeWork
 and twin office block space. 
If you drive to work at Funan, you can reserve a space in the parking lot ahead of time from your phone. 
A "click and collect" system allows shoppers to pick up orders served via a robotic arm normally seen in car factories. 
Self-checkout options abound and if an advertisement catches your eye, scan the corresponding QR code to add that product to your digital wish list. 
This integration of 
digital into physical
, of online and offline, is a first for Singaporean shopping malls. Woods Bagot, the design firm behind Funan, calls their approach "future-looking" as
 analytics software has been hardwired into the building's infrastructure.
Like a cellphone that needs periodic updates or a Tesla that can download features to make it more efficient, Woods Bagot's goal with Funan was to build 
an experiential civic hub
 for the present that can adapt for the future.
Stephen Jones, Director and Regional Chair of Woods Bagot China
, said the mall was designed with a particular demographic in mind.
 "
Funan is a place for everyone. However, the more tech 
part 
was
 designed thinking of Millennials and Gen Z as users
," said 
Jones.
 "
The 
experience 
was
 designed to engage and exchange.
"
Tree of Life
Beyond the digital aspect, Funan goes above and beyond to ensure that the mall itself is a distinct destination.
At one of the entrances on North Bridge Road, a kinetic clock tells the time
 and displays art installations. 
A rock-climbing wall is prominently placed in the center of the mall and extends over 160 feet through multiple levels. Climbers find their holds in full view of shoppers passing spas, coffee shops, and designer clothing stores as they ascend.
There's a cycling path that cuts through the mall
's first floor
, allowing commuters to enjoy some air conditioning before continuing on in the Singapore sun. If they dismount in Funan, they can use the complimentary bicycle repair and pump station or park in the Bicycle Hub and enjoy the shower room (accessible via an app, of course). 
"
Studies of the history of the site showed that it originally spanned multiple city blocks with a connection between North Bridge Road and Coleman Street
," 
said Jones
.
"
Woods Bagot wanted to re-establish this 
lane 
connection that was once important to street life.
"
On the roof, a
fter ascending a stairway 
skirted
 with real vegetation, you'll find a 5,000 square foot urban farm. Using real soil as well as indoor farming techniques, 
the farm grows 
pesticide-free herbs, spices, vegetables, and fruit. 
Most of these crops supply restaurants within the mall.
In a creative departure from traditional mall design, 
Funan has no atrium. "
In defining the future of architecture, I find myself immersed in a new dimension where designing space implies envisioning the type of content that the canvas will host
,
"
 Jones explained.
Though this decision 
certainly impacted traditional definitions of tenant rental prices, t
hat dynamic was replaced by 
Funan's defining feature, the Tree of Life. 
Funan's central pillar is a 
six-story 
timber
 and steel plug-and-play 
host 
for 
retail pods, pop-ups, and workshops. 
Made with 250 tons of 
dark steel, glass, mesh balustrades, bronze
,
 and concrete finishes
, the tree is meant to symbolize 
the idea that creativity grows from collaboration
.
"
The roots of the tree rise from the earth and grow
,
 sustaining the building – reflected in the earthy tones on the exterior of Funan that shimmer and twist in the sun
," 
said Jones
.
"
The roots extend to different areas of the building
; 
creative communities grow on its various
platforms and in the office, co-working
, 
and co-living spaces above. 
The
 urban farm 
on the roof 
is
symbolic of the top of the tree.
"
A New Formula
With the Tree of Life, bicycle path
, rock climbing wall, and brightly lit storefronts, there's a lot to take in when you 
enter
 through the 
floor-to-ceiling 
sliding doors at Funan.
On the 
structure's west end
, a glass canopy spready upwards from the ground floor and merges with a curtain wall on the upper retail levels. Visually, this splits the retail podium in two creating the illusion of a strong, transparent connection to the other side of the mall.
And this was exactly the intention – to create a commercial canyon for pedestrians and cyclists to pass through. 
It 
feels like
 an open space, which is a welcome distraction from the 
heavy
 commercial stimuli.
Walking through Funan in the morning, surrounded by cyclists taking a coffee break and 
teens taking selfies on the wooden steps, 
it's clear Funan was designed to appeal to an attitude. Or a profile. 
Chris Chong, Managing Director
 of 
Retail at CapitaLand, 
said of Funan, 
"As the retail landscape undergoes disruptions, the formula for a successful mall has to evolve as well. While a decade ago a mall [could] succeed largely on the merit of its tenant brands, today it must be able to anchor its own community of supporters and followers."
With its emphasis on combining physical and digital experiences, 
Funan courts millennials and 
zoomers
 with its Instagram-ability. 
Storefronts are covered with hashtags and neon lights against faux foliage. 
The 
roof's green space
 is 
a
dorned with swings and hammock-like nets
 and a picturesque skyline backdrop. 
Several tenants have integrated Instagram into the physical locations, such as one fashion retailer's augmented reality catwalk, made specifically for shares on social media.
There are real reasons why Singapore's malls stay busy while America's shopping centers 
are abandoned. For now, they've dodged the digital bullet as most Amazon retailers won't deliver to the tiny island nation and home-grown online marketplaces such as 
Carousell
 aren't large enough with consistent, quality merchandise.
Plus, an air-conditioned oasis to escape alternating bouts of stifling heat and pouring rain will always be welcome. However, a
s Singapore strives to become the world's first smart city-state, Funan poses as a case-study in how developers are evolving malls to meet millennials in the future.
Project Specifications
Developer/Owner: CapitaLand Mall Trust (retail and office components) and 
Ascott
-Qatar Investment Authority Serviced Residence Global Fund (co-living serviced residence)
Project Manager: CapitaLand
Design Consultant: Woods Bagot
Project Architect: RSP Architects Planners & Engineers (Pte) Ltd
Quantity Surveyor: Arcadis
M&E Engineer: Alpha Consulting Engineers Pte Ltd
C&S Engineer: RSP Architects Planners & Engineers (Pte) Ltd
Landscape Designer: Grand Associates
Lighting Design:
Nipek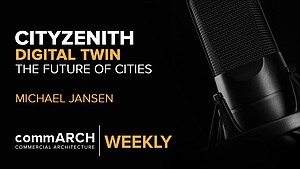 CityZenith's Michael Jansen on Digital Twin & the Future of the Urban Environment | commARCH Weekly 07/2020
In this episode, commARCH has a dialogue with Michael Jansen, Founder and CEO of CityZenith, to discuss the burgeoning landscape ...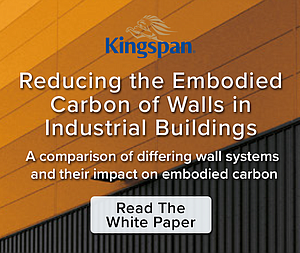 Reducing the Embodied Carbon of Walls in Industrial Buildings
Kingspan partnered with Kieran Timberlake to quantify how Kingspan can reduce embodied carbon in industrial buildings.