Case Study
Accounting for Style
Bright, elegant and straightforward design to stand the test of time
November 04, 2020
Send this article to a friend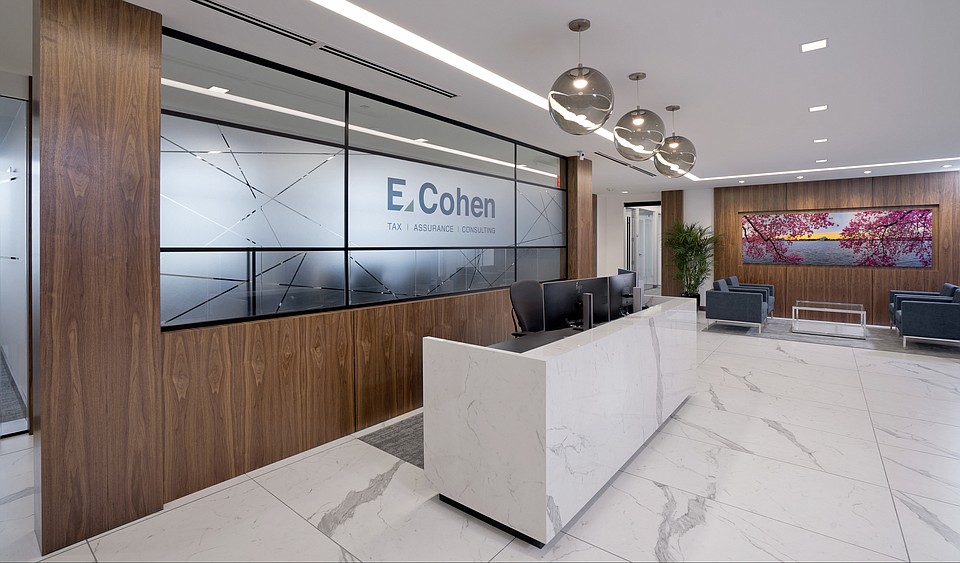 Project: E. Cohen & Company Headquarters
Design Firm: GTM Architects
Client: E. Cohen & Company, CPAs
Location: Rockville, Maryland
 
GTM Architects' concept for E. Cohen & Company, CPAs—a thriving accounting firm based in Rockville, MD—was centered on creating a clean, sophisticated and timeless design.

E. Cohen's previous offices were located in the same building as their new space; however, they were separated throughout three different suites. The client considered relocating to a new building completely, but ultimately stayed in the same building, moving to the 4th floor and working with GTM to combine everything into one large suite.
Natural Light

Maximizing natural light and creating comfortable workspaces were very important to E. Cohen's principal, as the firm deals with private information, so workspaces needed to be closed offices. GTM brought daylight into interior spaces by using floor-to-ceiling glass throughout.

Starting at the suite's full glass entry doors, large-scale porcelain tile pulls you into the firm's main lobby, which opens up to three large, glass-front conference rooms. That same large format tile also continues up onto the reception desk, giving the illusion of continuation without interruption.
Balancing elegance with function was also key. The executive conference room table was custom designed with a quartz tabletop made just for this office, as well as upholstered benches along the room's perimeter to accommodate firm-wide meetings.

The new design also incorporated refined finishes with high-end details, such as discreet LED lighting to call attention to the client's custom glass artwork—grand images of well-known Washington, DC landscapes. The reception area was custom designed to fit one of these large custom pieces—an image of Washington, DC's famous cherry blossoms near the Tidal Basin. These glass photos are also in each of the front conference rooms.
Branded Space

GTM was also very conscious of utilizing E. Cohen's branding throughout the entire space. By incorporating the company logo in glass film in the reception area and adding the company's logo color palette into the break room via blue porcelain ceramic tile and angled green paint, the overall design complimented the company's branding throughout the entire suite.

In addition, the breakroom was designed to provide a refreshingly bold and casual contrast to the otherwise sophisticated workplace. The open yet private galley with plenty of seating and touchdown spaces creates flexible and engaging workspaces for all to collaborate.
Halfway through the process, GTM realized the overall pricing was on track to come in far under the client's budget. In order to make the most of the space design, GTM looked for areas of improvement to meet the client's budget, including the installation of taller office doors and glass partitions which provided enhanced functionality to the space, as everything looked more proportional, thus opening up the interior.

The result is a workplace design offering uniformity in office sizes, so the client can easily move employees from place to place without worrying about the hierarchy of office design.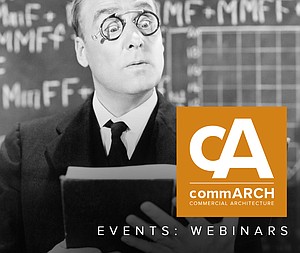 NOMA Homecoming | Detroit 50
NOMA is celebrating their 50th Year Anniversary in Detroit, where their twelve founders convened for the 1971 AIA Conference.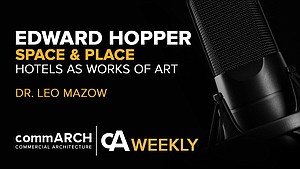 Space & Place: Edward Hopper and the Intersection of Hotels and Art | cA Weekly 02/20
In this episode of the commARCH Weekly Podcast Series commARCH speaks with Dr. Leo Mazow, curator of American art at ...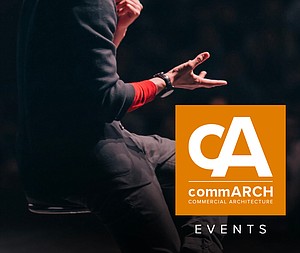 NOMA Homecoming | Detroit 50
NOMA is celebrating their 50th Year Anniversary in Detroit, where their twelve founders convened for the 1971 AIA Conference.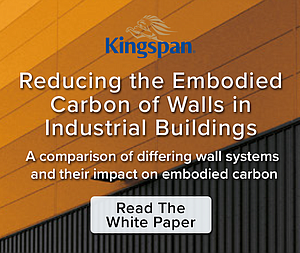 Reducing the Embodied Carbon of Walls in Industrial Buildings
Kingspan partnered with Kieran Timberlake to quantify how Kingspan can reduce embodied carbon in industrial buildings.