Dialogues
Boutique Health
Designed by NELSON Worldwide, a new health facility reflects a far-sighted vision of healthcare
October 15, 2020 - by commARCH
Send this article to a friend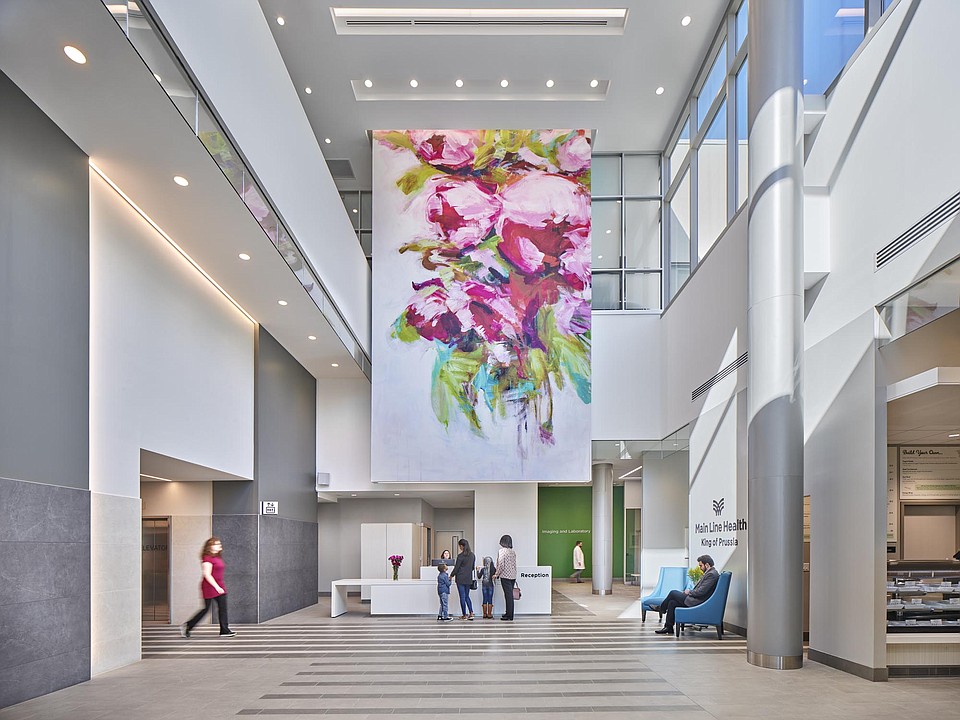 As healthcare continues to evolve from diagnostics and treatment to prevention and lifestyle, the buildings and spaces are also evolving.

Gone are the days of uninviting, institutional, antiseptic hospitals and clinics. Modern facilities are warm and inviting, and reflect the goal of improving patients' lifestyles, helping to prevent medical issues before they occur.

One of the newest examples of this approach is the Mail Line Health Women's Specialty Health Care Center in King of Prussia, Pennsylvania. Designed by NELSON Worldwide, the new facility houses more than clinics and labs, but also nutritional and educational spaces. Its resources are intended to welcome not just patients, but the larger community.

Most importantly, it offers a relaxed atmosphere that puts patients more at ease, helping to diffuse some of the stress that accompanies doctor visits.

To learn more about this space, commARCH spoke with Brad Earl, AIA, NCARB, Design Principal at NELSON Worldwide, and Doug Williams, System Director of Planning and Design at Main Line Health.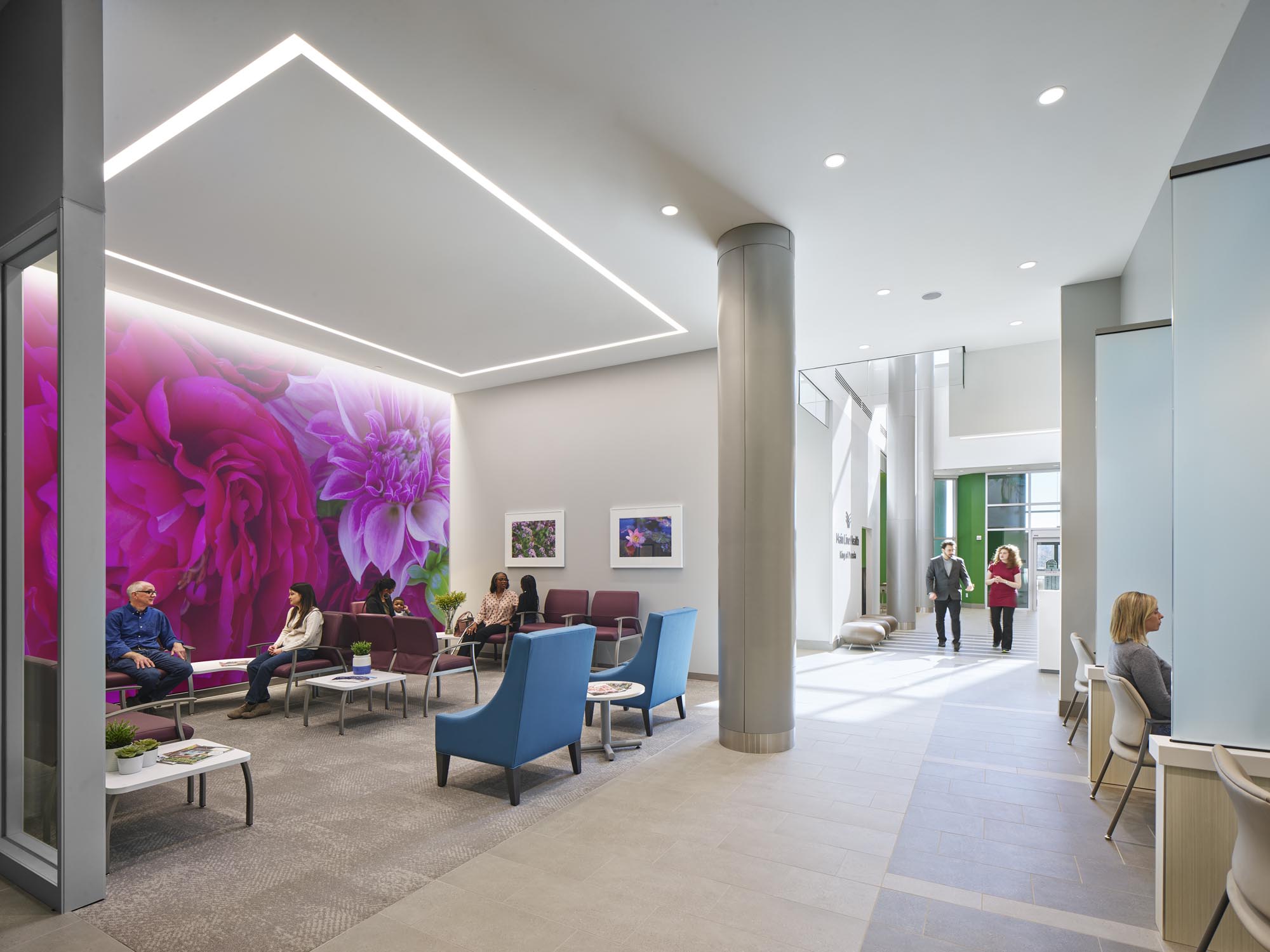 commARCH: What was the vision behind this facility?
Doug Williams:
 "The goal was to create the premier destination for enhancing health and wellness for residents, employees, and visitors of the King of Prussia area. Located within the facility, Main Line Health and Axia Health Care in partnership, (our goal was also) to establish, own and operate the Women's Specialty Health Care Center, focused on the unique preventive, diagnostic and treatment needs of women."
cA: What are some of the unique design features of the building?
Brad Earl:
 "We created more of a feel of a boutique hotel. When you arrive at the arrival garden, and you enter the first doors of the main lobby, you really, you get some soaring space. But you also get some intimate little corner spaces. There's a small cafe off to the right, which is…a little more intimate. There's a community meeting space where they can have all kinds of dialogue about medical issues and programs for the community. On the sixth floor, it has a large conference community conference room, medical education component, and a demonstration kitchen."
"We made provisions to now have a public access portal out onto the roof of that lower (section) of the building. And (it will have) raised planting beds with fruits and vegetables. School children will come out and be schooled in how to raise vegetables. The food that is harvested from that roof will be given to the, uh, demonstration kitchen in the main building and used also in the cafe downstairs. And any overage will be given to food banks in the area."
"It's an example of the non-traditional, far-sighted vision of taking care of yourself and your lifestyle before the health issues present themselves."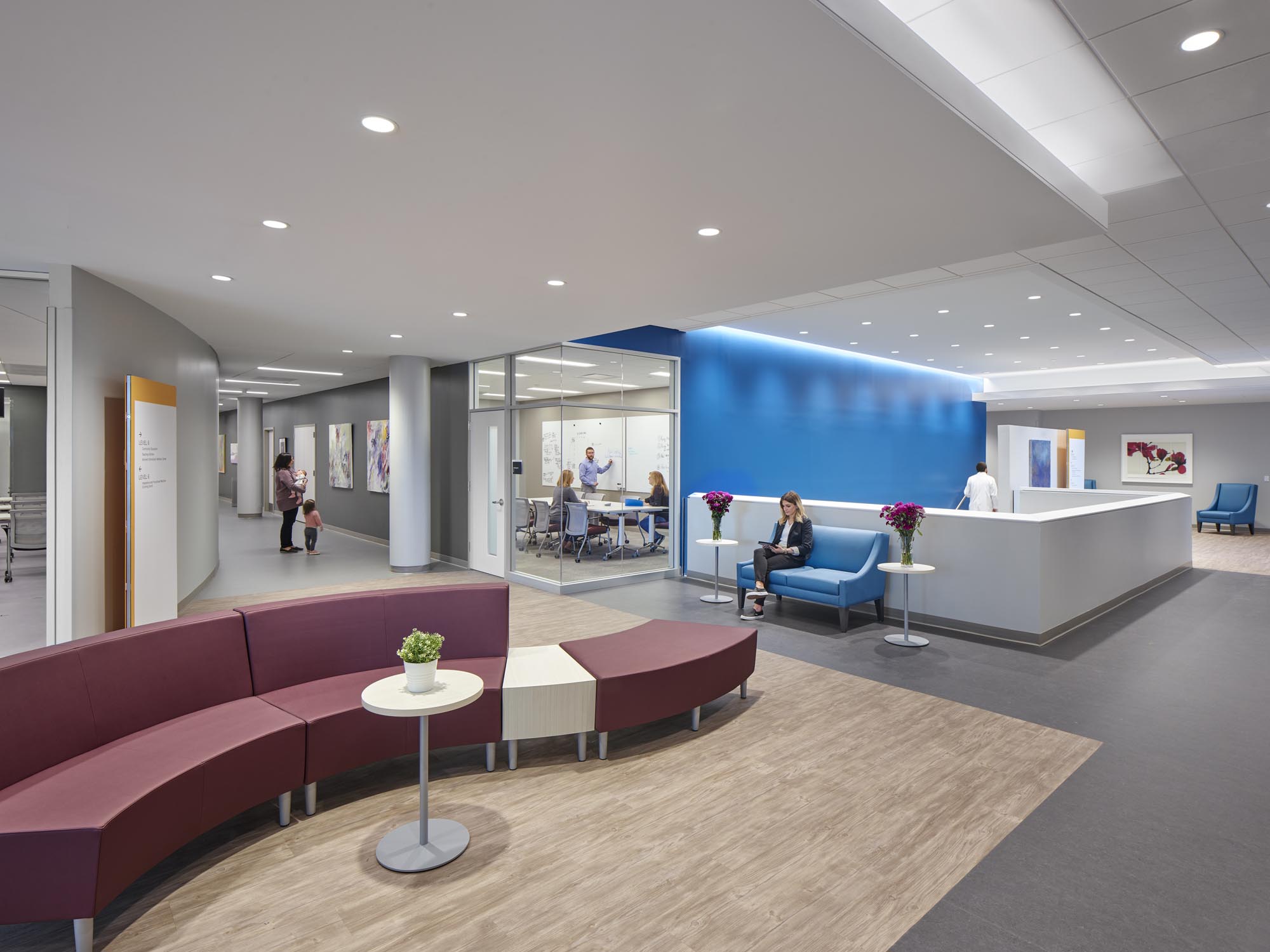 cA: What was the purpose behind these design features?
BE:
 "This building, unlike many of the other buildings, will truly not feel like a medical clinic, or a medical complex. It will feel more like a place where you might go to join a class of dietary nutritional programs, rather than going in and getting stuck for a blood draw or checked out for some particular illness."
cA: Describe the collaborative process of taking this project from vision to reality.
BE:
 "(The MainLine team) worked with us seamlessly. You often don't find that in health care planning. Many times, healthcare institutions will have a small facility staff in house, and they're juggling everything from asking them to move a door or make your waiting room in your practice ten chairs bigger. So they're juggling an awful lot of things. And a lot of times that facilities planning group in house doesn't have the time to really work hand in hand with the design consultants that they hire. (With the MainLine team), even now when we're working remotely on a new project, we're doing all these Zoom calls, and we're finishing each other's sentences."
DW:
 "The NELSON planning and design team began the project with intensive visioning sessions with all stakeholders involved, including senior executives, department leaders, community focus groups, the construction manager and real estate advisors. These high-level sessions helped form not only the new healthcare environment itself, but offered a foundational roadmap to lead the entire design and delivery team to a successful conclusion. The end result gave the feeling of a 'boutique hotel' rather than a clinic, lessening the normal anxiety of a visit to your physician."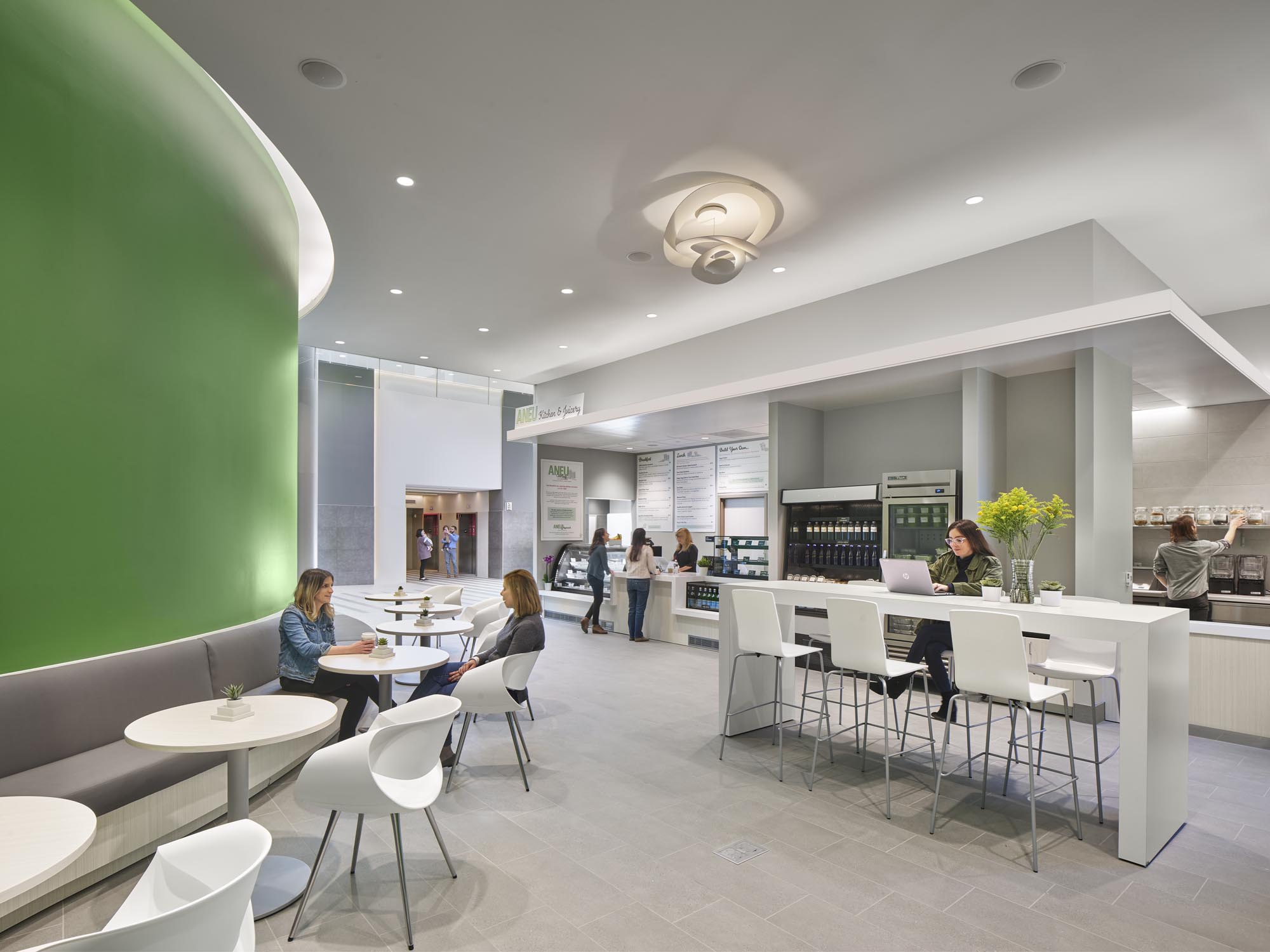 cA: What makes projects like this so satisfying and enjoyable?
BE:
 "Healthcare is the most a taxing kind of an environment to create. A lot (because of) the mechanical electrical side. But certainly because you've got people's lives in your hands every day. You have to keep the staff and the occupants, the patients, healthy and safe. But there are so many restrictive design regulations from square footage of a patient room to filters in an exhaust system, in an ICU room, to the shielding in a rad room where you've got an MRI or a CT scan. It's very technically oriented. In my view, I think it's probably the toughest environment to design. That's why it's most exciting."
Photos: Halkin Mason Photography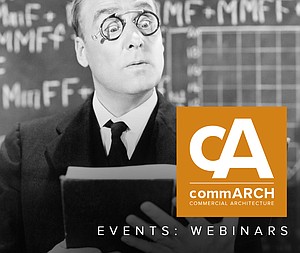 NOMA Homecoming | Detroit 50
NOMA is celebrating their 50th Year Anniversary in Detroit, where their twelve founders convened for the 1971 AIA Conference.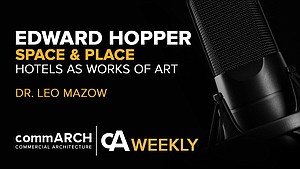 Space & Place: Edward Hopper and the Intersection of Hotels and Art | cA Weekly 02/20
In this episode of the commARCH Weekly Podcast Series commARCH speaks with Dr. Leo Mazow, curator of American art at ...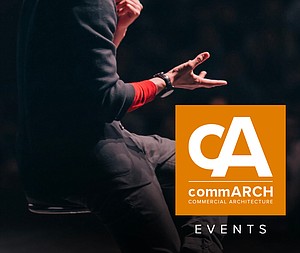 NOMA Homecoming | Detroit 50
NOMA is celebrating their 50th Year Anniversary in Detroit, where their twelve founders convened for the 1971 AIA Conference.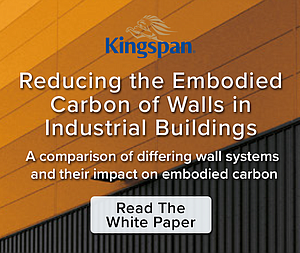 Reducing the Embodied Carbon of Walls in Industrial Buildings
Kingspan partnered with Kieran Timberlake to quantify how Kingspan can reduce embodied carbon in industrial buildings.