Featured
Choosing The Right Commercial Door
September 13, 2020 Sarah Schram
When it comes to commercial use, most businesses and architects are aware of the look of traditional garage doors. However, just because garage doors may not be the focal point of some commercial facilities, doesn't mean they don't play an essential role and can make an impact on business operations.

While the obvious use may be in areas such as loading docks, commercial garage doors serve a wide range of purposes in settings such as healthcare, educational buildings, sports facilities, retail, security checkpoints and areas that cannot risk exposure to cross-contaminants.

To ensure that architects and business owners are choosing the appropriate commercial doors to keep operations performing at maximum efficiency, there are several considerations that should be taken into account when it comes time to install or replace a commercial door.

Extenuating factors such as what the doors' purpose is, what levels of speed are needed and how durable the door must be to withstand light or heavy usage. Or, for architects looking for a practical and aesthetically pleasing way to amp up a businesses shopfront or facade, an architectural door may be a good first impression for customers to see when they pull up in the parking lot.
What's its function? 
With thousands of commercial doors to choose from, the intended purpose of a space should be top-of-mind when determining what door is best suited.

When you think curb appeal, what do you think of? Most likely beautiful homes on the beach, or that perfectly manicured house on the corner of Main Street. It's time to expand your view of curb appeal.

What about your favorite brewery with the glass doors that raises to open up the space in the summer? Or that trendy store that has its merchandise on display even after the store closes for the night? A major benefit of an architectural door is that it can give your business an aesthetically pleasing appearance. Some glass paneled doors can give a showroom appearance, creating a unique, light and airy feel that can open up any kind of space.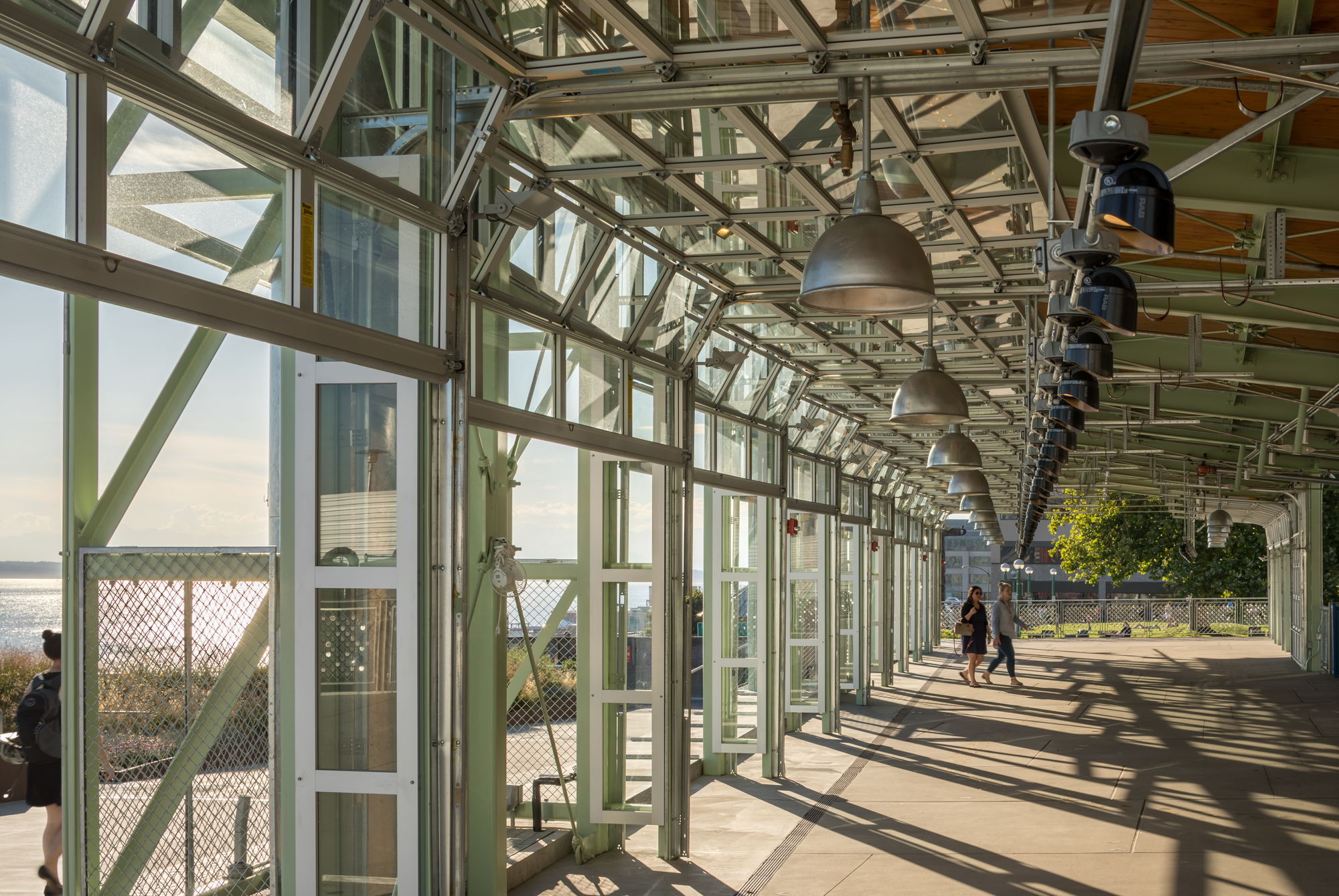 For example, a few years ago The Miller Hull Partnership, an architecture and interior design firm, wanted to reconnect Seattle's urban core to its waterfront by expanding Pike Place market, the city's oldest public farmers' market, with a new 14,000-square-foot plaza called MarketFront.

In addition to a multi-path promenade, wide seating steps and two levels of retail space that sit west of the iconic 111-year-old market, the new structure included a pavilion that was built using 20 Wayne Dalton overhead doors with customized tracks to fit within the complex structure.

Thanks to the full-view doors which allowed for an unobstructed view of the Elliott Bay waterfront, the doors easily fulfilled the design team's mission to build on the market district's historic character while adding contemporary flair. The doors can be raised and lowered throughout the day to create a seamless indoor-outdoor experience for the farmers and artists who will use the space to sell their goods and customers alike.

With that said, for an area in need of security, like a storefront, would require different benefits than the aesthetics and visibility-driven design of an aluminum full-view door. Instead, a security grille located at the opening of a storefront would be ideal. Grille patterns are small enough to keep hands out, and because of the different materials used— commonly steel for security grilles —there would be no worry of anyone attempting to break the glass windows to gain entry.

In applications where cross-contamination is a concern, like different units of a hospital or food and beverage production areas, aesthetics are also not as important as high-performance features. These doors require high speeds, high cycle life and low maintenance, more than anything else to keep daily operations moving.
The Need for Speed

In food and beverage production areas or in a hospital setting, speed is a critical element in preventing the spread of bacteria. A fast-acting door can reduce wait time and increases the overall efficiency of the facility. After all, the door could be the barrier containing the next big outbreak. High-speed interior fabric doors are incredibly fast with opening speeds of up to 70 inches per second and closing speeds of 40 inches per second, and a crucial design element.

Speed also plays a major role in a facility's thermal efficiency if a door is open and closed more than a dozen times a day, which is a key element to keeping operating costs low. Due to the door constantly opening and closing, the behavior around a door can change dramatically depending on the time of year, whether it is a hot and humid summer or cold and dry winter. It is critical for facilities to have a solution (in addition to high speed) that includes a thermal barrier to help prevent conductive or convective cooling loss across the door, increasing overall efficiency of the workplace.  
Cycle Life

The opening and closing of doors also have a large impact on cycle life. Traditional sectional or rolling doors are designed for 10,000 or 20,000 cycles, and the typical upgrade is to enhance the spring system. High-performance doors on the market, on the other hand, are designed to take on several hundred thousand cycles and are a great way to minimize facility downtime. High-performance doors also have the whole system designed and tested for the application including motor, bearings, control system and the balance of the electrical and mechanical components.

Investing in a high-performance door with high speeds may seem unnecessary in the short-term, but the return on investment in the long run pays off. Ideal for food and beverage and other cold storage applications, they offer a variety of problem-solving features that help address various temperature-dependent site issues before they can occur.

High-performance doors also help prevent conductive or convective cooling loss across the door due to its advanced thermal barrier. Plus, doors with opening speeds of up to 80 inches per second reduces wait time and increases the overall efficiency of the facility. Built for lasting durability, they are equipped with a springless design that can withstand more than 1 million cycles, minimizing interruptions and downtime for maintenance.
Consult an Expert First 

The durability and versatility of commercial doors has enabled industry leaders to embrace a variety of different types of doors for different uses. With numerous commercial door options on the market, it's easy for the decision makers to get confused or overwhelmed when faced with a seemingly infinite amount of choices.

With all this in mind, choosing the right garage door can increase overall efficiency, performance and design. Before purchasing, take time to speak with the leading manufacturers in the commercial door industry and your local commercial door distributors for guidance on the jobsite. The distributors will take care of all installation needs, making the process easy. They are experts in their product, ensuring the best product for the job is used and installed properly for a high level of customer satisfaction.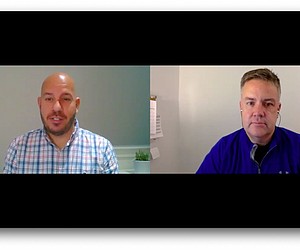 Cities and Farms are Connected
One of the byproducts of the COVID-19 pandemic, and the economic upheaval and social unrest that followed it, has been ...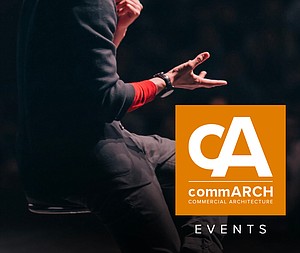 Join Vitro for live Continuing Education opportunities throughout the month of October.
Vitro is offering several online Continuing Education (CE) opportunities for you throughout the month of October.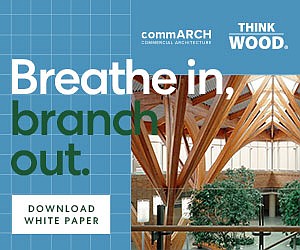 WHY DO WE FEEL BETTER WITH WOOD?
This commARCH White Paper focuses on how Wood shows psychological and physiological benefits, according to research. Wood has been used as a building material for millennia, but its benefits to people who live, work, and gather in the built environment are only beginning to be understood. Researchers are discovering that wood can contribute to the health and wellbeing of building occupants. While many people would agree that wood is visually pleasing, its aesthetic properties affect humans on a deeper level. Can the use of natural elements in building design enhance moods and reduce stress? Can they improve focus, creating environments that enhance productivity and learning? In this white paper, we'll examine the benefits of an emerging design approach, and the science behind it