September 14, 2020
Smooth like a pebble, soft as mounded moss. With low rounded curves, Adell evokes a precious keepsake from the natural world—whether in use indoors or out. With a shell made from 80% recycled polypropylene, the calming form has been designed with sustainability at its foundation, putting both body and mind at ease. Plush yet supportive, substantial yet lightweight, Adell's gentle slopes offer a welcoming and generous place of rest. 
The link between the polypropylene shell and nature is strong. This is due not only to its organic shape and the use of recycled and recyclable material but also to the special texture on the surface. Its concentric pattern draws inspiration from tree rings and shell stripes and is present on the entire external and internal surface. It is made of over 500hand-designed lines characterized by an aleatory and irregular progression. The result is a shell with a unique material appearance. 
T
his is due not only to its organic 
shape"Adell's
 shell is made from post-industrial recycled plastic. Adell can be disassembled for responsible disposal. All materials used can be recycled or upcycled and incorporated into the life cycle of other products, thereby reducing overall waste. The paints used to incorporate environmental protections. Adell is made without glue to eliminate emissions and ensure all component parts can be recycled or repurposed. Adell wood base version is certified 
by the
 Forest Stewardship Council®.
Adell
 has been created with adaptability in mind. Designed for use in spaces of repose, Adell can be customized to suit myriad contexts, from lounge areas to waiting rooms, educational common areas, hospitality spaces, or residential settings. To accommodate a variety of contexts, Adell is available in a recycled textured plastic finish only, fully upholstered, in plastic with upholstered seat cushion, or in plastic with a removable cushion or full cover, for indoor and outdoor use. Base options include metal or wooden leg configurations or sled base in metal.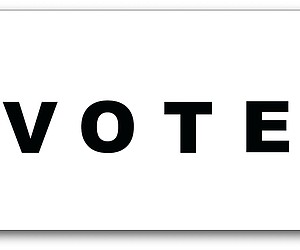 Build the Vote 3D Tour
GRAPHISOFT announces their "Build the Vote" effort. Using 3D designs in Archicad, made by firms from NY, DC, Chicago, and ...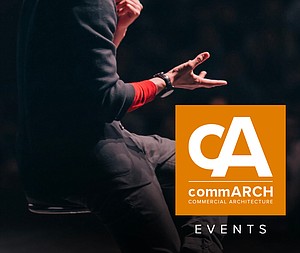 JAPAN HOUSE, Los Angeles Contest
Contest Inspired by internationally acclaimed Japanese architect Sou Fujimoto and his whimsical Architecture is Everywhere series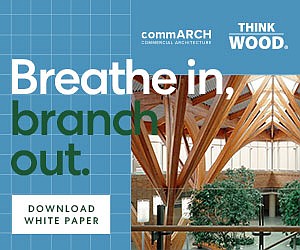 WHY DO WE FEEL BETTER WITH WOOD?
This commARCH White Paper focuses on how Wood shows psychological and physiological benefits, according to research. Wood has been used as a building material for millennia, but its benefits to people who live, work, and gather in the built environment are only beginning to be understood. Researchers are discovering that wood can contribute to the health and wellbeing of building occupants. While many people would agree that wood is visually pleasing, its aesthetic properties affect humans on a deeper level. Can the use of natural elements in building design enhance moods and reduce stress? Can they improve focus, creating environments that enhance productivity and learning? In this white paper, we'll examine the benefits of an emerging design approach, and the science behind it