December 06, 2021 - by John Lisankie
Send this article to a friend
It's the most wonderful time of the year! Spotify put out their annual Spotify Wrapped, where they give users an in-depth look into their listening statistics and patterns. My top five artists, in order, were Mac Miller, Kanye West, Kid Cudi, They Might Be Giants, and G-Eazy. Many users enjoy making their reports public by sharing them on social media, whether it be Instagram, Twitter, Snapchat, or even something else. The population seems to be relatively split on whether they enjoy seeing what everyone else listens to or if the two day trend is annoying. Personally? I've never seen how it could be annoying - seeing what acquaintances are listening to get them through each day is so very cool in my opinion. Anybody who doesn't enjoy the trend must have some pretty basic music taste. But hey, that's just my two cents.
Not only did this wonderful December tradition continue, but there was also a very nice crop of singles being released over the past week, though not many full length projects.
I'll start with what projects we were blessed with. A three track surprise collaboration partially posthumous EP was released from the unlikely duo of the late Lil Peep and producer Harry Fraud, whose producer tag is one of my all time favorites. Entitled HIGH FASHION, with tracks "Choose", "Living Room", and "Old Me" debuting to audiences, it was emotional to hear Peep's voice in new music. And honestly, none of the three sound like they were thrown together in the least. Either they were all done at his passing or his estate took the process slow and worked alongside Mr. Harry Fraud.
Philadelphia's Tierra Whack also released a three track EP over the weekend, which I have not yet listened to, but I have always enjoyed her tunes, so I'm not expecting much different from Rap?. Go give it a listen.
Noname, the Chicago rapper, artist, and activist, announced that she had sidelined her music career for the better part of the last four years so that she could focus on things she felt were more important in the present day. Noname's activism and empathy have no doubt been extremely important to her in recent years. This is saying quite a bit, but she has been one of the most underrated artists of the past ten years, easily. She possesses a calming voice, and not hearing Factory Baby come to fruition really stinks. 
Of the singles released over the last seven days, included was "MERCEDES" from the talented Brent Faiyaz, which, while in my eyes was just a slightly above average track. It probably would be better in my mind if I wasn't consistently comparing every new release of his to "GRAVITY", his collaboration with Tyler, The Creator, which is damn near perfect.
"Wandered To LA", a posthumous release from Juice WRLD featuring Justin Bieber, and the second single from his second posthumous album came out on December 3rd, and boy is it catchy - a "bop" as the kids say. 
Fighting Demons
, due out this coming Friday, is sure to be another massive success, as was the case with his first posthumous release, Legends Never Die, which sold 497,000 copies in its first week out.
"Sinister" from Cordae and Lil Wayne was released on Friday along with a video. With production from Hit-Boy, this track is one of the best from Cordae in a very long time. I usually find him to be very bland and boring, not taking many risks in his music or attempting to expand his sound, so I was definitely pleasantly surprised here and can't wait for his upcoming project, which should be coming out relatively soon now.
An unlikely collaboration from GOOD Music's 070 Shake and the young and ever growing rising star NLE Choppa, "Lose My Cool" also was released with a video. All around, everyone did a great job in this recording and shoot. Whenever I see an unlikely duo like this, the pessimist in me comes out and I immediately assume that it is going to be hot garbage. I will gladly admit that I was wrong in this case.
In news of "DaBaby is still a piece of garbage," it was revealed by those who are in charge of several of the HIV/AIDS organization that DaBaby had promised to help and donate to following his homophobic remarks at Rolling Loud earlier this year, that the rapper has effectively ghosted them and never donated. I can't really say that I am surprised, as this entire facade he was putting on, acting like he cared about these causes, was purely damage control.
Lupe Fiasco, a close friend of the late Virgil Abloh, released a tribute to him on December 1st, a rap about his friend entitled "V.F". Lupe speaks of Virgil's talents and how he will be missed, being played over repeating clips of one of his fashion shows. Abloh's last fashion show, "Virgil Was Here", happened last week, and was attended by some big names in hip hop including Kid Cudi, Kanye West, Quavo, Offset, among others.
I wanted to start a new weekly segment this week where I share a favorite music video of mine. This week is 2019's "GHOST" by Jack Harlow off of his album Confetti. At this point in his career, Jackman was still relatively unknown in the mainstream, but just about six months later, he would begin a brand new era of his career when his megahit "WHATS POPPIN" released. I'm very excited to see what is still to come from one of my favorite artists at the moment. 
My favorite track from 2016 lately has been the closing and title track from J. Cole's record 4 Your Eyez Only. "4 Your Eyez Only" is one of the best examples of storytelling in hip hop that I've ever had the pleasure of hearing. From front to back, this ten track project is easily Jermaine's best in my eyes. 
This week's song of the week was tough to figure out; I listened to a lot of great music. I ultimately landed on "DNA" off of Danny Brown's iconic 2011 album XXX. It contains some truly iconic and long lasting bars, I wish I could listen to it for the first time once again.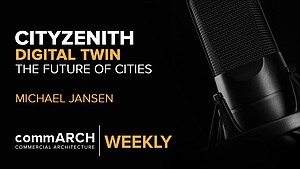 CityZenith's Michael Jansen on Digital Twin & the Future of the Urban Environment | commARCH Weekly 07/2020
In this episode, commARCH has a dialogue with Michael Jansen, Founder and CEO of CityZenith, to discuss the burgeoning landscape ...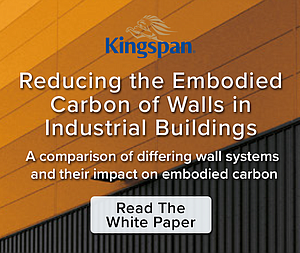 Reducing the Embodied Carbon of Walls in Industrial Buildings
Kingspan partnered with Kieran Timberlake to quantify how Kingspan can reduce embodied carbon in industrial buildings.