Daily News
Association: NIBS President & CEO Lakisha A. Woods, CAE, Elected to Vice Chair of U.S. Green Building Council
Woods joined the board in August 2019, marking it the first time the National Institute of Building Sciences joined the USGBC board of directors
February 05, 2021 comm ARCH
Send this article to a friend

WASHINGTON, DC, February 4, 2021) – National Institute of Building Sciences President and CEO Lakisha A. Woods, CAE, has been re-elected to a three-year term with the U.S. Green Building Council board of directors. Woods will serve as vice chair.

"I'm honored to continue service with the USGBC board of directors," Woods says. "This is a great opportunity to represent the public interest to advance building science and technology to improve the built environment. Healthy buildings lead to safer, more resilient and sustainable communities."
Dr. Aaron Bernstein, Interim Director with the Center for Climate, Health and the Global Environment at the Harvard T.H. School of Public Health also was re-elected. Bernstein will serve as chair. Newly-elected board members include Anyeley Hallová, Founder of Adre; Dr. Ruth Thomas-Squance, Director of Field Building at the Build Healthy Places Network; and Dr. Marwa Zaatari, Partner with Dzine Partners and Co-Chair of the enVerid Systems Advisory Board. These newly-elected board members will join continuing board members, Daniel McQuade, Managing Director with Global Infrastructure Solutions, and Karen Weigert, Executive Vice President of Business Strategy, Finance and Regional Operations at Slipstream.
The U.S. Green Building Council is committed to a prosperous and sustainable future through cost-efficient and energy-saving green buildings.
About NIBS
National Institute of Building Sciences brings together labor and consumer interests, government representatives, regulatory agencies, and members of the building industry to identify and resolve problems and potential problems around the construction of housing and commercial buildings. NIBS is a nonprofit, non-governmental organization. It was established by Congress in 1974. For more information, visit nibs.org or follow @bldgsciences on Twitter and Facebook.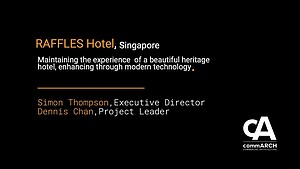 Transforming the RAFFLES Hotel
The RAFFLES Hotel in Singapore is a beautiful, luxury heritage building. commARCH speaks to Simon Thompson, Executive Director and Dennis ...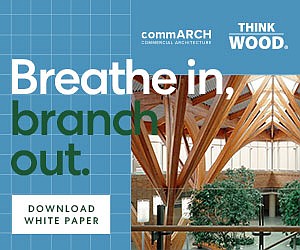 WHY DO WE FEEL BETTER WITH WOOD?
This commARCH White Paper focuses on how Wood shows psychological and physiological benefits, according to research.