February 12, 2021 comm ARCH
Send this article to a friend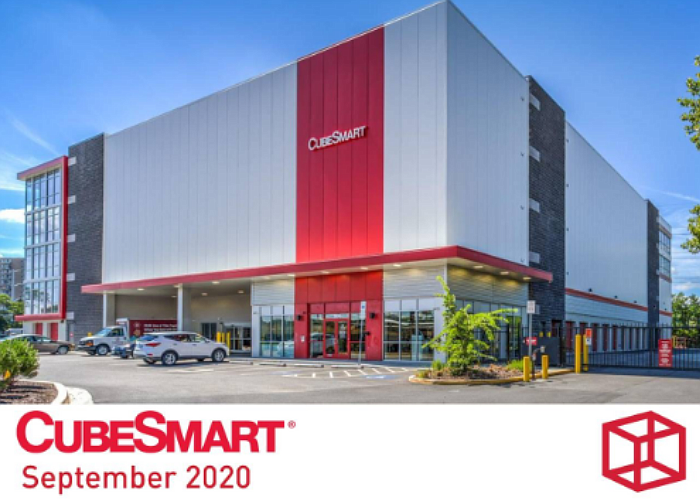 CubeSmart announced its operating results for the three and nine months ended last September 30, 2020.
According to Christopher P Marr, CubeSmart's President and Chief Executive Officer, "the last few months have showcased the strength and resilience of the entire CubeSmart platform." He continued by saying, "Performance rebounded across our portfolio, as strong demand trends drove record-high same-store occupancies in September."
Listed below were the key highlights of CubeSmart's third quarter performance:
Reported earnings per share ("EPS") attributable to the Company's common shareholders of $0.24. 

Reported funds from operations ("FFO") per share, as adjusted, of $0.44. 

Same-store (477 stores) net operating income ("NOI") decreased 1.6% year over year, driven by 0.1% revenue growth and a 4.2% increase in property operating expenses. 

Same-store occupancy during the quarter averaged 94.4% and ended the quarter at 94.3%. 

Added 37 stores to third-party management platforms during the quarter, resulting in a total third-party managed store count of 733.
CubeSmart's COVID-19 Update
COVID-19 and the corresponding government regulations have had a considerable impact on CubeSmart's business since mid-March. In response, the company launched SmartRental™, a contactless online rental process which eliminated the need for face-to-face interaction. As of October 31, the company has reported a same-store occupancy of 94.1% compared to the 92.0% same-store occupancy last October 31, 2019. 
Due to the continued uncertainty surrounding the ongoing impact of the COVID-19 pandemic, the Company did not reinstate a 2020 guidance.
CubeSmart's Financial Results
CubeSmart's net income attributable to common shareholders in the third quarter of 2020 was $46.9 million, compared to the $42.2 million in the same quarter of the previous year. The earnings per share was $0.24 for the third quarter of 2020, compared to the $0.22 in the same period last year. 
FFO, as adjusted, was $86.3 million for the third quarter of 2020, compared with $86.8 million for the third quarter of 2019. FFO per share, as adjusted, was $0.44 for the third quarter of 2019 and 2020. 
CubeSmart's funds from operations was at $86.3 million in the third quarter of 2020 while it was at $86.8 million in the same period last year. According to their report, the FFO per share was $0.44 for both third quarter of 2019 and 2020.
CubeSmart's Investment Activity
Acquisition Activity
According to the report, CubeSmart acquired three stores for $74.7 million. However, during the third quarter of 2020, the company did not acquire any new stores. 
Last October 21, 2020, CubeSmart entered into a purchase agreement to get eight open and operating self-storage properties for an aggregate purchase price of approximately $540.0 million. The storage properties are located in Long Island City, NY, Bronx, NY, College Point, NY, Flushing NY, and Brooklyn, NY. 
CubeSmart also planned to get nine additional self-storage properties for an aggregate purchase price of $103.9 million which are expected to close around the fourth quarter of 2020.
Development Activity 
As of September 30, 2020, the Company had five joint venture development properties under construction. One of the company's anticipation included investing a total of $126.8 million related to the projects and had invested $52.5 million of that total as of September 30, 2020. These stores are located in Massachusetts (1), New York (2), Pennsylvania (1) and Virginia (1) and are expected to open at various times between the fourth quarter of 2020 and the first quarter of 2022.


Third Party Management
CubeSmart's third-party management program as of September 30, 2020 included a total of 733 stores totalling to 48.9 million square feet.
Same Store Results
In their report, the company's same-store portfolio included 477 stores containing approximately 33.3 million rentable square feet. This is around 89.7% of the aggregate rentable square feet of the company's 527 owned stores. These properties represented around 89.3% and 90.4% of property net operating income (NOI) for the three and nine months. 
Same-store physical occupancy was 94.3% in 2020 in comparison to 92.% in the previous year. Same-store revenues increased by 0.1% while operating expenses also increased by 4.2%. Meanwhile, net operating income decreased by 1.6% from the third quarter of 2019 to the same quarter of 2020.
Operating Results 
In the report, the company's total owned portfolio was 527 stores with over 37.1 million rentable square feet nad 93.2% physical occupancy.
In the third quarter of 2020, revenues increased by $6.0 million while property operating expenses increased by $3.6 million. The increase in revenues were attributed to property acquisitions, recently opened development properties as well as property management fee from additional stores under management.
Financing Activity 
CubeSmart didn't sell any common shares through its at-the-market (ATM) equity program during the third quarter of 2020. The company also had a total of 14.6 million shares available under existing equity distribution agreements.
The Operating Partnership also issued $450 million in aggregate principal amount of unsecured senior notes due February 15, 2031. Called the "2031 Notes," it is due on February 15, 2031 and bears an interest rate of 2.00% per annum — which was also priced at 99.074% of the principal amount with a yield to maturity of 2.100%. The net proceeds were used to redeem $250 million of outstanding 4.800% Senior Notes due 2022, repay outstanding indebtedness, and for other general corporate purposes.
Quarterly Dividend
CubeSmart declared a dividend of $0.33 per common share. The dividend was paid to common shareholders on October 15, 2020.
2020 Financial Outlook
CubeSmart's chief financial officer, Tim Martin, said, "In October, we took advantage of our strong financial position and attractively priced debt capital to raise $450 million through our senior unsecured note issuance, allowing us to lower our effective interest rate and extend out our weighted average maturity," He continued saying, "We believe that the strength of our balance sheet and our operating platform positions us well to capitalize on attractive external growth opportunities." 
Due to COVID-19 and the reactions of consumers, companies and governmental entities, the capital markets have become highly uncertain and unpredictable. As a result, according to Martin, the company did not reinstate guidance for 2020.

About CubeSmart
CubeSmart is a self-administered and self-managed real estate investment trust. The Company's self-storage properties are designed to offer affordable, easily accessible and secure storage space for residential and commercial customers. According to the 2020 Self-Storage Almanac, CubeSmart is one of the top three owners and operators of self-storage properties in the United States. For more information, visit www.cubesmart.com.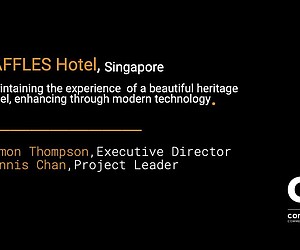 Transforming the RAFFLES Hotel
The RAFFLES Hotel in Singapore is a beautiful, luxury heritage building. commARCH speaks to Simon Thompson, Executive Director and Dennis ...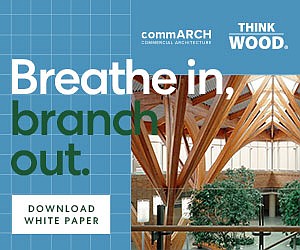 WHY DO WE FEEL BETTER WITH WOOD?
This commARCH White Paper focuses on how Wood shows psychological and physiological benefits, according to research.