February 18, 2021
Send this article to a friend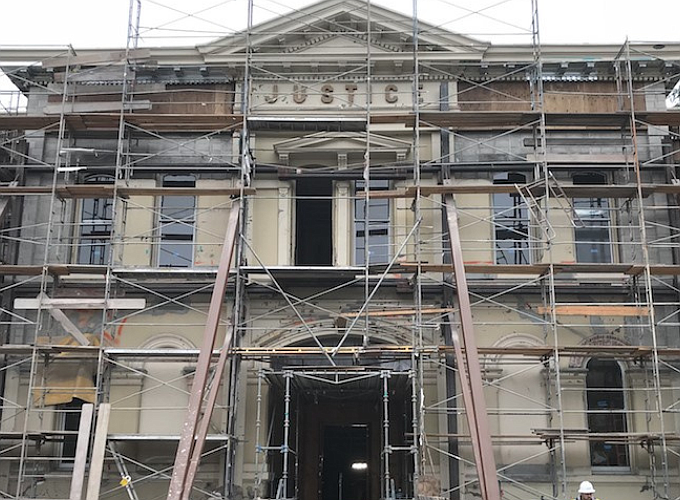 A new video from Simpson Strong-Tie, ZFA Structural Engineers, and Pullman Repair and Restoration details the collaborative reconstruction, seismic retrofitting, and historic restoration of the Napa County Courthouse. 
What was the problem? 
The South Napa earthquake of April 2014 caused significant damage to the historic Napa County Courthouse. The 6.0 magnitude earthquake damaged plastic finishes, HVAC, finish carpentry, and the unreinforced masonry walls. 
What was the solution? 
The project leaders from ZFA, and Pullman detail the use of fabric reinforced cementitious matrix (FRCM) technology that was first developed by Simpson Strong-Tie. Prior to the Napa Courthouse repairs, the technology was not yet used. 
Concrete masonry unit (CMU) walls were rebuilt to replace the most heavily damaged masonry walls. For walls with minor damages but with more cracks, the FRCM technology was utilized.
ZFA Executive Principal Kevin Zucco said "When Simpson Strong-Tie brought FRCM to our attention, our confidence in them was at a high-enough level that we felt comfortable using a product that had not been used before in California. With Simpson Strong-Tie, we know the product support is there, we know the engineering background is there, and we know we'll get the approvals that we need."
To prepare the team for the first-ever application of FRCM in California, mock-ups of the courthouse walls were built at a Simpson Strong-Tie research and development facility in nearby Stockton, CA, to practice installing the FRCM system. "From design support to field support, Simpson Strong-Tie was working with us hand in hand, and that made the process smoother and easier onsite," says Pullman Project Manager Vivek Kumar in the video.
More About FRCM

FRCM systems are currently being introduced in the structural repair and rehabilitation industry as a new, effective strengthening technology offering reduced thickness, excellent durability, superior performance in high temperatures, and ease of installation versus traditional strengthening and repair methods
Since FRCM systems add less weight to the structure, they provide an excellent solution for strengthening concrete and masonry substrates, particularly in seismic retrofit applications. In addition to seismic retrofits, FRCM systems are ideal for the following applications:
Strengthening aging, damaged, or overloaded structures 
Repairing and strengthening surfaces in a single application 
Correcting size and layout errors 
Matching existing substrate finishes 
Strengthening or repairing damp substrates, or substrates in harsh environments subject to high temperatures, humidity, abrasion, or ultraviolet (UV) radiation.
To watch the Napa Courthouse restoration video,
click here
. For additional information on the use of FRCM in seismic retrofitting and other applications, visit the
Simpson Strong-Tie® FRCM information page
.
About Simpson Strong-Tie Company

For more than 60 years, Simpson Strong-Tie has dedicated itself to creating structural solutions and technology to help people construct safer, stronger homes and buildings. Considered an industry leader in structural systems research, testing and innovation, Simpson Strong-Tie works closely with construction professionals to provide code-listed, field-tested products and value-engineered solutions. Our engineered products and solutions are recognized for helping structures resist high winds, hurricanes and seismic forces. They include structural connectors, fasteners, fastening systems, lateral-force-resisting systems, anchors, software solutions, and product solutions for repairing, protecting and strengthening concrete. From product development and testing to training and engineering and field support, Simpson Strong-Tie is committed to helping customers succeed. For more information, visit
strongtie.com
and follow us on
Facebook
,
Twitter
,
YouTube 
and
LinkedIn
.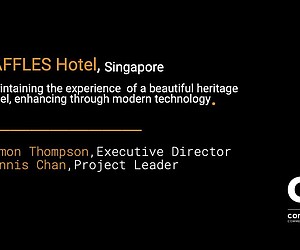 Transforming the RAFFLES Hotel
The RAFFLES Hotel in Singapore is a beautiful, luxury heritage building. commARCH speaks to Simon Thompson, Executive Director and Dennis ...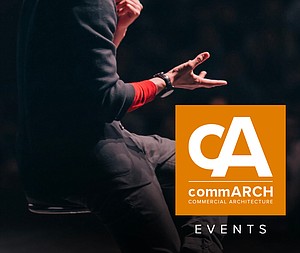 2021 FGIA Virtual Annual Conference
The Fenestration and Glazing Industry Alliance (FGIA) will hold its 2021 Annual Conference virtually due to the continued health concerns around the spread of COVID-19.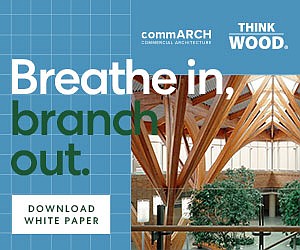 WHY DO WE FEEL BETTER WITH WOOD?
This commARCH White Paper focuses on how Wood shows psychological and physiological benefits, according to research.