May 14, 2021 - by commARCH
Send this article to a friend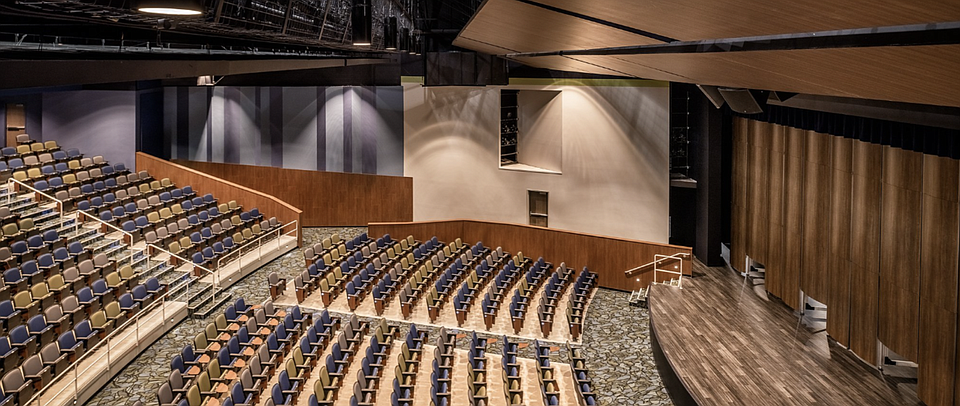 Staging Concepts
recently helped Gallatin High School elevate their auditorium. 
What was the challenge?

Gallatin High School (GHS), the newest secondary school in Bozeman, Mont., features top-notch, dedicated spaces for learning, athletics, and performing arts. Faced with the need to provide an adequate backdrop to its auditorium and present a welcoming performance setting for its events, the school turned to the experts at Staging Concepts, who custom-designed a new acoustical shell for the beloved GHS auditorium.
Zakara Photography
What solution was provided?

To enhance the vibrant sounds and overall viewing experience, Staging Concepts recommended a Bravado® acoustical shell system. Designed for grand spaces that require a full-stage system, the shell includes aluminum alloy towers comprised of movable panel wings that lock into place. Not only does this allow for a variety of configurations based on group size, but the towers' lightweight design makes transporting and storing them a simple and efficient process.
Why is the Bravado acoustical shell system a recommended choice?

Among the key advantages of the Bravado shell is its customizability. The system's flexible design allows for easy adjustments and alterations as needed to accommodate different events and activities. The school's graduation ceremony, for instance, may call for a comprehensive set-up of the full shell system, whereas preparation for a student play might involve slight modifications to adjust the system's scope and scale.
"We designed this system to be flexible and easy to maneuver knowing that student crew members would likely be involved in the process," said Cindy Albrecht, Director of Sales and Marketing for Staging Concepts, a division of Trex Commercial Products. "The modular components also allow schools to optimize the usability of their auditorium spaces by quickly and easily adjusting to meet the needs of different types of functions, from school assemblies and community meetings to one-act plays and solo performances."
How did Bravado enhance the auditorium's existing design?

In addition to improving sound quality and offering personalized arrangements, the Bravado shell also features a sleek, tasteful design. To compliment the appearance of the auditorium, officials at Gallatin High School selected a beautiful cherry veneer finish for its towers and shell panels. Further, the back wall serves both "a practical and aesthetic purpose in that it reduces space on stage and provides a clean, finished look behind the performers," noted Albrecht.
Now the entire auditorium at Gallatin High School is ready for some show-stopping performances. For more information, visit StagingConcepts.com.
About Staging Concepts

Staging Concepts 
engineers and produces the most advanced modular, custom portable staging solutions for all types of venues, including performing arts spaces and production companies, sports facilities, worship venues, convention centers, hospitality settings and special events. Since 1990, the company has been committed to elevating the abilities of all people to safely access and enjoy amazing life experiences. Based in Minneapolis, Minn., Staging Concepts is a division of Trex Commercial Products, Inc., a subsidiary of Trex Company, Inc. For more information visit www.stagingconcepts.com.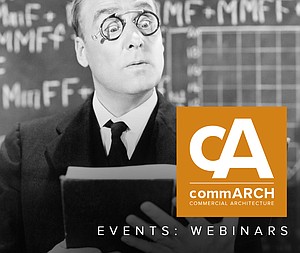 Acoustic and Sound Control Design Solutions
FREE Live Interactive Webcast - Acoustic and Sound Control Design Solutions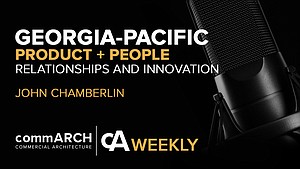 Answering Modern Building Envelope Challenges with Georgia-Pacific's John Chamberlin | cA Weekly Podcast Series
In an ever-evolving market, fresh and innovative solutions are ever-more-needed to meet the needs of building projects. From architects to ...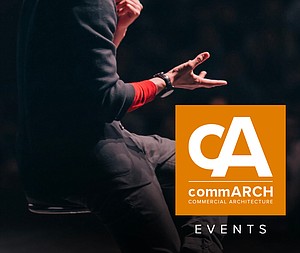 Acoustic and Sound Control Design Solutions
FREE Live Interactive Webcast - Acoustic and Sound Control Design Solutions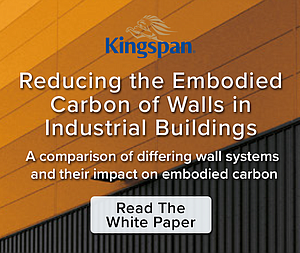 Reducing the Embodied Carbon of Walls in Industrial Buildings
Kingspan partnered with Kieran Timberlake to quantify how Kingspan can reduce embodied carbon in industrial buildings.