May 25, 2021 - by Ultra-Tec
Send this article to a friend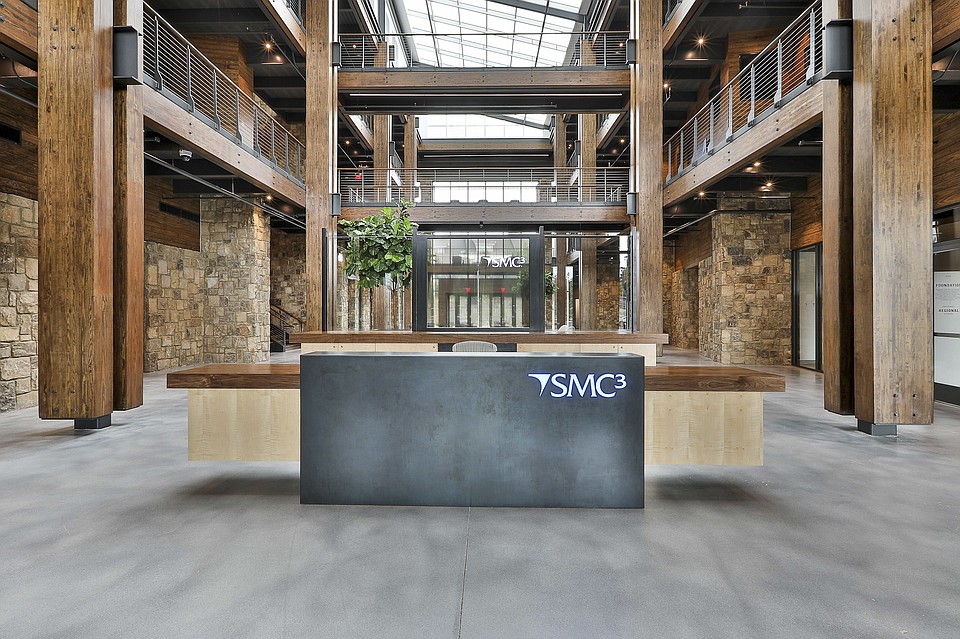 Project:
SMC3 Headquarters
Location:
Peachtree City, Georgia
Architect:
Jefferson Browne Gresham
Supplier:
G&F Southeast Distributors, Inc.
Image Credits: Ultra Tec
SMC3 is a leader in less than truckload (LTL) freight shipping data and solution provider that helps optimize the LTL transportation throughout the supply chain. For more than 80 years, SMC3 has supported this complex transportation niche comprising more than 5,000 North American shippers, carriers, logistics service providers (LSPs), and freight payment companies.
In the last few years, the company has experienced immense growth. Instead of moving their headquarters to an existing space, they created a new headquarters located in Peachtree City, Georgia. The company CEO Andrew Slusher commented in The Citizen at the groundbreaking that the new headquarters "…has been designed to enhance productivity and collaboration among team members and with our customer base."
The company broke ground on the 74,000 square foot, three-story atrium on January 30, 2019, and moved in on August 20, 2020. "From beginning to end — design to move-in — took less than two years," said Jefferson, Founder and CEO, of Jefferson Browne Gresham Architects, the architect of record for the project. "Nature, sustainability, wellness and evidence-based design principles guide the process," he added.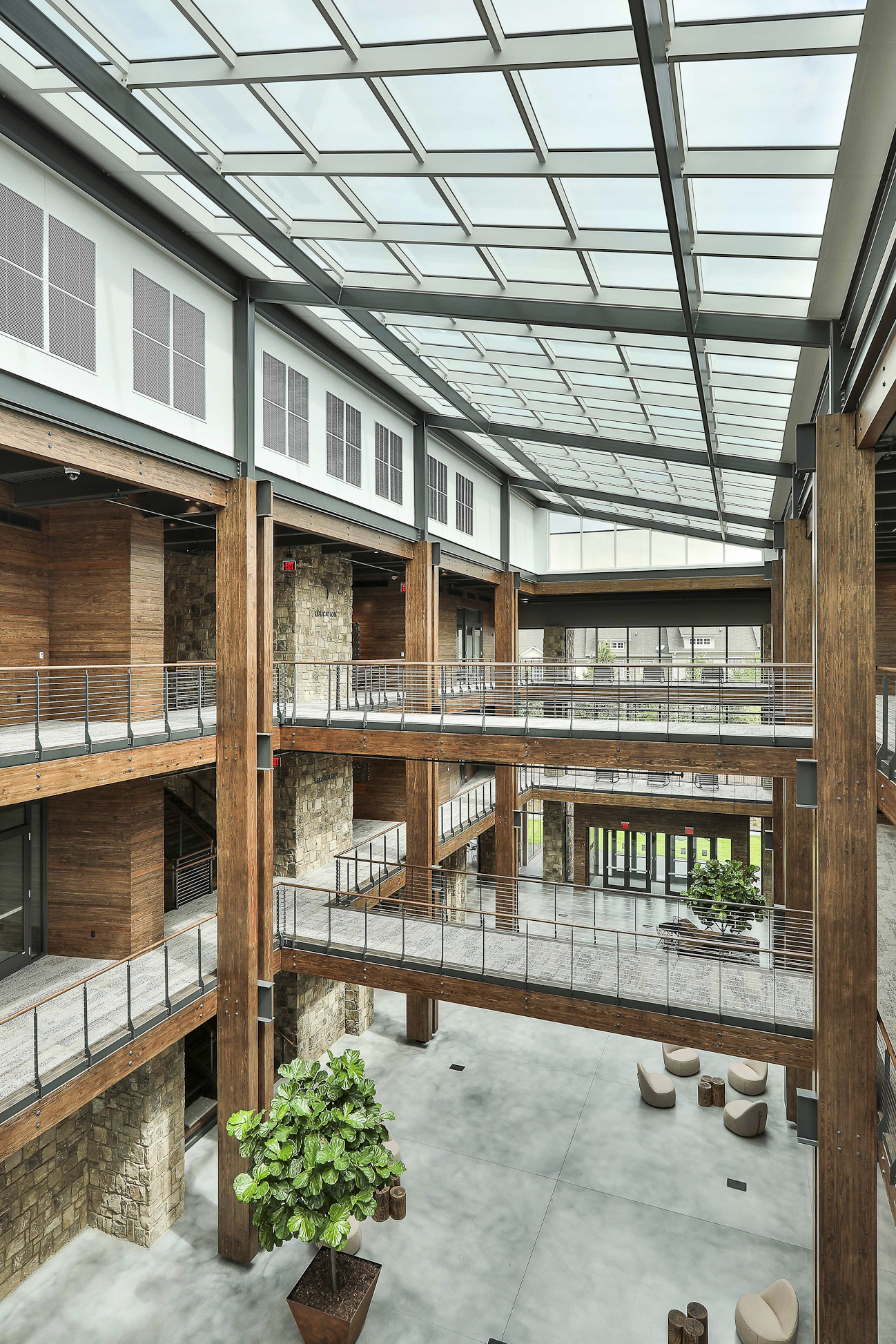 Image Credits: Ultra Tec
"The leadership at SMC3 wanted the building to be a transformative and inspirational settings to enhance creativity, clarity of thought and innovation to deliver SMC3's mission as the transportation industry standard for intelligent data, technology and education solutions," said Jefferson. "Designed with connections with nature, movement and momentum, health and wellness, and the concept of "Truth of Materials" that demonstrate the values of honesty and integrity, with structural elements emphasizing nature in the built and the natural environments," said Jefferson.
Balance was integral to the entire building. "The client wanted something that reflected technology and is inviting to current, long-time employees as well as new, future tech-driven employees," said Beth Anderson, owner of Blue Fox Designs. "I've worked with SMC3 since 2012, and they've experienced remarkable growth during that time, from being in a very traditional office building to something that reflects where the company is heading in the future."
The community and neighborhoods were involved and participated in charettes and the initial design process. "We talked about placement of the building and why; we created a buffer between the community and the commercial areas," said Jefferson. SMC3 understands the importance of community and blending in.
The carefully and thoughtfully chosen exterior and interior kept everything balanced and natural. "The interior space speaks of movement and momentum always pressing forward," said Jefferson. The use of natural wood — the largest glulam's they could find — so you'd get a sense of being in the forest, with bolted connects in iron ore.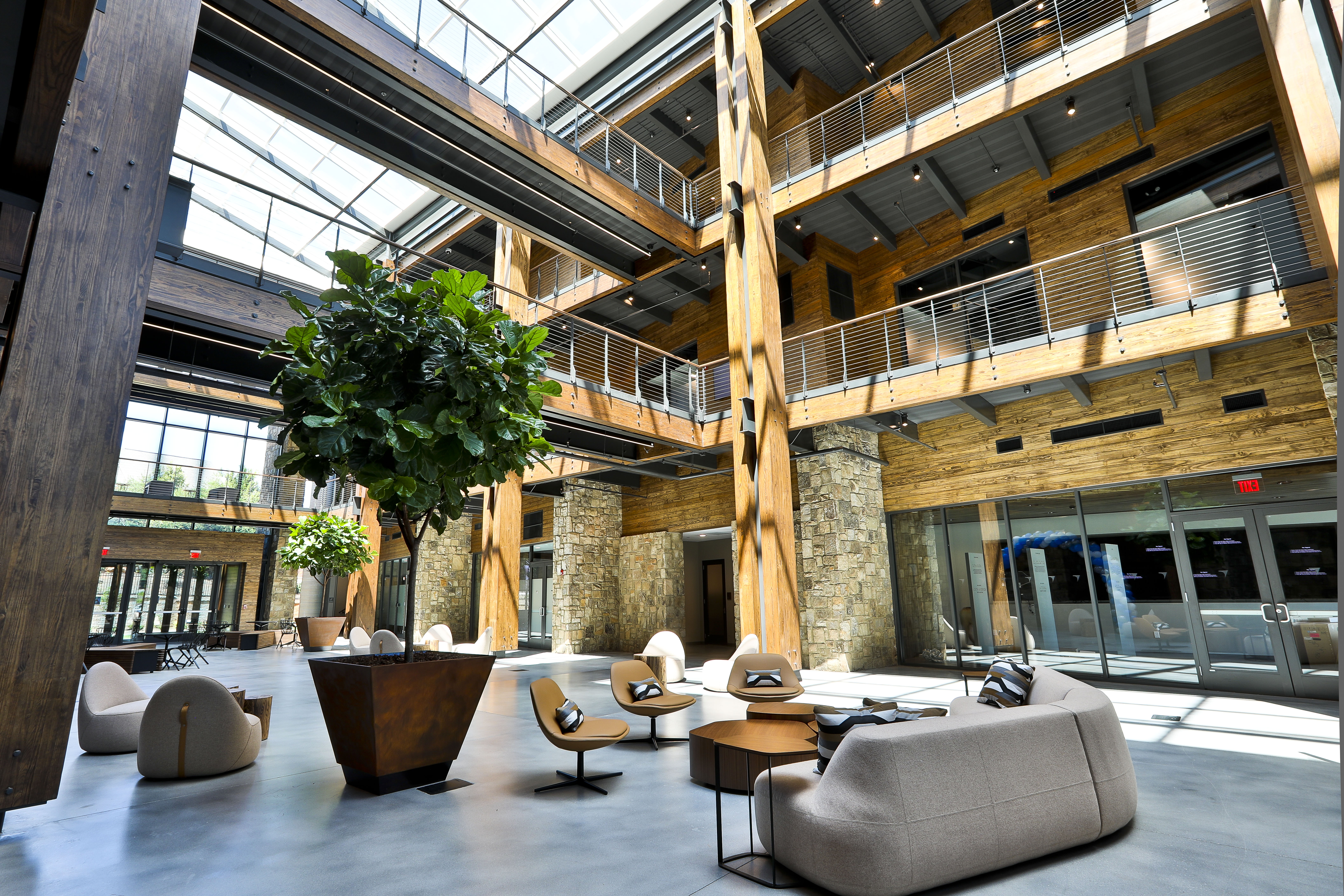 Image Credits: Ultra Tec
The use of natural colors, modern furnishings, and fabrics — crushed velvet, faux felt — with a sprinkle of blue throughout related to each other and moves through the building. Skylights throughout the building keep the open feeling. There are no shades or blinds, choosing instead to install automatic tinting glass as the sun moves from east to west — the use of cable railing to expand and open the sightline throughout the interior.
The exposed metal and timber beams throughout, along with the natural materials, were intentional. The cable railing falls nicely into the standards created — very systematic and balanced — to communicate harmony along with acoustical metal decking.
"The transparency of the rail, not being a barrier to the natural elements and daylight, that was incredibly important to them," said Jefferson. "A conventional railing system would have created a visual barrier and shortened the site lines and wouldn't have felt as expansive and open."
Ultra-tec cable railing and hardware were supplied and installed by G&F Southeast Distributors, Inc throughout the SMC3 building. "All the metal posts are custom, and we laser cut all of them working with a steel fabricator," Said Brian of G&F. "It is a one-of-a-kind project, and there's nothing like it anywhere. "The Ultra-tec system worked perfectly for Jefferson's design."
"When you're inside the building, you feel like you're outside," said Jefferson.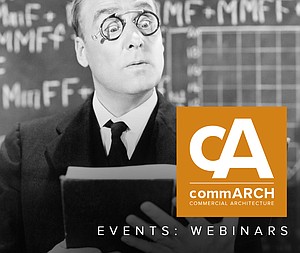 Acoustic and Sound Control Design Solutions
FREE Live Interactive Webcast - Acoustic and Sound Control Design Solutions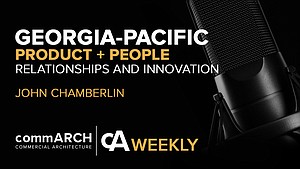 Answering Modern Building Envelope Challenges with Georgia-Pacific's John Chamberlin | cA Weekly Podcast Series
In an ever-evolving market, fresh and innovative solutions are ever-more-needed to meet the needs of building projects. From architects to ...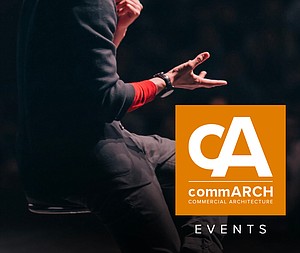 Acoustic and Sound Control Design Solutions
FREE Live Interactive Webcast - Acoustic and Sound Control Design Solutions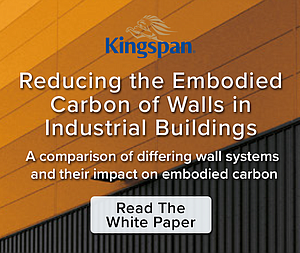 Reducing the Embodied Carbon of Walls in Industrial Buildings
Kingspan partnered with Kieran Timberlake to quantify how Kingspan can reduce embodied carbon in industrial buildings.