November 16, 2021 - by commARCH
Send this article to a friend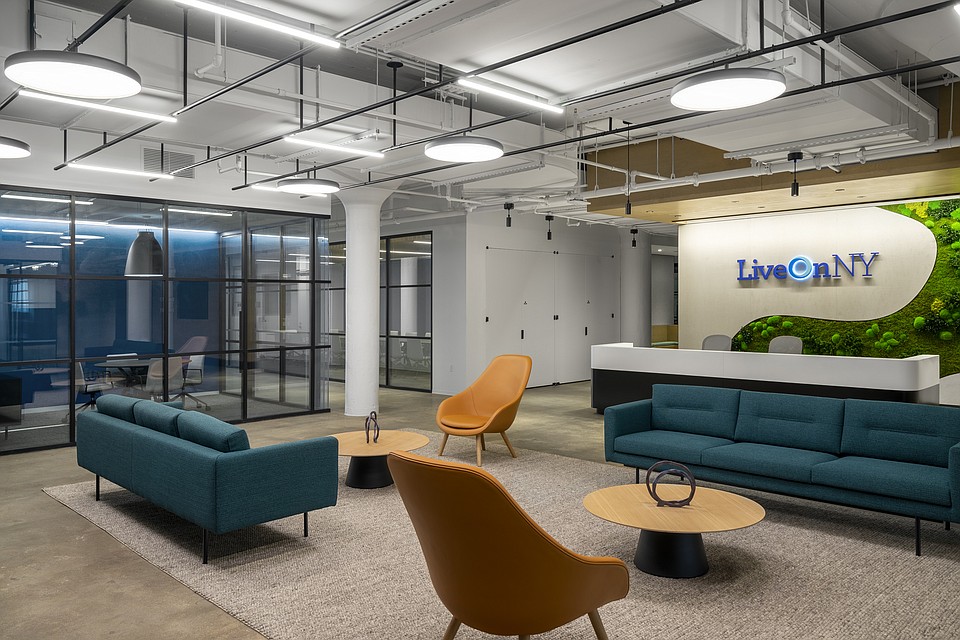 Where did it happen?
Long Island City, New York, USA
Who was involved?
LiveOnNY is a nonprofit organization that facilitates organ, eye, and tissue donation and transplantation within the Greater New York City community. LiveOnNY selected TPG Architecture for the interior programming, architectural planning, and design services for the 57,000 square-foot project.
When did it happen?
November 2021
Why is it important?
After evaluating organizational needs, LiveOnNY decided to one floor at the Factory Building (30-30 47th Avenue) in Long Island City, NY. This move allowed the organization to plan and design a thoughtful work environment that better supports their staff and operations, as well as their signature programs and initiatives.
What are the key aspects?
The new workplace honors the aesthetic and structure of the former warehouse while bringing LiveOnNY's branding and mission to the forefront. The reception is very inviting, with plenty of greenery and a thoughtful palette of materials to create a soothing environment for guests. Throughout the office, the ceiling remains exposed, complemented by a finished concrete floor. The open workspace area includes modest height-adjustable workstations as well as transparent glass paneling on the private offices. To balance out this heads-down space, an open collaboration area with a mix of different settings and soft seating provide staff with more autonomy in their work environments. In addition, a lively café for staff to mingle and socialize is available.
The office also includes a separate viewing zone and preservation suite for the organ donations, with a nearby freight elevator for convenience. TPG's Healthcare Studio designed this area with care and attention to detail, emphasizing the sterile requirements of the space. Adjacent to this is also a donor call center with design elements that mirror the larger open work area. Additionally, the office includes a separate lounge and counseling area where care services and support are offered to the families of the donors who selflessly gave the gift of life. To further express gratitude and remember the donors, TPG's Branding and Graphics Studio developed donor history walls and brand messaging graphics that highlight LiveOnNY's proud heritage and accomplishments.
About LiveOnNY
The organ procurement organization was first incorporated in 1978, and then in 2016, it rebranded, and the name changed to LiveOnNY. Over the years, LiveOnNY has helped facilitate the transplant of 27,000+ lifesaving organs and improved the lives of 594,000+ people through tissue donation. In addition to working with local hospitals and transplant centers to deliver the gift of life, LiveOnNY also educates and inspires the public on the power of organ donation through their robust volunteer programs. Another signature program is the aftercare for donor families, which provides compassionate support to organ donor family members through grief counseling, workshops, social events, and activities to honor their loved ones.
Where can I learn more?
In New York State, you can register to become an organ donor when you go to the DMV, register to vote, apply for an idNYC card, register for health insurance through the health benefits exchange, or at
https://www.liveonny.org/
.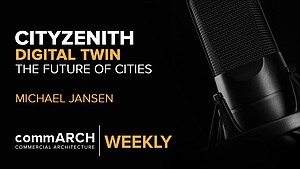 CityZenith's Michael Jansen on Digital Twin & the Future of the Urban Environment | commARCH Weekly 07/2020
In this episode, commARCH has a dialogue with Michael Jansen, Founder and CEO of CityZenith, to discuss the burgeoning landscape ...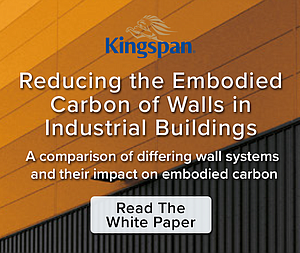 Reducing the Embodied Carbon of Walls in Industrial Buildings
Kingspan partnered with Kieran Timberlake to quantify how Kingspan can reduce embodied carbon in industrial buildings.