October 01, 2021 - by commARCH
Send this article to a friend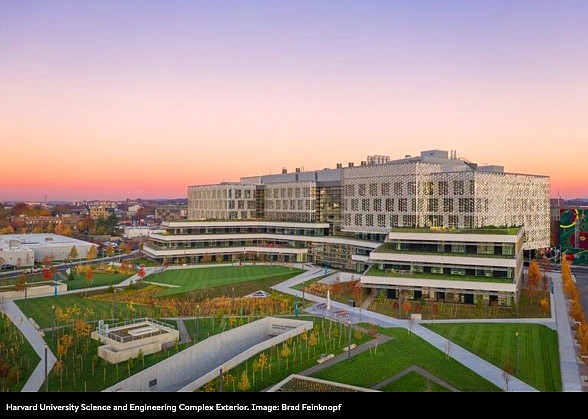 Where did it happen?
Harvard University's Allston campus
The eight-level, 544,000-square-foot building is situated on a primary thoroughfare connecting the Boston neighborhood of Allston to Cambridge, presenting unique challenges for the Buro Happold project team.
Who was involved?
The award-winning global engineering and consulting practice Buro Happold has announced its completed work for Harvard University's new Science and Engineering Complex, designed by architecture firm Behnisch Architekten.
When did it happen?
Fall of 2021
Why is it important?
Buro Happold provided services including structural engineering, building information modeling (BIM), and geotechnical consulting for this much-anticipated project, which is LEED Platinum certified and meets Living Building Challenge (LBC) Petal certification in Materials, Beauty, and Equity.
Opening its doors to students in the fall of 2021, the Science and Engineering Complex, or SEC, is the latest significant addition to Harvard University's Allston campus. Its diverse mix of labs and collaboration spaces also furthers a robust culture of interdisciplinary work. Behnisch Architeckten created cutting-edge laboratory space with a novel approach to collaborative environments, as well as an innovative, high-performance façade.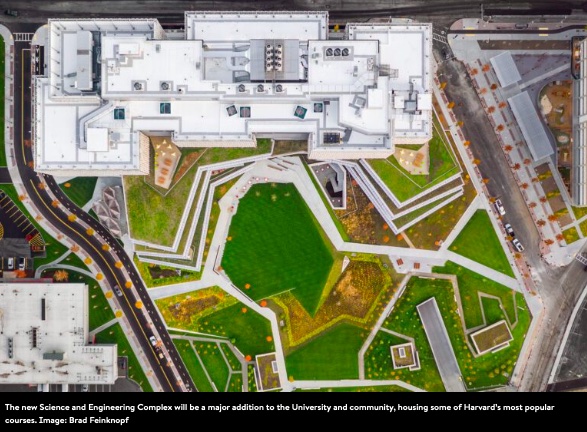 The seven-story building demonstrates advanced techniques in environmental design and energy performance and is paving the way for a new generation of buildings on the Allston campus. The structural design incorporates a high degree of flexibility and adaptability that Behnisch Architekten and Harvard University required to future-proof the spaces and allow for changes needed by the university for its dynamic, innovative programs.
What are the key aspects?
Highly visible makerspaces and teaching labs located at street level showcase the exciting work being done at the school, further connecting the academic and Allston communities. The vibrant public spaces at a variety of environments and scales incorporate the structure into the fabric of the neighborhood. The lower floors of the building embrace an extensive landscaped Engineering Yard intended for both ceremonial as well as recreational activities.
The Science and Engineering Complex houses a major portion of the Harvard John A. Paulson School of Engineering and Applied Science (SEAS), offering a multitude of lab and core science facilities for research that will benefit society in numerous ways, strengthening Harvard's and Greater Boston's place as the global epicenter for the life sciences and a major center of excellence in engineering and technology.
This innovative and architecturally significant new complex has been constructed on top of existing foundations and basement spaces created for a different project, offering a chance to reduce embodied carbon while addressing a unique set of complexities for the design team in delivering a modern, vibrant space fitting both the client's and architect's aspirations
Buro Happold's team carried out extensive analyses to assess how best to incorporate the new building over the existing substructure, seeking an efficient, elegant solution that maximizes the reuse and strength of the existing construction. The resulting design's soaring, sunlight-dappled atrium links the new and existing buildings. The upper levels, linked by cantilevering walkways, bridges, and interconnecting staircases, contribute to a sense of openness between labs, collaboration zones, and learning spaces.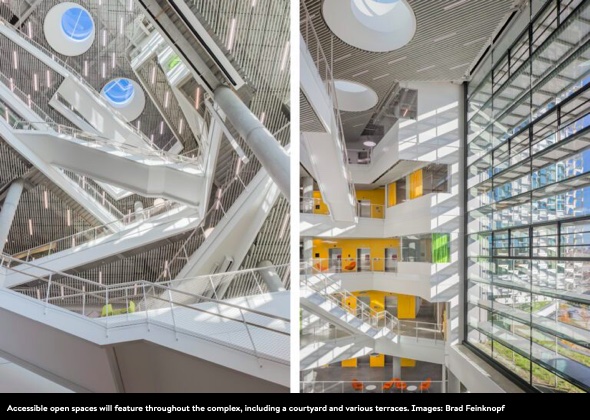 Active in 26 locations globally, Buro Happold is one of the world's leading engineering consultancies and has helped create many of the most recognized, sustainable, and innovative higher-education places across the globe, including the site development and sustainability plans for the College of the Desert in Palm Springs, Calif., Brown University's Engineering Research Center, and Yale University's Pauli Murray College and Benjamin Franklin College. Buro Happold's higher education consulting group, bright spot, is on a mission to make colleges and universities more engaging and equitable through research, strategic plans, designing student services, analyzing spaces and services, and programming and planning buildings and campuses.
About Buro Happold
Buro Happold is an international, integrated engineering consultancy. Operating in 26 locations worldwide, with over 70 partners and over 1,900 employees; for over 40 years we have built a world-class reputation for delivering creative, value-led solutions for an ever-challenging world. Always driven by their guiding principles of mutual respect and working collaboratively with clients, Buro Happold values sustainability and equity above all else, creating better outcomes for clients and communities.
www.burohappold.com
.
About Behnisch Architekten
Founded in 1989, Behnisch Architekten is an award-winning, internationally recognized cross-disciplinary architecture firm. From the beginning, the social dimension of architecture has been a fundamental aspect of the firm's design philosophy. Behnisch Architekten's search for innovative and sustainable solutions, while making optimum use of natural resources, has produced a rich variety of buildings, each of which respond to specific user requirements and site conditions. In the higher education and laboratory sectors, these include the John and Frances Angelos Law Center at the University of Baltimore (LEED Platinum), the Bogomolny Library at the University of Baltimore (LEED Gold), the Karl Miller Center at Portland State University (LEED Platinum), the Genzyme Center in Cambridge, MA (LEED Platinum), and the Vagelos Laboratory for Energy Science and Technology at the University of Pennsylvania, a project that will extensively employ passive low-energy design strategies in pursuit of the school's goal of carbon neutrality (2024). Behnisch Architekten has offices in the United States in Boston, Massachusetts and Los Angeles, California, and in Stuttgart and Munich, Germany. The firm's projects are widely published and exhibited worldwide, and its staff members are actively engaged in architectural education and are regular lecturers at top universities and conferences.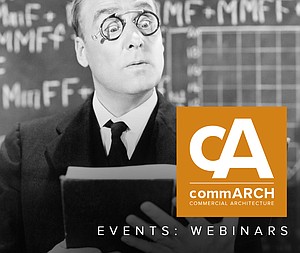 NOMA Homecoming | Detroit 50
NOMA is celebrating their 50th Year Anniversary in Detroit, where their twelve founders convened for the 1971 AIA Conference.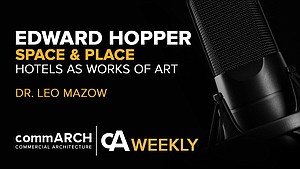 Space & Place: Edward Hopper and the Intersection of Hotels and Art | cA Weekly 02/20
In this episode of the commARCH Weekly Podcast Series commARCH speaks with Dr. Leo Mazow, curator of American art at ...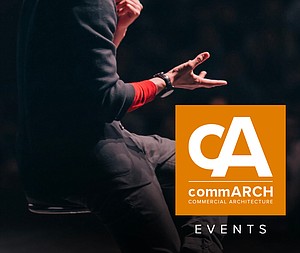 NOMA Homecoming | Detroit 50
NOMA is celebrating their 50th Year Anniversary in Detroit, where their twelve founders convened for the 1971 AIA Conference.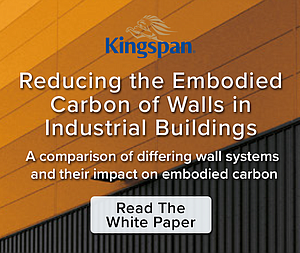 Reducing the Embodied Carbon of Walls in Industrial Buildings
Kingspan partnered with Kieran Timberlake to quantify how Kingspan can reduce embodied carbon in industrial buildings.