October 10, 2021 - by John Lisankie
Send this article to a friend
You all know the deal, let's get into this week's hip hop news.
We had a couple of album release date announcements made this week, which, personally, is my favorite kind of announcement. Silk Sonic, the superstar duo consisting of Bruno Mars and Anderson .Paak finally announced the date that their long awaited joint project An Evening With Silk Sonic will be released, November 12, 2021. We have known about this project since early March when they released the first single from the album "Leave the Door Open", which was an absolutely massive hit and peaked at number one on the Billboard charts. The album's second single, "Skate" was released at the end of July along with a music video. There had been much speculation as to when the album would be released as there had been many saying that we would not be hearing it until 2022, so this November release date was very much welcome. All I know for sure is that this is going to be a beautiful project from two of the happiest voices in music.
Chicago rapper Mick Jenkins announced that his third studio album Elephant in The Room will be released on October 29th. This will be his first non-single release since his EP The Circus came out in January 2020. Alongside this announcement was the release of the leading single "Contacts". Honestly, I enjoyed it quite thoroughly, with its production being my personal highlight. My only real listening experience with Mick Jenkins up until this point was with his 2014 mixtape The Water (S) which was also a very fun listen. Whenever I'm thirsty, I think of his lyric from that project, "Drink more water, or you might die." Go and give "Contacts" a listen and be on the lookout for Elephant in The Room on October 29th.
There were also a couple of albums that were released on Friday that I think are worth checking out. The highest profile release of the week was definitely Life of a DON from Don Toliver, one of the artists who is a part of Travis Scott's label Cactus Jack. I'll admit, when I gave it a listen, it was more used as background music during a workout more than anything, but the production was fantastic and kept me listening. Features include Travis Scott (on two songs), Kali Uchis, Baby Keem, HVN, and SoFaygo.
The other release that I gave a good bit of attention to was eat ya veggies from viral rapper bbno$, best known for his track "Lalala" which became insanely popular on TikTok. I've been listening to his music for some time now, having been introduced to his sounds through his frequent collaborations with Yung Gravy, who I have been following for around five years at this point. And I have to admit, he really does have some genuine talent. On this project, there weren't any songs that came up that I felt the need to skip, and I ended up adding around 75% of them to my main playlist. The highlights for me were his collaborations with Rich Brian ("edamame") and Night Lovell ("2 time zones"). Along with those two, other guest appearances include Rebecca Black of "Friday" fame, and Yung Gravy, along with three production credits for another frequent collaborator lentra. 
We were also blessed with another album from frequent hip hop guest star and possessor of an angelic voice, James Blake. The twelve track album, Friends That Break Your Heart, his first since 2019's Assume Form gave me similar chills I enjoyed whilst listening to the latter two years ago, but I would rank slightly lower in his discography. Blake was able to secure guest appearances from SZA, JID, SwaVay, and Monica Martin. The man is so very talented and ambitious to create new sounds for the world to enjoy that you just have to step back and admire his work whenever giving it a listen. I also wanted to remark on the cover art, which I think is some of the best of any that music has seen this calendar year.
A remix of a previously released tune that I wanted to give a shoutout to this week is "Breathe Deeper" by Australian psychedelic indie rocker Kevin Parker, most well known by the name Tame Impala. Many people don't realize that Tame Impala is actually solely Kevin Parker making all of the music, only consisting of multiple people while playing shows. This remix now features Lil Yachty, owner of one of the most unique voices in hip hop. One of the most unexpected crossovers of the year, I really very much enjoyed what I heard. I have seen many opinions from Tame Impala loyalists on Reddit and Twitter that Kevin Parker is letting his "true" fans down by creating remixes like this, which is a point of view that I have a very hard time wrapping my head around. Imagine being so musically closed minded that you get upset when your favorite artist tries to branch out a bit and experiment with different sounds. The more unique music that is out there in this world, the better. But, hey, that's just my perspective.
A hip hop duo that I finally listened to this past week for the first time, was Run The Jewels, which consists of rapper and producer El-P and rapper Killer Mike. Safe to say, they did not disappoint. I first put on their most popular track, "Legend Has It", off of their third self-titled project, Run The Jewels 3, and boy did that serve as a fantastic introduction to their sound. They have four of these self-titled albums, and while I have not listened to them all at this point, I have never really heard that any of them aren't enjoyable. I love the fact that there will never be a time where I run out of new music to listen to.
In exciting news for those of us who are big fans of live music, the Red Hot Chili Peppers announced their upcoming 2022 world tour, which will feature several big name hip hop acts as openers during select shows. These acts include A$AP Rocky, Anderson .Paak and The Free Nationals, and the greatest bass guitar player in the world, Thundercat. Other acts include HAIM, Beck, The Strokes, King Princess, and St. Vincent.
I was introduced by a friend this week to the Dissect podcast from Spotify, which takes a deep dive into the discography of a new artist each season. They just premiered their ninth season last week, which will be dealing with the extensive catalogue of the late Mac Miller. The first episode, entitled Swimming In Circles, which was just under forty minutes long, dealt with Mac's last two albums (Swimming and Circles) and the end of his life. I will be listening every week to their new episodes, and I would encourage you all to do so as well.
In sadder news of rappers going through some troubling times, Kodak Black, who has had frequent run ins with the law and spent plenty of time in prison, posted some tweets late last week that made it appear he was suicidal. "So Lonely Depressed Sad & F***ed Up … Nobody Love Me Nobody Cares … I'm Everywhere @ Once … Friends Playin In My Head … Girls Playin Wit My Heart , Wish I Can Go Back To The Start I'll Never Be Famous" read the first tweet, followed closely by "Sitting In My Room Crying Feel Like Killing Myself". Obviously, fans and critics alike were all concerned with his safety, but Kodak soon put out a statement apologizing for worrying people and clarified that he was not suicidal. I would type out the statement, but it is jam packed with expletives, so you'll just have to take my word for it.
Memphis rapper Pooh Shiesty was also in the news this week due to his facing a potential life sentence for robbery, aggravated assault and battery, and criminal theft regarding an incident in October 2020. He was also arrested in June in connection to a shooting at a strip club. While many have been speculating that the "Back In Blood" emcee won't receive life, most are saying a sentence of 10+ years should be expected. It's always so incredibly disappointing when artists with plenty of potential end up throwing their lives and careers away like this.
For this week's throwback to my favorite year in music, 2016, I've chosen another sentimental track, "Same Drugs" by Chicago's own Chance the Rapper, off of his third mixtape and most successful project, Coloring Book. I was blessed with the opportunity to see Chance perform during this era in his career, and it is still one of the most beautiful shows I have attended. From front to back, Coloring Book doesn't have any skips and still gets weekly spins from myself and millions of others.
This week's song of the week goes to one of my favorite tracks of 2021, "Bad Boy" from the late Juice WRLD, featuring Young Thug. The production from Pi'erre Bourne is simply impeccable and the bars from Juice and Thugger fit the vibe so well. The music video that accompanies the track is also one of my favorites of all time, directed by Lyrical Lemonade's Cole Bennett, and tragically the last one that Juice was a part of.
One last thing before I go, a shameless plug - if you or anyone else is looking for new music, my Favorites playlist, which I have been maintaining since January 2014 when I was 15, consists of over 6,000 songs at this point. It is full of tracks from thousands of artists from just about every genre you can think of. Listen below, and see you next week!
Favorites 🔥🔥🔥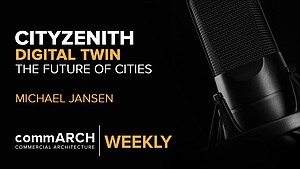 CityZenith's Michael Jansen on Digital Twin & the Future of the Urban Environment | commARCH Weekly 07/2020
In this episode, commARCH has a dialogue with Michael Jansen, Founder and CEO of CityZenith, to discuss the burgeoning landscape ...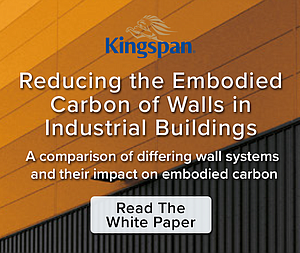 Reducing the Embodied Carbon of Walls in Industrial Buildings
Kingspan partnered with Kieran Timberlake to quantify how Kingspan can reduce embodied carbon in industrial buildings.