September 16, 2021 - by commARCH
Send this article to a friend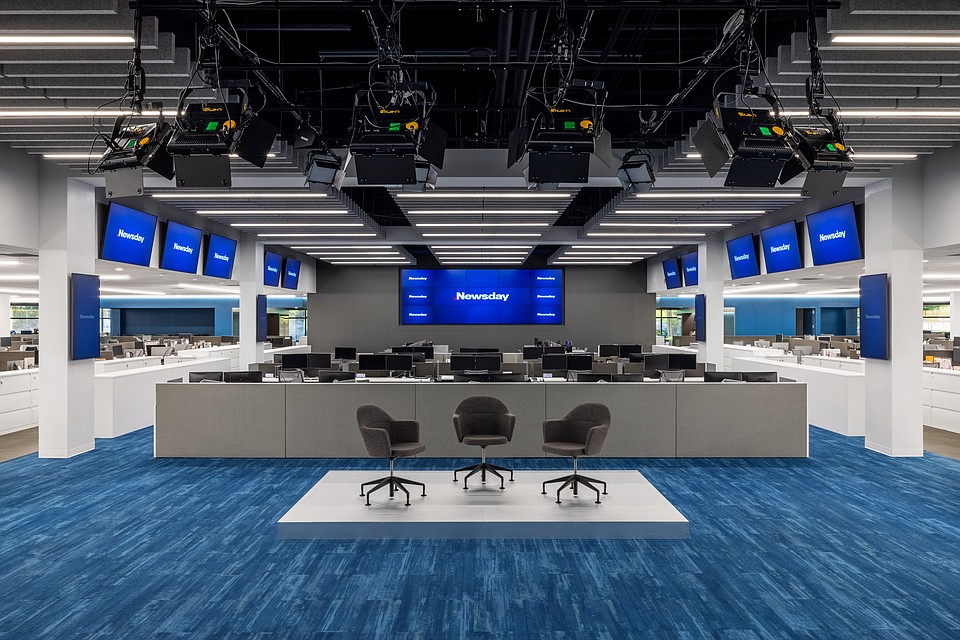 Who was involved?
For Newsday's new 125,000 RSF office location in Melville, New York, TPG Architecture was tasked with full design, strategy, and change management services that accommodate their staff of 783 employees. Throughout the project, it was important that TPG Architecture preserve Newsday's strong legacy as it moves forward into the future. Newsday reenergized itself as a web-based media company through the conception of a safe and welcoming space that is dynamic, reflective of its brand, and serves as a source of inspiration for both visitors and staff.
Tom Sibley
When did it happen?
Why is it important?
This headquarters relocation also allowed Newsday to consolidate and bring their staff together. Additionally, employee care was paramount, and they wanted their team to feel that they were moving into a comfortable work environment that suits their needs today and in the future. The design has a strong technology-infused, modern feel that gives the workplace a fresh and forward-thinking atmosphere.
Tom Sibley
What are the key aspects?
The TPG Architecture branding and graphics studio played an essential role in Newsday's design. Throughout the process, it was important that the new office reflected the Long Island aesthetic and drew inspiration from the local community. The team designed a large-scale art installation that features published Newsday photos printed on metal panels outside the main entrance. The photos were taken on Long Island and either used in print or digitally. The panels cascade up the walls and onto the ceiling, giving off a strong sense of movement and motion. Additionally, next to the entrance, the Newsday logo shines proudly, and inside the main reception is a large media wall. Behind it is a printed map of Long Island—further driving home the publication's strong tie to the community. On the other side of the office, there is another photo wall in the employee entrance that can easily be changed and edited. Staff can highlight the latest photography, feature articles, or other relevant work they want to share companywide.
Tom Sibley
Within the newsroom, there is a flash cam area for quick camera pans to reporters during live broadcasts and streams—positioned right in the middle of the news hub, allowing staff members to feel like they are a part of the action. The work area is open, surrounded by large-scale TV screens to monitor the latest news developments and work. They also now have photo and video editing studios that can increase their digital and social media presence. Several portal features along the walls and ceilings help break up space within the main hub and provide further dimension. The large café is placed towards the center of the plan, and adjacent to the other entrance and surrounding it are lots of meeting and collaboration rooms that make this a bustling point of convergence in the office. Within the workstation areas, employees sit in bench seating with access to lots of natural daylight. Since the floor plates are large, the design team included collaboration pavilions to help employees orient themselves around the office. These open collaboration zones are usually situated near the window and offer a mix of open and closed spaces, lounge seating, and small huddle rooms.
Tom Sibley
The interactive multimedia space at Newsday's new Melville headquarters is geared towards celebrating local community events such as high school scholar-athlete award ceremonies, Long Island business leader awards, and other similar events. Inside the interactive multimedia space, guests see the signature Newsday blue against the back wall and a stage made of soft oak planks, featuring a large screen for presentations. The side walls are made of a textured wrap panel with integrated TV screens to amplify their tech-driven design. Newsday plans to rent out this space to outside groups, which can accommodate up to 175 people.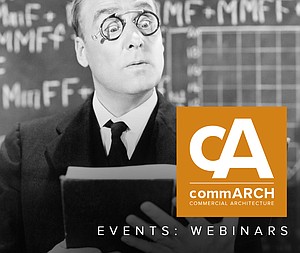 NOMA Homecoming | Detroit 50
NOMA is celebrating their 50th Year Anniversary in Detroit, where their twelve founders convened for the 1971 AIA Conference.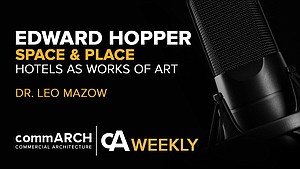 Space & Place: Edward Hopper and the Intersection of Hotels and Art | cA Weekly 02/20
In this episode of the commARCH Weekly Podcast Series commARCH speaks with Dr. Leo Mazow, curator of American art at ...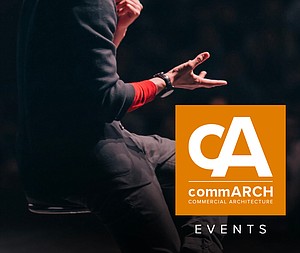 NOMA Homecoming | Detroit 50
NOMA is celebrating their 50th Year Anniversary in Detroit, where their twelve founders convened for the 1971 AIA Conference.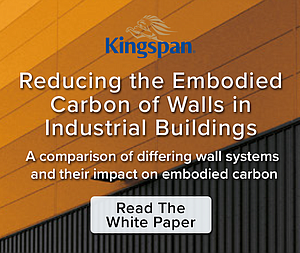 Reducing the Embodied Carbon of Walls in Industrial Buildings
Kingspan partnered with Kieran Timberlake to quantify how Kingspan can reduce embodied carbon in industrial buildings.