September 27, 2021 - by John Lisankie
Send this article to a friend
This was a week in hip hop with a little bit of everything, so let's jump right into it, starting with the news not related to new music. On Saturday, Netflix posted to their YouTube channel a teaser trailer to a brand new three part docu-series about the career of Kanye West, set to be released sometime in 2022. Entitled JEEN-YUHS, the trailer displayed a 25 year old Kanye in 2002 rapping to the camera, along with hip hop legend Mos Def. There is also a website set up for the series that teases several other clips, pulling fans like myself in even further. It's safe to say that I, along with millions of others are ready to dive in.
21 Savage turned himself in and spent an entire twelve minutes in jail this week for a warrant related to his case with immigration agency ICE. This comes after the absurd 2019 news that absolutely no one was expecting in which the world learned that the Atlanta rapper was actually born in London, England and lived there for the first seven years of his life. He ended up staying in the United States for thirteen years past the expiration of his Visa before the news was brought to light. The charges for this most recent arrest stem from his possession of drugs and firearms during his original ICE arrest, charges which his lawyer vehemently denies.
I remember being able to take a class all about The Beatles during my time at Arizona State, but Ryerson University in Toronto, Canada took the game to a new level with its introduction of a class about hometown artists Drake and The Weeknd. The course is taught by writer and hip hop expert Dalton Higgins, who has already authored a biography about Drake. Says Higgins, "It's time to get our Canadian rap and R&B icons recognized and canonized academically or otherwise."
Speaking of Drake, on streaming services, he updated three of the songs off of his most recent project,
Certified Lover Boy
. Various mix changes appeared on "Knife Talk", "IMY2", and "You Only Live Twice". These edits included fading outros, changes on bass, along with an entirely new line from Kid Cudi in his verse. Subtle changes, but just enough for the biggest Drake fans to notice.
Two of the more notable singles released this week were "Too Easy", brought to you by Gunna and Future and "Your Heart" from Joyner Lucas and J. Cole. In my humble opinion, the latter is so, so much better. "Too Easy" just sounds like a generic Gunna/Future track, the production is nothing spectacular and it will be forgotten by nearly everyone within a month. But hey, that's just my opinion.
There were three albums released this past Friday that really caught my attention. They were
Hitler Wears Hermes 8: Sincerely, Adolf (Side B)
by Westside Gunn,
Sincerely, Kentrell 
from NBA Youngboy, and G-Eazy's
These Things Happen Too
.
Westside Gunn's work is a sequel of sorts to his album from earlier this year. It is definitely worth a listen, there were some tracks I really liked, especially "The Fly who couldn't Fly straight", which features Tyler, The Creator.
NBA Youngboy comes through with a solid project with the same consistent sound that he has displayed throughout the entirety of his career thus far. While he is still imprisoned on federal charges, his strong fanbase will make sure that his third studio album sells as well as it can.
As for G-Eazy's long awaited sequel to his 2014 album which introduced him to so many listeners, I think that it is one of the top projects that he has ever put out. It displays a return to form that fans could have only dreamed of after sort of leaving the sound that made him famous behind and experimenting on 2019's
Scary Nights
and 2020's
Everything's Strange Here
, which really is not a bad thing by any means. However, it did not attract anywhere close to the amount of listeners he had become used to. Out of ten, I would give the album, which features Lil Wayne, YG, Christoph Andersson, Goody Grace, E-40, DaBoii, ShooterGang Kony, Demi Lovato, Marc E. Bassy, Devon Baldwin, Ty Dolla $ign, Kossisko, Matthew Shultz, and Anthony Hamilton a solid seven.
For this week's throwback to 2016, "Glory" by Hodgy has been playing in my head quite a bit lately. It's a very raw and emotional track from a cathartic album by Hodgy, a founding member of the hip hop super collective Odd Future. Unfortunately, he has not put out much solo music aside from 2016's
Fireplace: TheNotTheOtherSide
.
My most listened to track this week was "Tequila Shots" the first full length track from Kid Cudi's most recent album
Man On The Moon III: The Chosen
. It gives the record a start that just makes you want to groove. For me, it is one of the top three songs from the final installment of the legendary trilogy.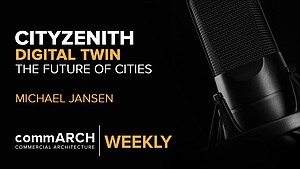 CityZenith's Michael Jansen on Digital Twin & the Future of the Urban Environment | commARCH Weekly 07/2020
In this episode, commARCH has a dialogue with Michael Jansen, Founder and CEO of CityZenith, to discuss the burgeoning landscape ...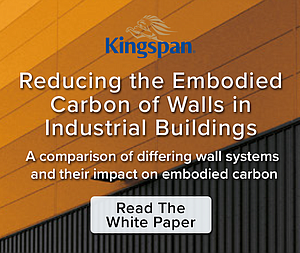 Reducing the Embodied Carbon of Walls in Industrial Buildings
Kingspan partnered with Kieran Timberlake to quantify how Kingspan can reduce embodied carbon in industrial buildings.